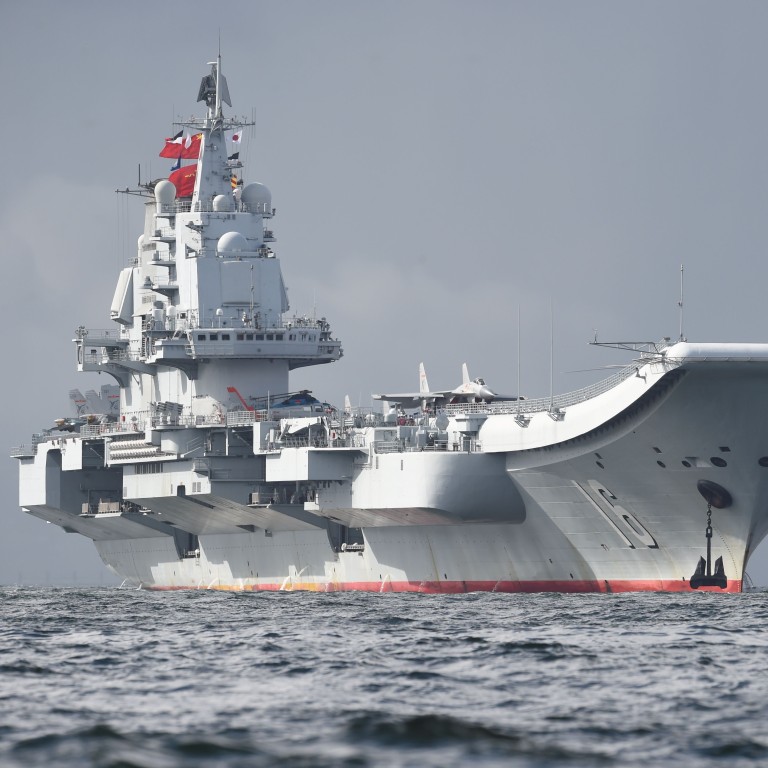 China's navy is being forced to rethink its spending plans as cost of trade war rises
Technological and strategic barriers are also giving PLA Navy pause for thought, analysts say
Despite its massive military expansion, China still lags behind the US, observers say
China is having to reassess its naval shipbuilding plans in the face of economic, technical and strategic challenges at home and abroad, according to military insiders.
While President Xi Jinping's goal for modernising the military remains a priority, the nation's top brass are mindful of the high costs of building a new generation of military ships, like aircraft carriers and destroyers.
Beijing has said repeatedly that the impact of its trade war with the United States would be bearable, but observers say the PLA Navy is under pressure to adjust its spending plans because of the uncertainty over the country's economic outlook, as well as slower-than-expected technological and personnel developments.
"The escalating tension between China and the United States has reminded Beijing's leaders that they need to be careful how much they spend on new warships," a military source, who asked not to be named, told the South China Morning Post.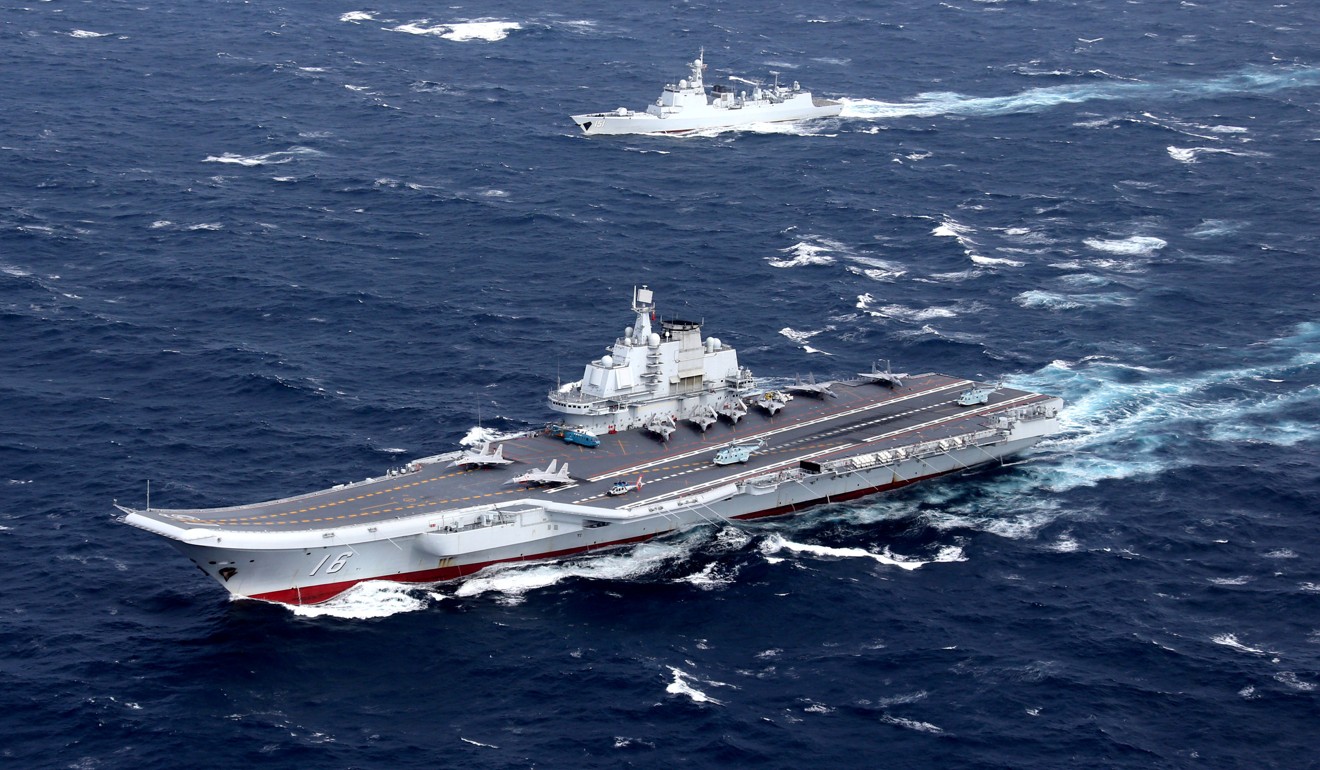 With an aircraft carrier, for instance, once the price of the hi-tech weaponry, control and communications systems, and fighter jets had been added to the basic cost of building the hull, it came in at about 50 billion yuan (US$7.2 billion), the person said.
Plans to build eight next-generation Type 055 destroyers, the largest of its class in China's fleet with a displacement of more than 12,000 tonnes, also needed to be reconsidered, the source said.
"Each Type 055 costs over 6 billion yuan to build, which is twice as expensive as a Type 052D, the navy's current main warship," he said.
But military experts said that it is not just the cost of building vessels that needs to be considered. Operating an aircraft carrier battle group at sea, which comprises the carrier, at least two destroyers, two frigates, several submarines and a supply ship, is hugely expensive.
Then there is the maintenance cost – aircraft carriers spend about half the year in dock undergoing checks and repairs – which puts another immense burden on the navy's budget.
Despite the numbers involved, Beijing-based naval expert Li Jie said Beijing planned to establish four aircraft carrier battle groups by 2030, with three combat-ready at any given time.
China currently has two aircraft carriers: the
Liaoning
, a Soviet Admiral Kuznetsov class vessel bought from Ukraine in 1998 that went into service with the PLA Navy in 2012, and the Type 001A, the country's first domestically developed carrier, and based on the Liaoning's design.
Another source close to the navy said China also needed to develop more advanced carrier-based aircraft for its Type 075 helicopter ships and Type 002 aircraft carrier, the latter still in development.
"The Type 075 was supposed to be equipped with short take-off and vertical landing aircraft comparable to the US Navy's F-35B stealth fighter, but China hasn't yet mastered the technology," the naval source said.
The F-35 series is the US's most expensive weapons programme, with a projected cost of more than US$428 billion. Japan plans to buy more than 40 F-35Bs for its two converted Izumo-class multipurpose aircraft carriers.
Unlike the Liaoning and Type 001A, whose flight decks have a "ski jump" that aircraft like the
J-15 fighters
use for take-off, the Type 002A carrier will be fitted with a catapult system. As a result, the PLA will have to develop a new fighter jet – comparable to the US Navy's F-18 Super Hornet – to go with it.
"China may need 10 to 20 years to develop a new generation of carrier-based warplanes, meaning the J-15 is likely to be the main warhorse for some time, despite it still having engine and flight control problems," the naval sources said.
China's navy has expanded rapidly over the past three decades with annual defence spending rising at double-digit rates between 1989 and 2015 on the back of equally fast economic growth.
As of last year, the PLA Navy had more than 300 ships, compared with the United States' 287, according to the Centre for Strategic and International Studies in Washington.
In the 2014-18 period, Beijing launched naval vessels with a total weight of 678,000 tonnes, or more than the French, German, Indian, Italian, South Korean, Spanish and Taiwanese navies combined, according to a report by the International Institute for Strategic Studies in London.
According to figures from Beijing, China State Shipbuilding Corporation has built 84 new warships over the past seven years, including four Type 055 destroyers, eight
Type 052D destroyers
and 60 Type 056 frigates.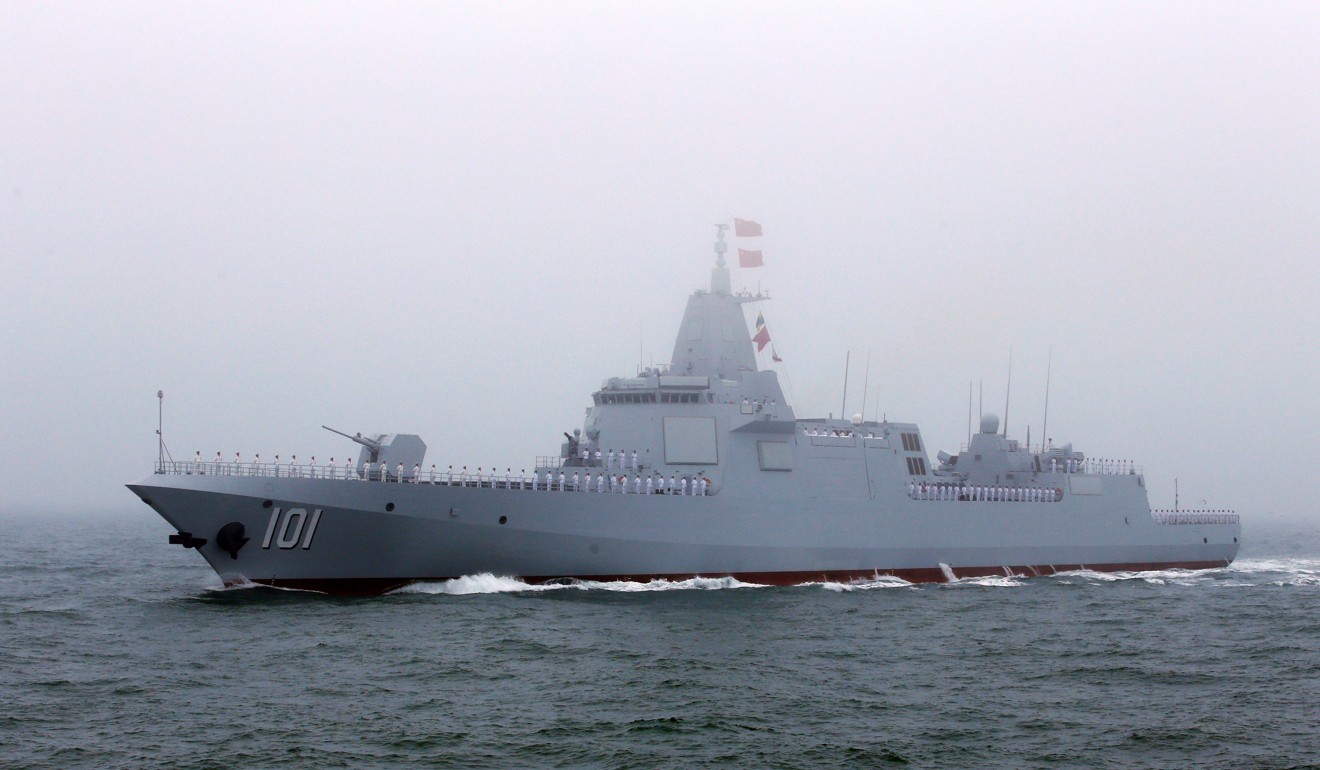 Despite its prolific output, Beijing-based military expert Zhou Chenming said China still lagged behind the US in terms of its hardware and software technologies.
"A real 'blue-water fleet' is able to sail long distances on the high seas, but that requires a comprehensive logistics and support network that the PLA does not have," he said.
"Beijing is capable of building giant warships with large displacements, but too much of their capacity is taken up by weapons and other equipment, which reduces the amount of space they have for fuel, which in turn limits their range and the amount of time they can remain on the high seas."
China's advanced warships like the Type 055 and Type 052D had a maximum cruising range of about 6,000 nautical miles, shorter than their American counterparts, Zhou said.
"The Americans have pursued a global strategy and established many overseas naval bases, which allows their ships to make longer voyages and project their power on the high seas. China doesn't have such an advantage," he said.
"The PLA Navy has often been stretched, like when it took part in an anti-piracy mission in Somali waters in 2008 and the short range of its vessels was a big hurdle. That's why China needed the facility in
Djibouti
," he said, referring to the military base set up by the PLA in the tiny African nation in 2017.
China established the maintenance and repair facility after the power system in one of its Guangzhou Type-052B destroyers failed during another anti-piracy mission in the Gulf of Aden in 2010 leaving its crew stranded.
"As Beijing and Djibouti hadn't formally established military ties at the time, it was the French navy that rescued the sailors on the Guangzhou," the naval source said. "And that's what inspired China to set up its own outpost in Djibouti."
Song Zhongping, a former army officer and military analyst in Hong Kong, said that China's navy still had a long way to go in operational terms if it wanted to compete with the US.
"America has the world's largest blue-water navy and more than a century-long history, so its warships have already gone through several rounds of development," he said.
"Also, US naval vessels are well versed in operating in battle group formation, which is something the Chinese are still learning how to do."
Adam Ni, a China researcher at Macquarie University in Sydney, said that as well as finding the money to build new warships and maintain its growing fleet, China's naval chiefs had to balance other considerations.
"There are competing priorities, like maritime corps, naval aviation and submarines," he said.
With so many demands on its budget, it made sense that the PLA Navy was rethinking its strategic, long-term goals, he said.
Earlier this year, the Jamestown Foundation, an American think tank, said China was planning to quadruple the size of its marine force from two brigades to eight, or about 40,000 troops in total. The military source confirmed that ambition but said that only four of the additional six brigades had been created to date.
"Establishing eight marine brigades is a long-term goal," he said. "Most of the members of the four new [Marine Corps] brigades were transferred from the army's amphibious unit.
The movement of amphibious troops from ground to naval forces is part of the PLA reforms launched by Xi in 2015, under which ground forces are being downsized and marine units expanded to protect China's interests offshore.
But Lu Li-shih, a retired lieutenant commander from the Taiwanese navy, said the amphibious operations by ground forces were not the same as those carried out on the high seas. If the PLA marines wanted to compete with their American counterparts, they would have to improve their land, air and sea operational skills.
"If the PLA's amphibious troops wanted to take back Taiwan by force, for instance, they wouldn't need the giant Type 075 amphibious helicopter dock; the Type 071 would be good enough," he said, adding that the Type 071 was the ideal platform for the navy to improve its high seas combat training.
Since last year, the PLA has used the Type 071 to send amphibious troops, naval aviation, missile and strategic support units to the Indian and Pacific oceans for joint open sea combat training, according to the military newspaper PLA Daily.
Each Type 071 vessel can carry 900 troops, as well as four Type 726 landing craft and two helicopters.
"The PLA Navy's training in recent years shows it has been moving towards the development of integrated command systems to support future battle groups," Lu said.
This article appeared in the South China Morning Post print edition as: PLA Navy forced to rethink its spending, insiders sayPLA Navy 'forced to rethink its spending plans'