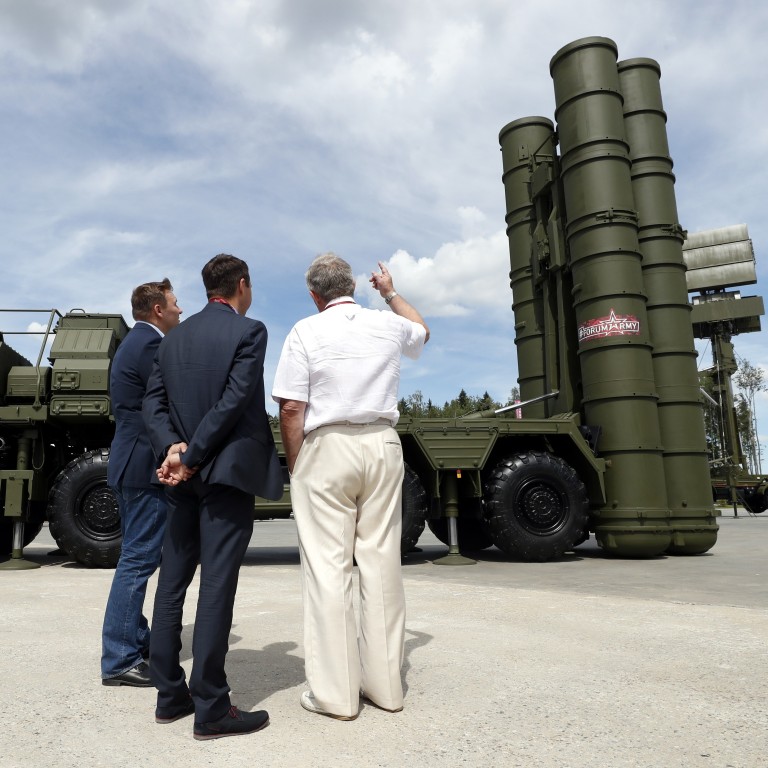 Russia and China defy US with delivery of anti-aircraft missile systems to Chinese military
Second regiment set of S-400 surface-to-air missile systems is en route to China, Russian government source says
Chinese military's equipment unit and its director were placed under US sanctions last year for buying Russian hardware
Russia is going ahead with delivery of its S-400 anti-aircraft missile systems to China, despite the arms deal between the two countries
falling foul
of US sanctions.
Russian state news agency Tass said on Wednesday that Russia had begun delivering a second regiment set of S-400 surface-to-air missile systems to China by sea.
"A transport vessel with the first batch of hardware from the second S-400 regiment set for China has taken to the sea from the port of Ust-Luga on the Baltic coast," Tass quoted an unnamed Russian government source as saying.
The delivery started "several months ahead of the term stipulated in the contract" and would involve "at least three vessels" transporting the equipment "within a short period of time", the source said.
The revelation follows Tuesday's first-ever joint long-range air patrol exercise
by Russian and Chinese
warplanes over the East China Sea and the Sea of Japan, a show of deepened military ties between the two countries in the Asia-Pacific region.
Washington targeted Moscow by passing the Countering America's Adversaries Through Sanctions Act in 2017 after what it viewed as Russia's "malign activities", including
alleged hacking
in the 2016 US presidential election, and
annexing Ukraine's Crimea
region in 2014.
President Xi Jinping and his Russian counterpart, Vladimir Putin, agreed during their summit in Moscow in early June to extend their relations to what they called a "comprehensive strategic partnership of coordination".
China had signed a contract worth about US$3 billion in 2014 for two S-400 regiment sets, becoming the first foreign buyer of Russia's most advanced surface-to-air missile defence system.
The Chinese military had successfully test-fired missile launchers from the first S-400 regiment set delivered in the spring of 2018, Tass said.
However, last September the equipment unit of China's People's Liberation Army and its director, Li Shangfu, had
sanctions imposed
on them by the United States for purchases of the S-400 missile system and Russia's Su-35 fighter jets.
The US State Department and Treasury said the sanctions were imposed in response to China's "engaging in significant transactions with Rosoboronexport, Russia's main arms export entity", which is on the US' sanction list.
The Chinese foreign ministry described the US' actions as "unreasonable".
Meanwhile, India has been seeking a sanctions waiver from the US for its intended procurement of five S-400 regiments from Russia under a US$5 billion contract signed last year by Putin and Indian Prime Minister Narendra Modi.
India planned to make a fresh effort to convince the US a waiver was needed, Indian newspaper the Deccan Herald reported last month.
This article appeared in the South China Morning Post print edition as: China, Russia in defiance of US over weapons deal