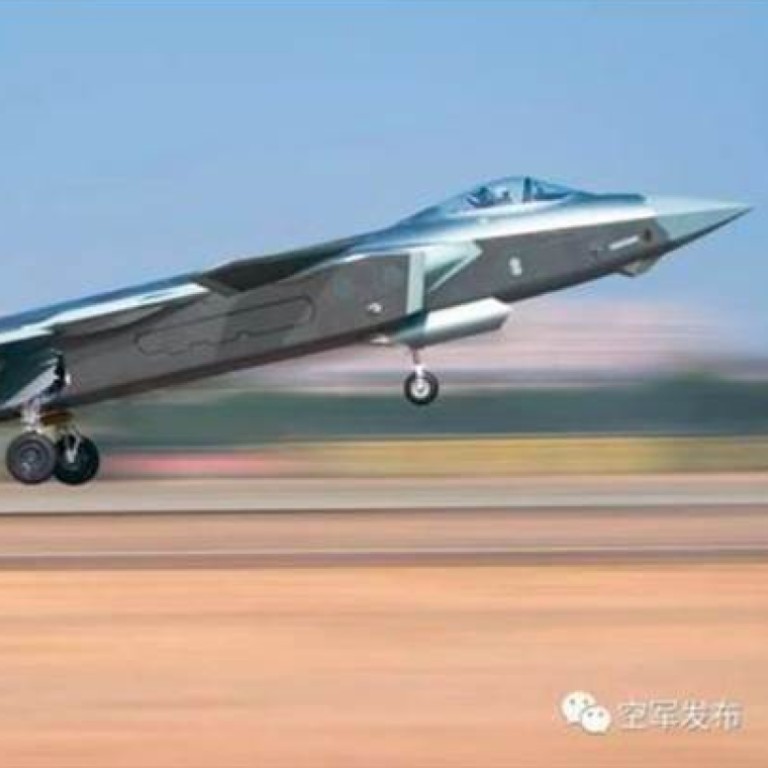 China deploys J-20 stealth fighter 'to keep tabs on Taiwan'
Aircraft could also be used to counterbalance Japanese and US military activities in the region, analysts say
China's J-20 stealth fighter has been officially deployed to the country's Eastern Theatre Command, suggesting it will be focused on the Taiwan Strait and military activities between Japan and the United States, observers said.
The People's Liberation Army Air Force posted a photo on its social media account this week showing the fifth-generation fighter tagged with the number 62001, designating the aircraft as part of a frontline unit.
Chinese media reported that the stealth fighter had entered the Eastern Theatre Command, which encompasses Taiwan.
Collin Koh, a research fellow at the S Rajaratnam School of International Studies at Nanyang Technological University in Singapore, said the aircraft appeared to have two missions.
"The unit turning operational in Eastern Theatre Command is precisely aimed at Taiwan," Koh said.
"And to challenge US military activities in Taiwan Strait, besides posing a threat to the median line that Taiwan's air force patrols along."
The photo's release came as China issued a defence white paper, highlighting the risks from "separatist forces".
In the document, the military said it faced challenges from pro-independence forces in Taiwan but would always defeat those fighting for the island's independence. It also said there were risks from separatists in the autonomous regions of Tibet and Xinjiang.
A day after the paper was released, an American warship sailed through the Taiwan Strait.
The J-20 is expected to enter mass production this year. If the aircraft was declared ready to go into active operations, it would signal China was a "greater threat" and had "greater capability" in the Pacific, General Charles Brown, the US Air Force's Pacific commander, said in May.
Brown said US efforts to counter those developments included increasing deployments of next-generation F-35 jets and continuing overflights of strategic areas such as the South China Sea.
According to the US Defence Intelligence Agency, fielding the J-20 would add to what was already the region's biggest air force and world's third-largest.
China had more than 2,500 aircraft, including 1,700 combat fighters, strategic bombers, tactical bombers and multi-mission tactical and attack aircraft, in service, the agency said in a report earlier this year.
China's J-20 fighter was part of a modernisation effort that had been "closing the gap with Western air forces across a broad spectrum of capabilities, such as aircraft performance, command and control and electronic warfare", the report said.
Macau-based military expert Antony Wong Dong said that in addition to Taiwan, the J-20 fighter could also be used to counterbalance military activities by the United States and Japan.
But Wong added that the Chinese military was still exploring how best the fighter could be used.
"It will take a few years for the aircraft to be fully deployed and to mature. Right now, it's still in the exploration stage," he said.
This article appeared in the South China Morning Post print edition as: J-20 Fighter deployed in Taiwan area