Taiwan
Get more with myNEWS
A personalised news feed of stories that matter to you
Learn more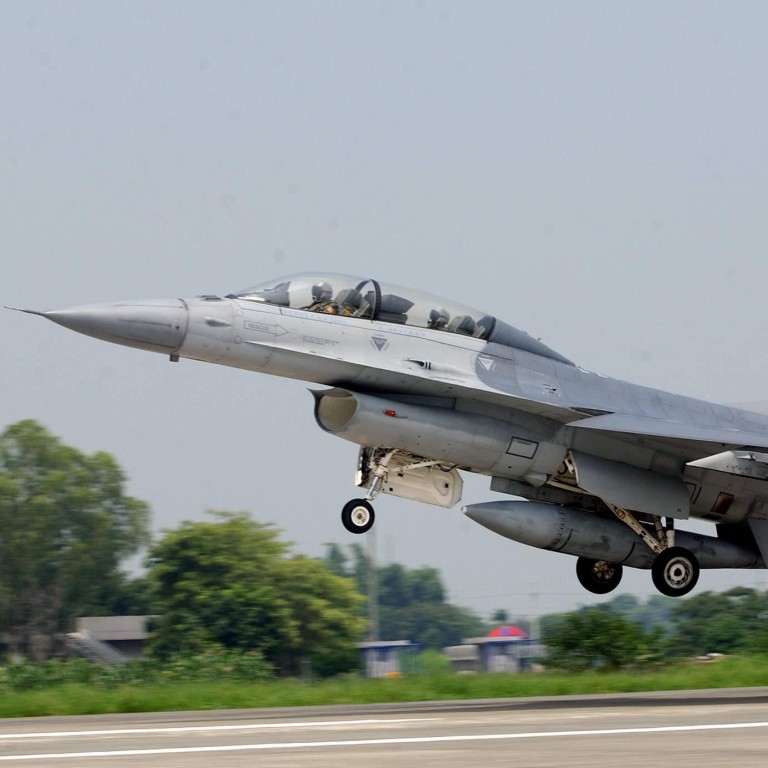 Taiwan responds to Beijing's military exercises with drill of its own
Armed F-16 fighter jets simulate attack followed by medium and long-range missile launches into eastern waters
People's Liberation Army launched two large-scale drills close to Taiwan Strait on Sunday
Taiwan responded to Beijing's military drill targeting the self-ruled island by deploying its most advanced fighter jets and firing 117 medium and long-range missiles on Monday and Tuesday.
Defence ministry spokesman Lee Chao-ming said the missiles were fired from the Jiupeng military base to waters off eastern Taiwan, with a range of 250km (155 miles), in an exercise covering five types of training for the island's forces.
On Monday, Taiwan's air force also dispatched two F-16 fighter jets armed with AGM-84 Harpoon missiles in a simulation of an attack off the island's southeast coast.
Song Zhongping, a military commentator based in Hong Kong, said the Taiwan drill was aimed at the mainland Chinese exercise which began on Sunday. The location of the Taiwan drill meant its missiles' electronic data could avoid detection by the People's Liberation Army's radar, he said.
"Taiwan is focusing on boosting self-defence, and building up a comprehensive air and sea defence network to counter military threats from the mainland," Song said.
"The test firing of missiles is to boost the island's self-defence capability. The military drill of the PLA has triggered a lot of concerns in Taiwan, and Taiwan is responding to it also through a strong military means."
The PLA launched two large-scale military drills close to the Taiwan Strait on Sunday, after a notice issued by the Zhejiang Maritime Safety Administration prohibited ships from entering the waters off the coast of the eastern province between 6pm on Saturday and 6pm on Thursday.
The Guangdong Maritime Safety Administration said another set of military exercises would be held in the waters off Fujian province between Monday morning and Friday evening.
Observers said they expected PLA forces from the Southern and Eastern commands – whose area of responsibility includes Zhejiang and Fujian, which lie across the strait from Taiwan – to take part in the exercises.
Japan's Ministry of Defence said on Monday that six Chinese warships had passed through the Miyako Strait – a waterway lying between Okinawa Island and Miyako Island – presumably in preparation for the drills.
Japanese military vessels said a Chinese class-three missile destroyer – a type 054A missile frigate – was sailing 240km north of Miyako Island on Saturday.
On Thursday, Japanese ships reported China's type 052D destroyer Xining, type 054A missile frigate Daging, the guided missile frigate Rizhao, and the ocean comprehensive supply ship Hulun Lake, all entered the Pacific Ocean through the Miyako Strait.
This is China's first war game to involve simultaneous exercises at two locations in waters near Taiwan since the 1995–96 Taiwan Strait Crisis, during which the PLA conducted a series of large-scale live-fire exercises in response to then-Taiwanese leader Lee Teng-hui's visit to the United States, and ahead of the Taiwanese presidential election.