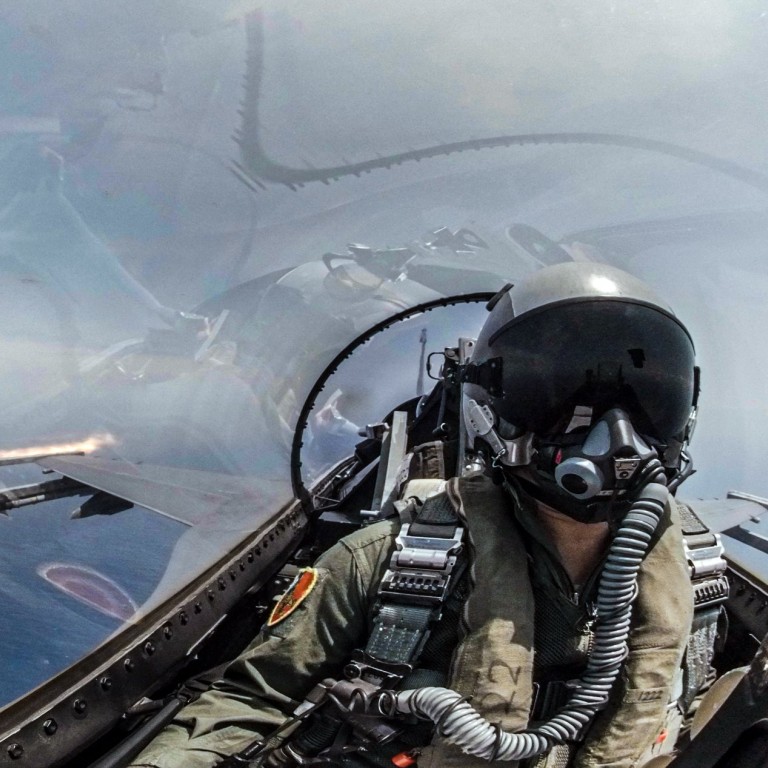 Chinese military says Taiwan's US$8 billion deal to buy US F-16 fighter jets is a waste of money because they will be 'useless' against the PLA
Beijing reacts with fury after Donald Trump agrees to the sale of the fighters, but military officials say the warplanes will prove to be 'useless' in any case
PLA researcher insists that the arms deal is essentially paying America 'protection money'
A mainland Chinese military official has said Taiwan's purchase of American warplanes will not help the island defend itself and will only be a financial burden.
Beijing responded with fury this week after US President Donald Trump approved the sale of 66 F-16V, or "Viper", jets to Taiwan in a US$8 billion deal, threatening to retaliate without saying what action it would take.
Senior Colonel Cao Yanzhong, a researcher at the PLA Academy of Military Science, said the fighters would be "useless"in improving the island's combat strength against the mainland's military.
"This deal just places an extra financial burden on the Taiwanese people and only benefits the American arms dealers … It is essentially Taiwan paying a fee to the Americans to buy protection, but this will not work and cannot protect them," Cao said.
"No one shall doubt the PLA's determination and ability to ensure our national security, reunification and sovereignty."
Beijing regards Taiwan as a breakaway province that must eventually be reunified with the mainland, by force if necessary.
Major General Chen Rongdi, head of war studies at the PLA Academy of Military Science, warned that China would not "sit by and do nothing" about the deal.
"As far as I know, China will sanction those companies involved in this sale. And, of course, we do not exclude the option of taking other measures," Chen said in Beijing.
But he did not elaborate on what these measures might be. The plane's manufacturer, Lockheed Martin, does little business in China, thereby limiting the effectiveness of any sanctions.
The F-16 deal still needs to be ratified by the US House and Senate, but both chambers are expected to give their approval.
Taiwan welcomed the move, saying it would help it to defend itself against the military threat from the mainland.
Beijing has repeatedly condemned American arms sales to Taiwan as harmful to China's sovereignty and national security.
In July, when the US announced that US$2.2 billion worth of tanks, missiles and related equipment would be sold to Taiwan, Beijing also said it would sanction the relevant US firms, which included General Dynamics and Raytheon.
Chen said the latest arms sale would be a "betrayal" of a 1982 US promise to gradually reduce arms sales to Taiwan, adding that it would only damage bilateral relations, raise tensions and harm regional peace and stability.