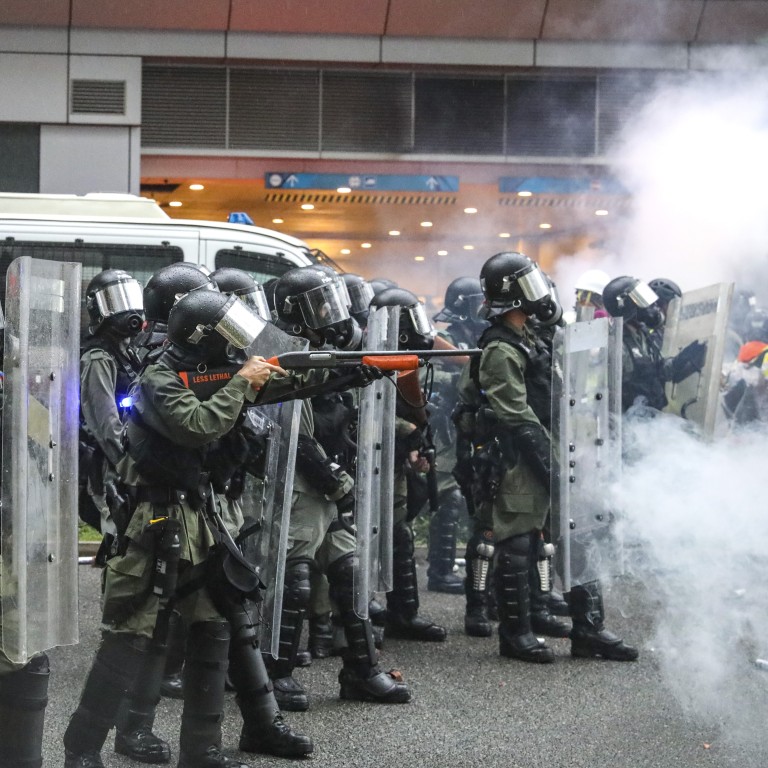 Chinese suppliers ready to provide tear gas to Hong Kong as other sources dry up
As Britain and the US suspend sales, mainland firms can fill the gap, but how appealing is the Hong Kong market?
Mainland Chinese suppliers are standing by to provide Hong Kong police with riot control equipment, as Britain and the US move to suspend sales of tear gas and other items to the troubled city.
"It wouldn't be too complex should there be any order coming from Hong Kong. A few trucks from Shenzhen could do," said Wang Zhuojian, owner of Jing Shi Security Technology and Defence Product Development, based in Guangzhou in the southern province of Guangdong.
As an approved supplier to the Chinese Public Security Ministry of 15 categories of products – including batons, constraining forks and tear spray – and also an export licence holder, Wang said his company had more than 20,000 stab-proof body armour units in stock. "If needed, we could arrange logistics right away," he said.
Increasingly violent scenes triggered the British government to suspend export licences of tear gas, rubber bullets and other equipment to Hong Kong in June and, on Wednesday, US lawmakers proposed a similar prohibition on American suppliers with a
PROTECT Hong Kong Act
.
In the past three months of protests, Hong Kong police have fired more than 1,800 rounds of tear gas and worn out a number of batons, shields and vests.
As overseas suppliers of replacement equipment dry up, the world's biggest manufacturer – right next door to Hong Kong – is an obvious alternative. "Made in China" law enforcement products have long been widely sold to the Middle East, Africa and Latin America.
But while Hong Kong may offer a new market for China's suppliers, it would probably not be a sizeable one. The number of police officers at July 31 was 30,891, according to the force. In comparison, there are more than 2 million public security officers, as well as 400,000 paramilitary armed police on the mainland.
It is also not so easy to become a provider to the Hong Kong force, which has its own supplier list for more than 100 products in 15 categories, including "crowd control equipment". Joining the list requires going through an application and approval process, while suppliers are also expected to bid for orders when procurements are to be made.
"Actually the profit from exports is lower than domestic sales. The foreign orders tend to come in big amounts and are time-intensive," said a sales official, surnamed Zhong, from Chengdu Jin'an Equipment, which supplies equipment through third parties to countries in Africa.
Zhong, whose company also provides 27 types of equipment to the Chinese police, said the advanced, foreign-made equipment used by the Hong Kong police had in the past provided mainland manufacturers with good examples of high-quality law enforcement tools, which had inspired their own developments.
Last month, for the first time, the Hong Kong police turned to a mainland supplier with a purchase of 500 sets of anti-riot protective suits from another Guangdong-based company. Previously, in 2014, the force bought 400 tactical suits from France.