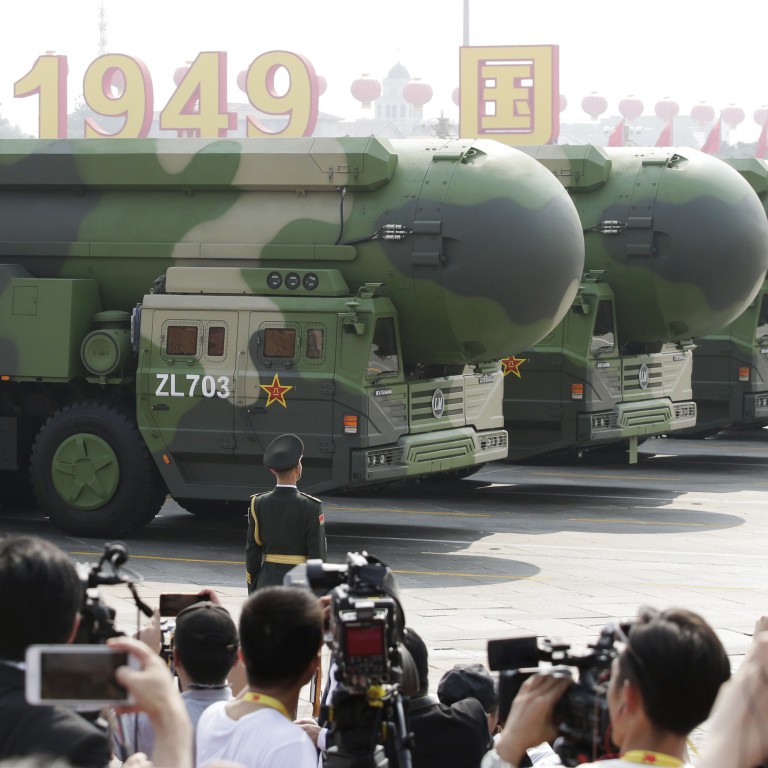 China's latest display of military might suggests its 'nuclear triad' is complete
Tuesday's National Day parade featured the country's latest ground, sea and air-based weapons, which allow it to conduct far-ranging attacks from any platform
Show of strength may fuel concerns about its future ambitions and possible plans to increase its nuclear arsenal
China's display of might during the National Day parade indicates that it has finally completed the "nuclear triad" that will allow it launch far-reaching attacks – a development likely to heighten concerns about the possible expansion of its nuclear arsenal.
Tuesday's set piece event in Beijing featured new strategic weapons that form the three components of the triad – ground-based intercontinental ballistic missiles (ICBMs), submarine-launched missiles and air-launched weapons.
The new weapons on show included the mobile, solid-fuel DF-41 ICBM, which is a core element of the country's nuclear deterrent because it can reach any location on the US mainland from China.
Its range of 15,000km (9,300 miles) improves on the 12,000km (7,500 miles) of its predecessor, the DF-31AG, and the new missile is also fitted with 10, rather than three, multiple re-entry vehicles that allow it to hit different targets independently.
The DF-41 can be launched from trucks or trains and is much more mobile than the silo-based DF-5B, which also featured in Tuesday's parade to mark the 70th anniversary of the foundation of the People's Republic.
This means it will be harder for an enemy to attack, whereas the DF-5B's silos would probably be the top targets for any pre-emptive strike. It can also be deployed more quickly than the liquid propellant-fuelled DF-5B.
The parade also showcased the submarine-launched JL-2 ballistic missile, which has a range of 7,400km (4,600 miles) and multiple payload vehicles to aim at different targets independently.
The JL-2's deployment on type 094A nuclear submarines in 2015 marked the first time China had a credible sea-based nuclear deterrent.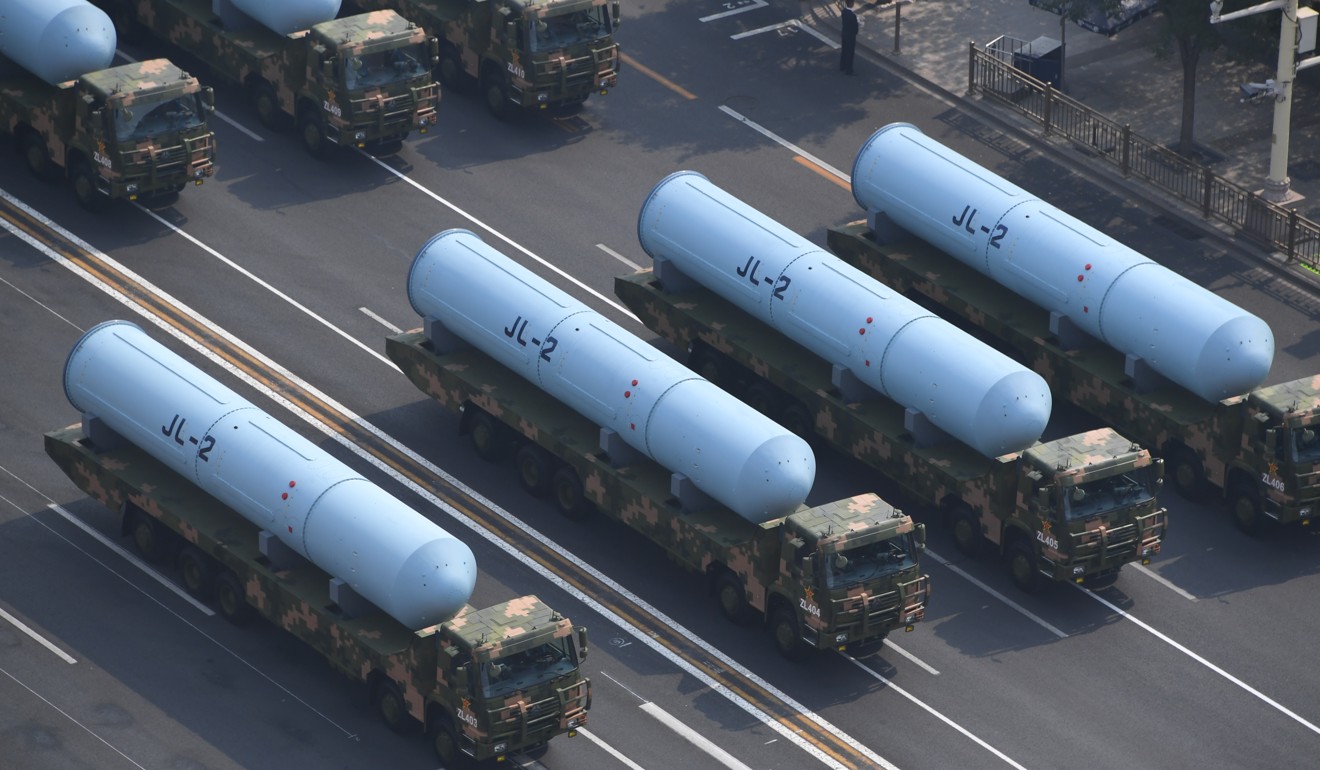 The previous generation SLBM JL-1 only had a range of around 2,000-2,500km (1,200-1,600 miles). Its carrier, the Type 092 nuclear submarine, was also notoriously noisy, and only one of the vessels was ever built.
The military display in Beijing also featured the first appearance of the hypersonic DF-17, which has an advanced glide system that allows it to travel well above the speed of sound and should ensure it can evade any existing missile defence system.
Although its has been officially described as a "conventional missile" it is believed to be capable of carrying nuclear warheads as well.
This medium-range missile, the first in service to use the glider vehicle technology, has a range of 1,500km (900 miles), which means the PLA would prefer not to arm it with a nuclear payload, according to Zhou Chenming, a Beijing-based military commentator.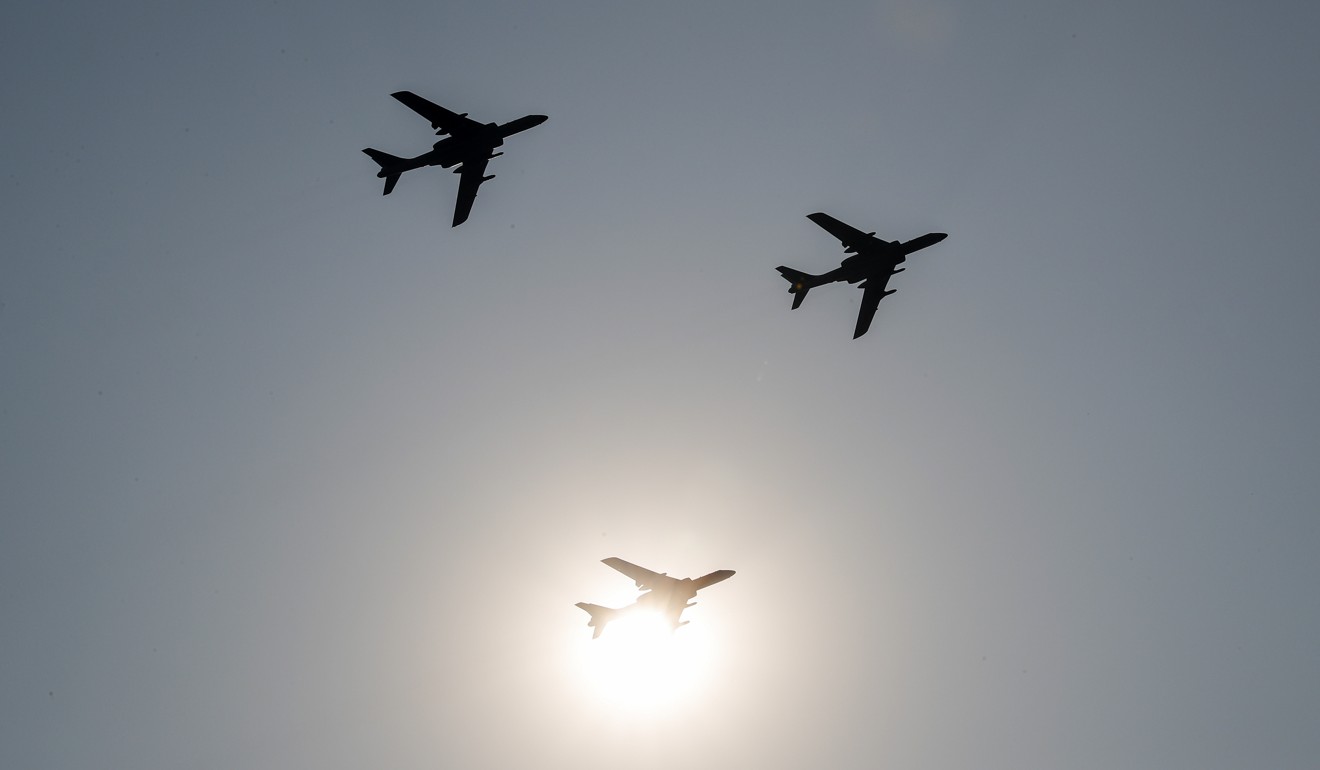 "China doesn't need to keep too many nuclear warheads, and just lets long-range missiles be equipped with the expensive nuclear warheads, because that's enough for nuclear deterrence," said Zhou.
The aerial element of the triad includes the H-6N bomber, which was also on show on Tuesday and can fire nuclear-armed air-to-ship and air-to-ground ballistic missiles.
The current Chinese nuclear arsenal is estimated to be around 250 warheads in accordance with its "minimal deterrence" strategy, and the country has adopted a "no first use" doctrine towards nuclear missiles.
But the US Defence Intelligence Agency director Robert Ashley Jnr has predicted that China would double its nuclear stockpile over the next decade.
His assessment was based on the People's Liberation Army's ongoing efforts to develop the next generations of all the elements of its nuclear triad.
"We expect this modernisation to continue," he told conservative think tank Hudson Institute in May, adding that the work showed that Beijing was committed to increasing the importance of its nuclear forces to its military aspirations.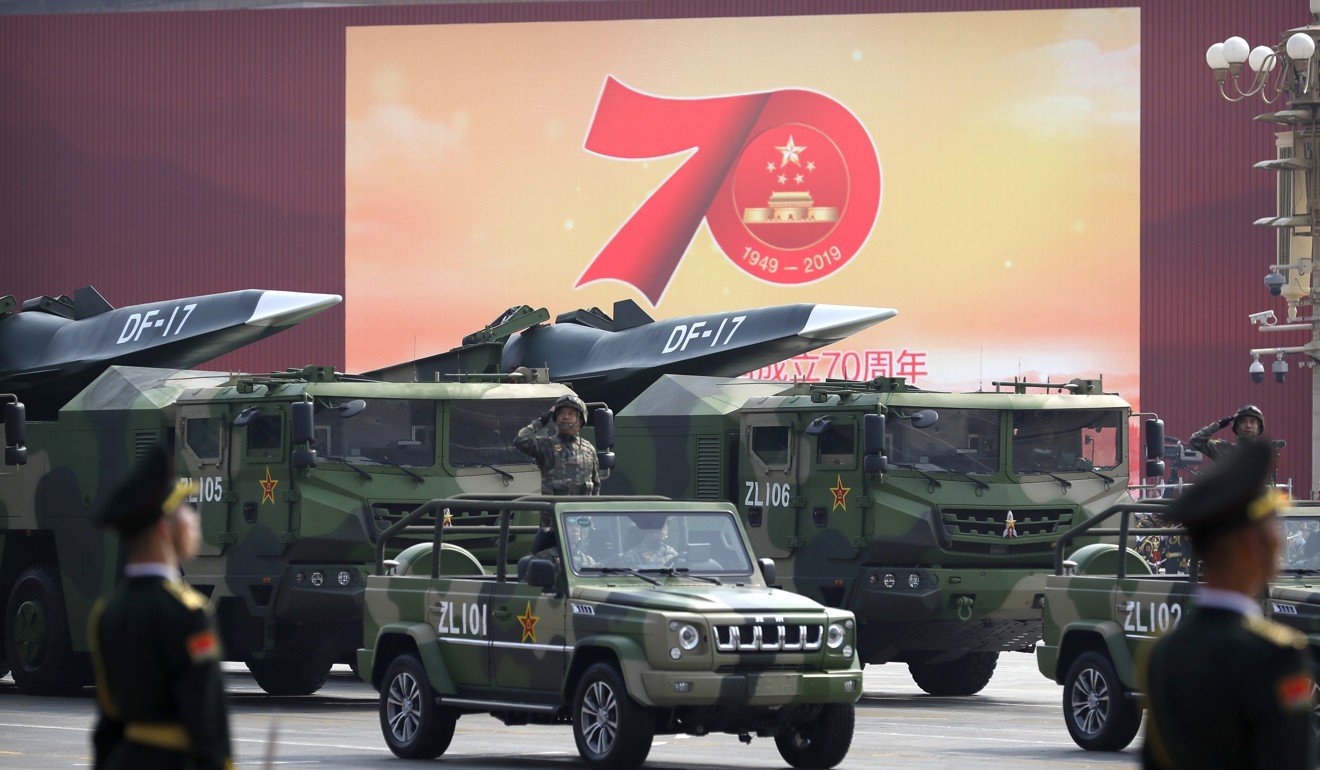 Ni Lexiong, a Shanghai-based military analyst, said China was unable to match America's overall military spending so it focused on investment in the most critical areas.
"Nuclear weapons have been the key," he said. "The US has overwhelming advantages in the quantity of nuclear warheads but Chinese strategy is to have high-quality carriers that are able to penetrate the missile defences to ensure a counterstrike."
Song Zhongping, a military analyst for Hong Kong's Phoenix Television, said the US decision to pull out of the 1987 Intermediate-range Nuclear Forces (INF) agreement with Russia, meant there was a real risk of a nuclear arms race.
Song said that showcasing the new weapons could fuel "China threat" theories in the US, but added: "The Americans are trying to pull China into a nuclear arms race, but China should stick to its own plan."
This article appeared in the South China Morning Post print edition as: Military display hints Beijing's 'nuclear triad' is complete