Taiwan
Get more with myNEWS
A personalised news feed of stories that matter to you
Learn more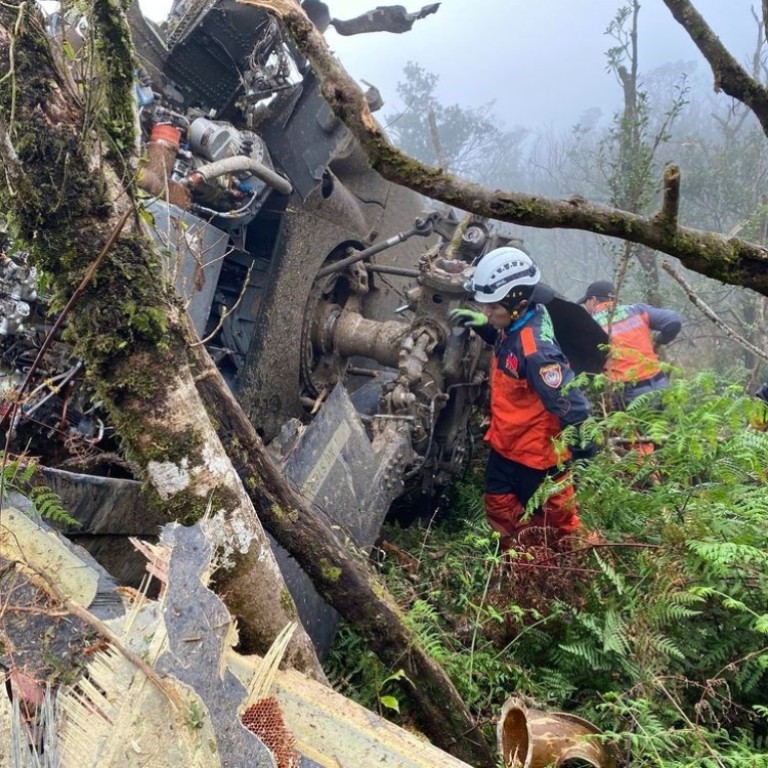 Taiwan's top military leader among eight dead in Black Hawk chopper crash
Chief of staff, two major generals and other senior military personnel killed
Helicopter's last communication was less than 15 minutes after take-off
Taiwan's military chief of staff and seven others were killed when a Black Hawk helicopter crashed in a mountainous region in the northern part of the island on Thursday morning, officials said.
Taiwan's air force commander Hsiung Hou-chi confirmed the deaths of Chief of Staff Shen Yi-ming and seven others on Thursday afternoon, after the UH-60M craft carrying 13 military personnel force landed in New Taipei county's Wulai district earlier in the day.
Among the dead were two major generals – Political Warfare Bureau deputy director Yu Chin-wen and Hung Hung-chin, from the defence ministry's office of the deputy chief of the general staff for intelligence. Also killed were a lieutenant colonel, a captain, a major and two senior master sergeants.
Taiwan's defence ministry said the location of the craft had been identified and that two Black Hawks and about 80 officers had been dispatched to the scene. Taiwanese media later released images of the rescuers surveying the crash site.
Taiwanese media and a director from the New Taipei City's fire department said earlier that Shen had been found and sent to hospital. The five survivors include new deputy chief of logistics for general staff Huang Yu-min, deputy chief of general staff for communications Major General Tsao Chin-ping and Military News Agency reporter Chen Ying-ju.
In video footage shot at the crash site, Tsao was seen speaking to rescuers, telling them he was "OK" and "able to walk", while pointing to those with more serious injuries.
A separate report said Chen had sent out a distress message on social media app Line asking for help at about 10am. He was seated at the back of the helicopter and was trapped in the wreckage when it crashed.
The aircraft took off from Songshan Airport in Taipei at 7.54am on Tuesday bound for New Year inspections in Dongao in northeastern Taiwan's Yilan county. At 8.07am the pilot issued a weather report before communication with the craft was abruptly lost.
The helicopter crashed north of its destination in New Taipei county's Wulai mountain district.
Taiwan's President Tsai Ing-wen said she would cancel her campaign activities for three days to deal with the accident in her capacity as commander-in-chief of the armed forces.
Tsai arrived in Yilan on Thursday afternoon to express her sympathies, and said she had ordered flags to fly at half mast for three days at all Taiwan's military institutions. The Taiwanese leader also said she had called for an investigation into the cause of the incident.
"This is a very sorrowful day," she said. "There were several capable, high-ranking officers who died at their posts in today's incident, and they were the most capable of our military, particularly Chief of Staff Shen."
Tsai said she had ordered Defence Minister Yen Teh-fa to secure the island's defence and ensure that military operations remained sound to safeguard Taiwan.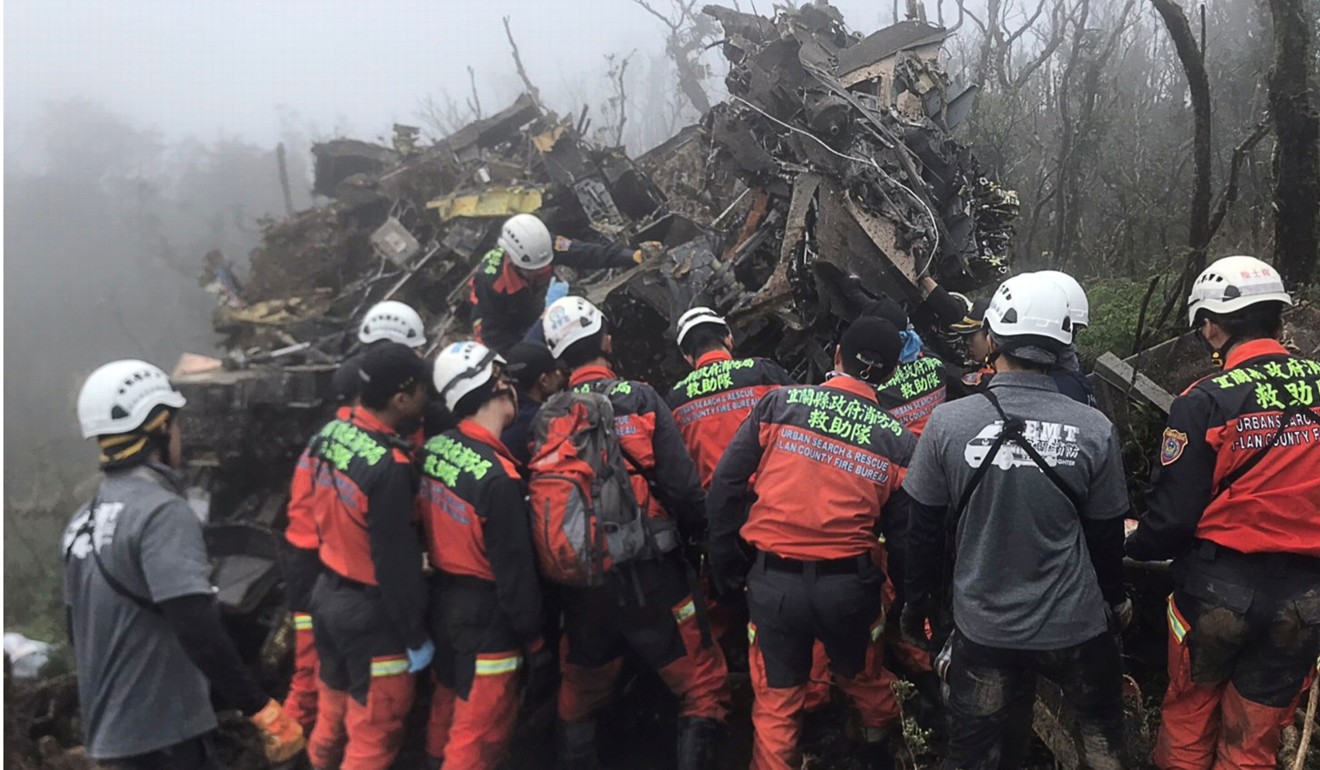 Kaohsiung mayor Han Kuo-yu, who is running for Taiwan's main opposition party, the Kuomintang (KMT), against Tsai in the January 11 presidential election, posted on Facebook saying that he and his team were "praying with all our hearts for the victims".
"I want to express my condolences to the victims again and hope that all of us in the country can pray for them together," he said.
The KMT also announced it would suspend campaigning until Saturday and extended its "deepest condolences" to the families and friends of the crash victims.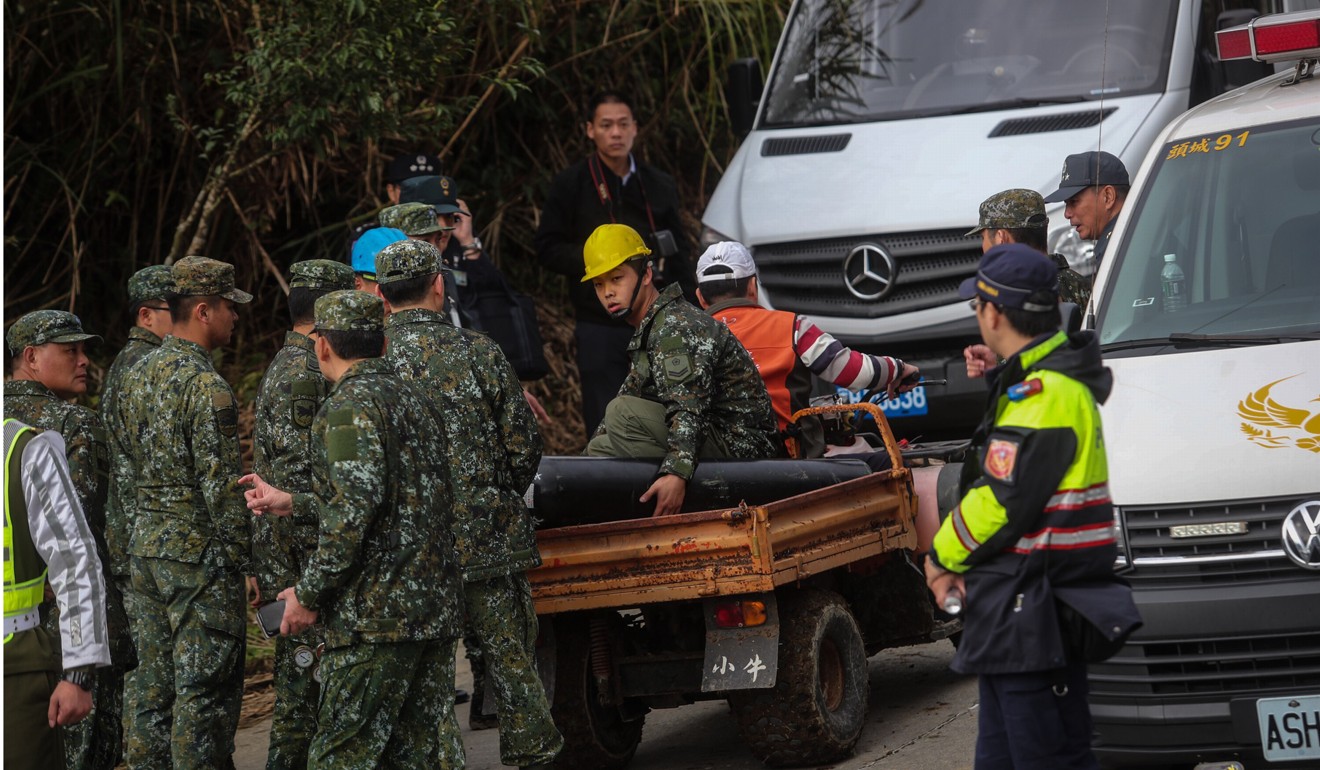 Shen, a former air force commander, took over as chief of general staff in July when his predecessor retired. His role included overseeing defence and warfare training and Taiwan's military reform.
The chopper in the crash was one of the UH-60M Black Hawks Taiwan bought from the United States in 2010. It was delivered in July, so it had only flown for 376 hours and did not have any major recorded incidents in the past three months.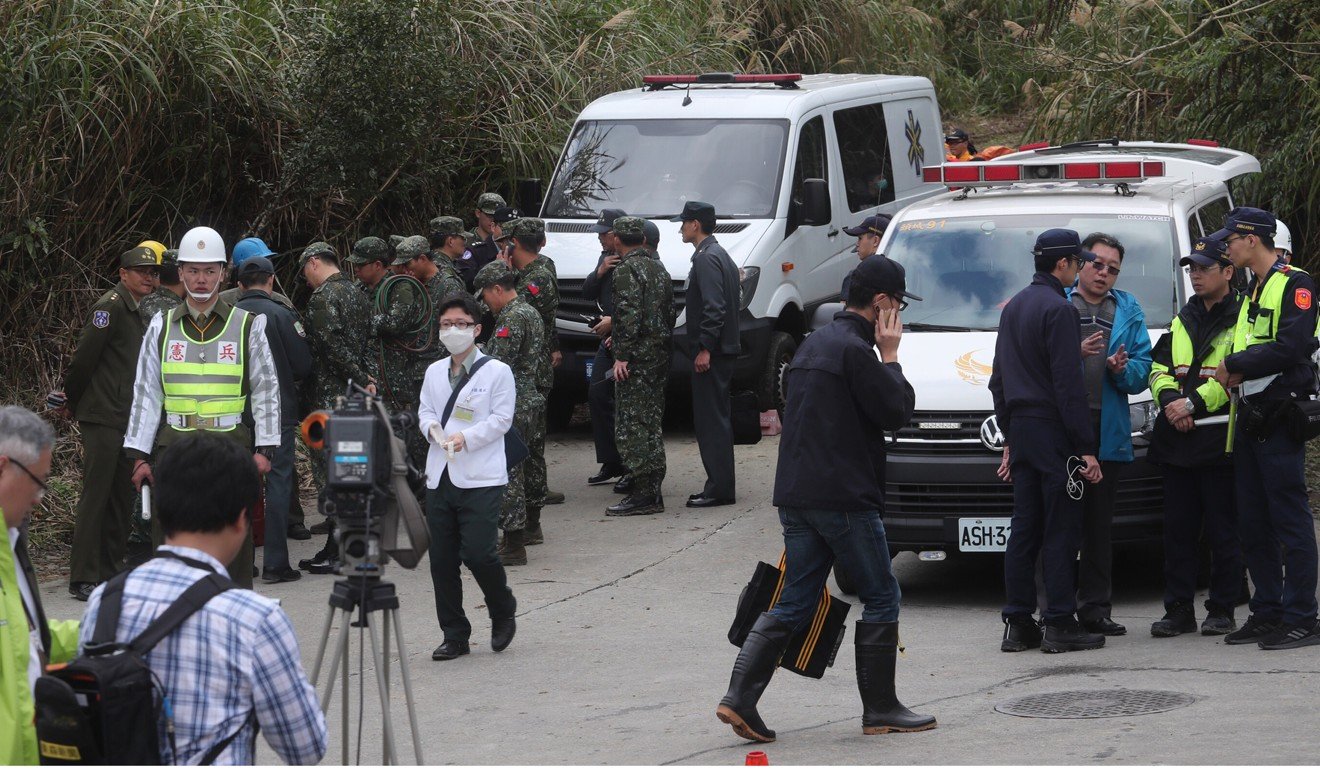 The UH-60M Black Hawk is the advanced version of the multi-role helicopter manufactured by Lockheed Martin's Sikorsky Aircraft in 2001. The first generation of the Black Hawk, the UH-60A, entered service with the US Army in 1979.
With a maximum gross weight of up to 10,000kg, the UH-60M is able to carry 11 passengers or six stretchers, according to its technical specifications.
The Black Hawk has proven itself in combat and peacetime missions. More than 4,000 such aircraft of all types are currently in service worldwide. Besides the US Army, which has the largest fleet with 2,135 UH-60 designated Black Hawks, the UH-60M is used by another 27 countries, according to the manufacturer.
Beijing also bought 24 UH-60A Black Hawk choppers from Sikorsky in 1984, before Washington imposed an arms embargo in the aftermath of the military crackdown on protests in Tiananmen Square in 1989.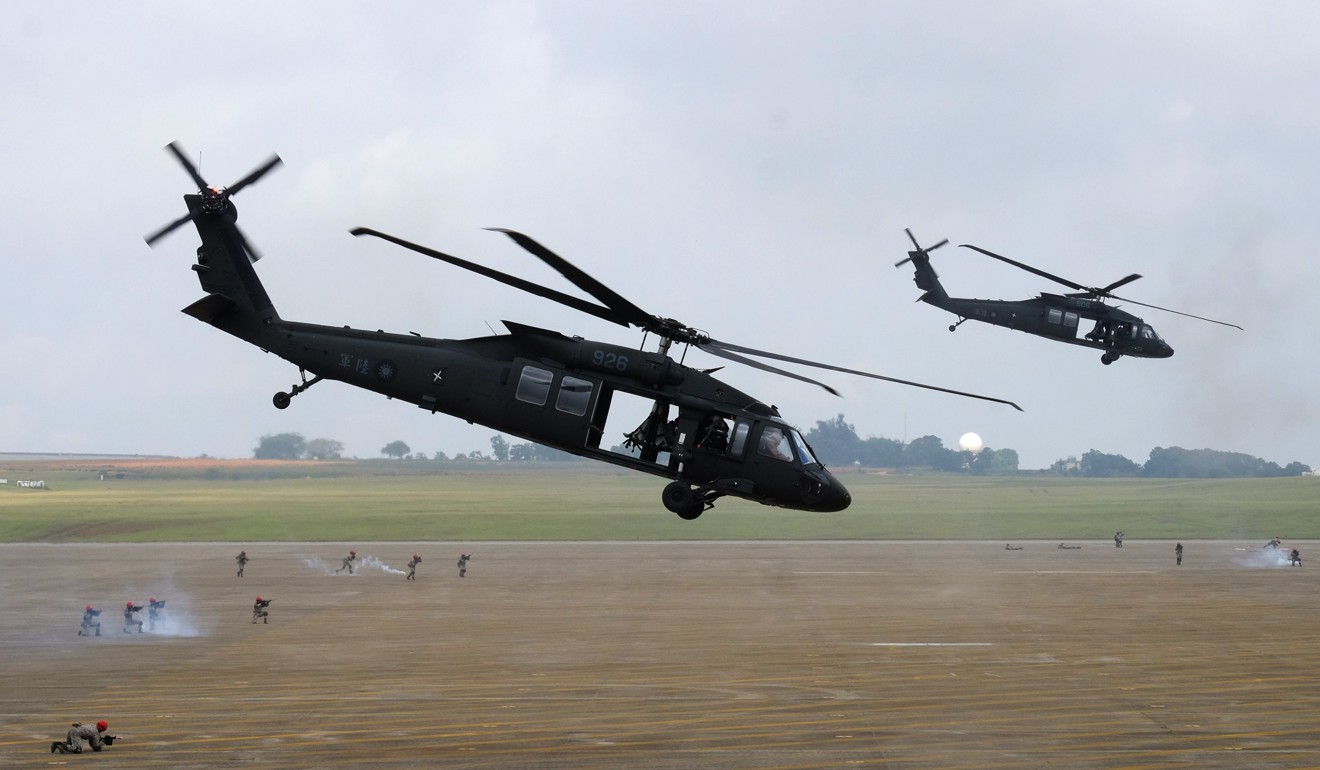 Song Zhaowen, a close friend of Shen's and a veteran defence adviser, said on CTI Television that the chopper's remains showed the incident was a crash rather than a "forced landing" as described by the island's defence ministry.
"I personally think it was a problem with the aircraft, and this pilot was very good but was still unable to control it, so I think the aircraft problem was very serious," he said, noting that, in his view, there was less likelihood that the crash had been due to weather or piloting error.
"This incident is very distressing," Song said.
Additional reporting by Minnie Chan
Purchase the China AI Report 2020
brought to you by SCMP Research and enjoy a 20% discount (original price US$400). This 60-page all new intelligence report gives you first-hand insights and analysis into the latest industry developments and intelligence about China AI. Get exclusive access to our webinars for continuous learning, and interact with China AI executives in live Q&A. Offer valid until 31 March 2020.
This article appeared in the South China Morning Post print edition as: Taiwan military chief dies IN crash