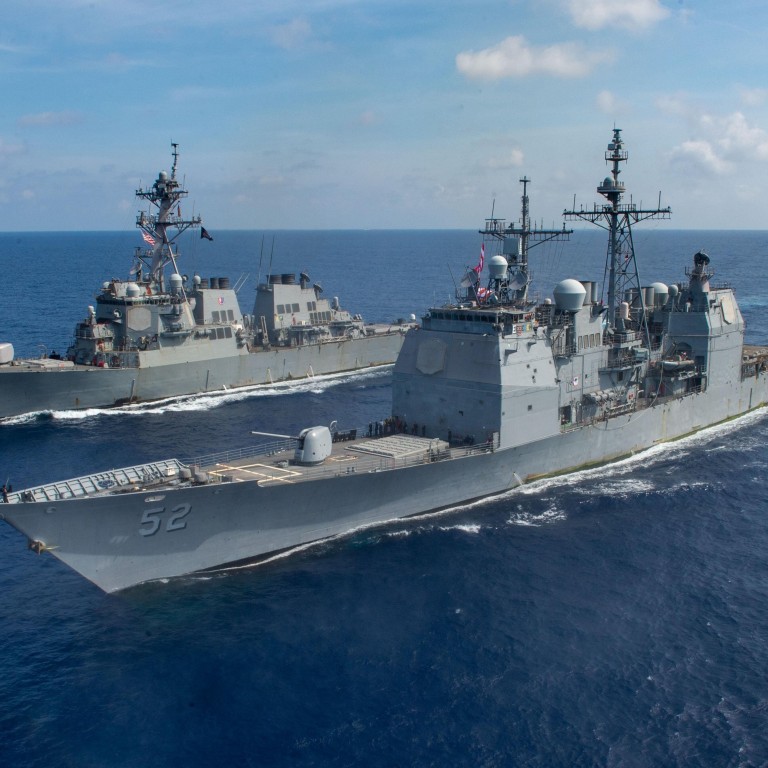 China on 'high alert' as 'troublemaker' US patrols South China Sea
Chinese military takes aim at operations by American warships near the Spratly and Paracel islands
US says sweeping maritime claims in the area pose a threat to freedom of the seas
The Chinese military called the United States a "troublemaker" in
the disputed South China Sea
on Thursday, stressing that China was on "high alert" to safeguard its interests in the contested waters.
The two powers, already mired in a dispute over the
handling of the coronavirus pandemic
, have engaged in tense stand-offs over the South China Sea, with two back-to-back operations by the US to challenge China's expansive claims in the region in the last few days.
The US' guided-missile cruiser USS Bunker Hill conducted a "freedom of navigation operation" in the Spratly Islands on Wednesday, a day after the guided-missile destroyer USS Barry conducted a similar operation near the Paracel Islands.
The US 7th Fleet said the operations were in response to "unlawful and sweeping maritime claims in the South China Sea [that] pose a serious threat to the freedom of the seas, including the freedoms of navigation and overflight and the right of innocent passage of all ships".
And last week, an Australian frigate joined US warships in a joint exercise in the South China Sea after the Chinese research ship Haiyang Dizhi 8, accompanied by a Chinese coastguard vessel, tailed a Malaysian state oil company ship conducting exploration in the area.
China's defence ministry spokesman Wu Qian said China had been "closely watching and on high alert" against the activities by the US and Australian militaries.
"The frequent military operations in the South China Sea by extra-regional countries like the US and Australia are not conducive to the peace and stability in the South China Sea and we resolutely oppose them," Wu said.
"Time and again, the US has proven itself to be the biggest force in pushing militarisation in the South China Sea and a troublemaker in preventing peace and stability in the region."
The command said it scrambled air and sea patrols to "track, monitor, verify, identify and expel" the American vessels.
Also on Thursday, Wu rejected a US report that China had secretly conducted an underground nuclear test.
"The report by the US is fabricated and nonsense," Wu said. "China, unlike the US, has always kept its promise on international arms control."
This article appeared in the South China Morning Post print edition as: China says US stirring trouble in disputed sea