Has China gone into stealth mode with its military-civil fusion plans?
There was no apparent word in this year's government work report of the defence strategy that has raised alarm in Washington
But that doesn't mean it's off Beijing's radar, observers say
It has been a feature of the Chinese government's annual state-of-the-nation address to the country's legislature since 2014.
But this year when Chinese Premier Li Keqiang delivered his government work report and development plan to
the National People's Congress
, there was no mention of the core Chinese military modernisation policy that has alarmed Washington.
The military-civil fusion (MCF) policy is a national strategy to enlist the private sector to help modernise the country's defences and develop cutting-edge technologies – areas that used to be the exclusive domain of state-owned military-industrial players.
The programme has attracted
scrutiny from the United States
over concerns that American technology could be siphoned through trade and academic exchanges to bolster Chinese military's modernisation.
Analysts said that while the strategy may be out of sight at China's legislative sessions this year, it is not off the radar – and Beijing may even be doubling down on it in a stealthier way.
According to Professor Tai Ming Cheung, from the UC San Diego school of global policy and strategy, "military-civil fusion remains a top priority for the Xi regime, and perhaps even more so as China finds itself in an increasingly fierce and coupled techno-security competition with the US and its allies".
"Military-civil fusion is a central component in [Chinese President] Xi Jinping's grand vision and strategy of China's long-term geostrategic and geo-economic development, and especially his goals of becoming a leading global power by the mid-2030s," Cheung said.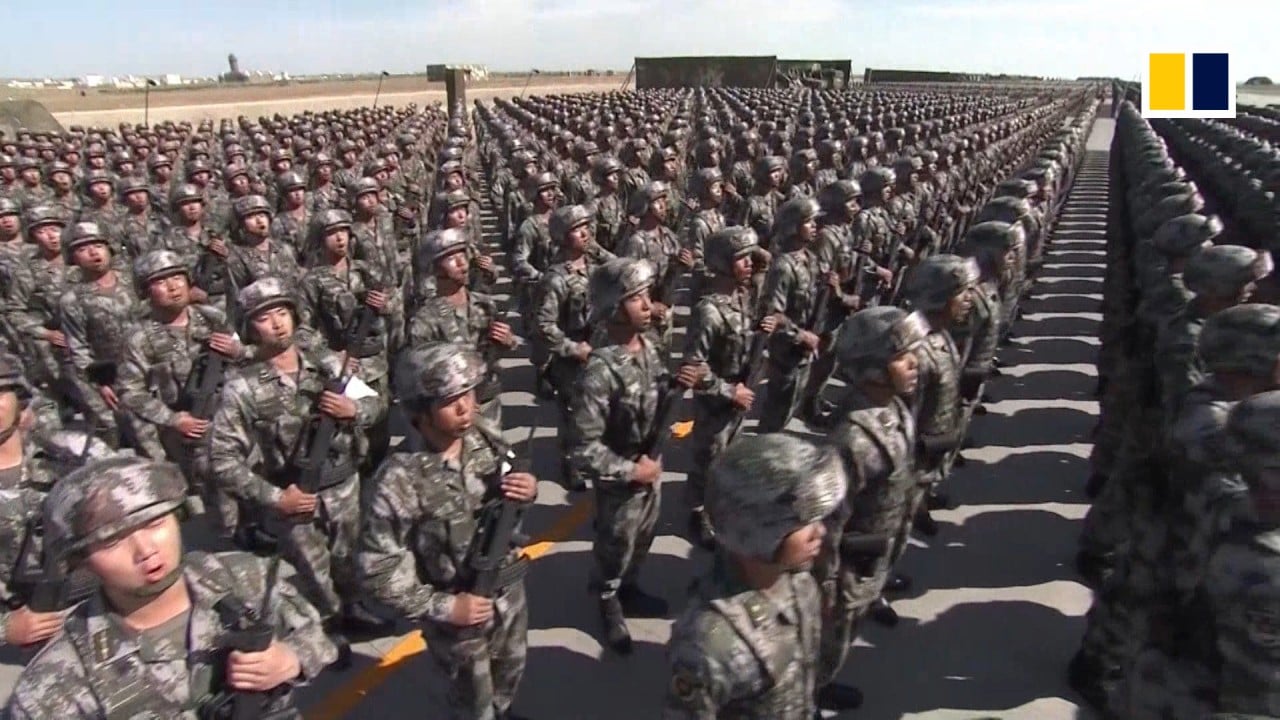 01:33
Inside China's military
The strategy, likened by some to the US' Defence Advanced Research Projects Agency model, was elevated to state policy in 2015 when it was written in the country's 13th five-year plan for 2016-2020. Two years later, Xi took personal charge of the MCF drive by establishing and heading the Central Commission for Integrated Military and Civilian Development.
A 2018 report by the PLA Daily, the military's mouthpiece, said Xi talked about the fusion strategy's importance "every year" when he attended PLA delegation meetings during the annual parliamentary sessions.
But state media did not mention if Xi had talked about the strategy to People's Liberation Army delegates in this year's sessions held late last month. It quoted Xi as saying only that the military should persistently sharpen their combat strength through technological innovation and strengthen Chinese-developed innovations in defence technologies.
There has also been no state media report about any meeting of the MCF commission since Xi chaired its second meeting in October 2018.
The silence has not eased concerns in Washington. Last week, US President Donald Trump suspended the visas of an estimated 3,000 Chinese students and researchers deemed likely to support an entity involved in the military-civil fusion strategy.
The range of sensitive products was also expanded to include nearly all semiconductors and their manufacturing equipment, as well as aircraft parts. The department said the restrictions were "in view of China's widespread civil-military integration".
Alex Joske, a Chinese military analyst at the Australian Strategic Policy Institute, said the toning down of China's public messaging about military-civil fusion has been happening for "well over a year".
"Some web pages mentioning military-civil fusion have gone offline over the past year, and information on the implementation of this policy is getting harder to find, although there is still a lot of information out there," he said.
Bonnie Glaser, a senior adviser with the Centre for Strategic and International Studies, said the disappearance of MCF from public view was similar to the muting of other headline policies that had alarmed Western countries.
"The plan itself has almost certainly not been abandoned. Perhaps Beijing decided that public discussion of MCF should be downplayed due to growing international concern. We've seen this occur with Made in China 2025 and the Thousand Talents programme," she said, referring to China's plans to move up the technology value chain and recruit top scientific and technological expertise.
Joske agreed.
"This is more of a change in messaging than a change in policy. The Thousand Talents Plan has continued recruiting scientists even though it's gone quiet," he said.
But in a report late last year, US-based think tank C4ADS suggested that Beijing might be forced to be more public about its MCF strategy.
It said that while China's extensive business and academic presence abroad posed a clear risk for foreign strategic technologies to contribute China's growing military capabilities via MCF, the strategy also compelled China's opaque defence supply chains to become more transparent.
Cheung, from UC San Diego, said that while he expected the strategy would also be a part of China's next five-year plan, he doubted it would be made public like its predecessor, as it has become highlighted by the US as a major security concern.
"Given the central importance of MCF as the linkage between the defence, dual-use, and civilian economic sectors, MCF will continue to play an important role in the 14th five-year plan as well as the forthcoming 2021-2035 Medium and Long-Term Science and Technology Development Plan. Whether it will be highlighted in the published narratives of these plans though is questionable," Cheung said.
"While the MCF initiative will become less transparent, it will continue to be emphasised and pursued quietly."
In the five-year plan that ends this year, Beijing sought to lay the foundation for the fusion strategy, such as information exchange platforms and business links between the private sector and state-owned defence contractors.
Zi Yang, a senior analyst with the S. Rajaratnam School of International Studies in Singapore, said that in the next five-year plan, Beijing was likely to allow the private sector to assume a greater role in key defence projects.
"We will likely see growth in military applications of AI, automated systems, logistics, and naval technology," Zi said.
Analysts also said the worsening ties between China and the US would certainly hurt Chinese firms and students to acquire or learn emerging technologies, and in turn harm the military-civil fusion strategy. And Washington's responses to military-civil fusion have only just begun.
"China is likely to pursue greater collaboration with other technologically advanced countries that have been weaker in their management of these issues, such as European countries and Australia," Joske said.
This article appeared in the South China Morning Post print edition as: Beijing opts for stealth mode on military-civil fusion plans