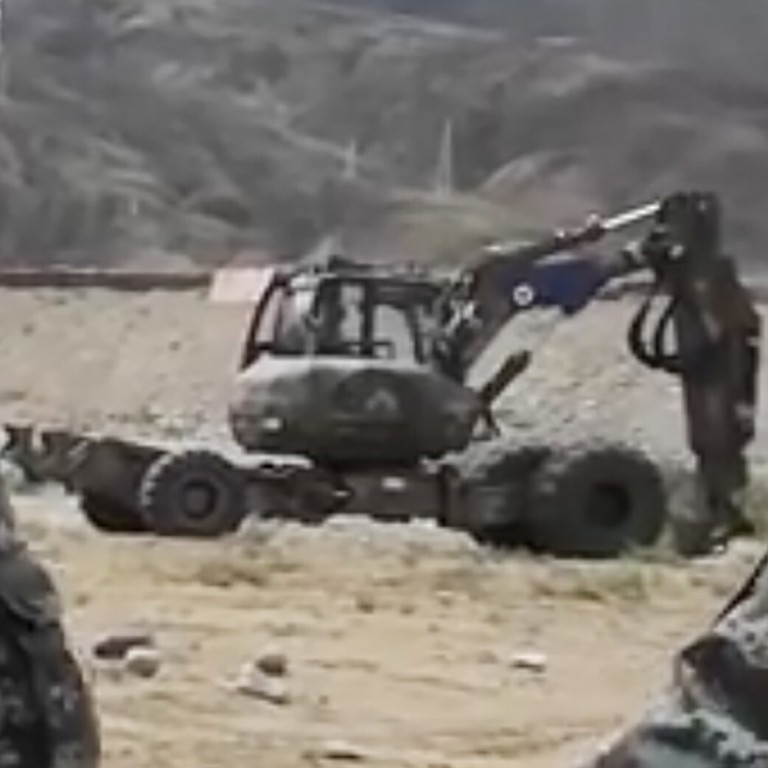 China's military is using spider excavators to build roads near Indian border
PLA has brought in the all-terrain machines to speed up construction work in the rugged Himalayan region
They are seen in the background of a video showing soldiers on the Tibetan plateau released last week
Chinese troops are using all-terrain walking excavators to speed up road-building and other construction work in the rugged Himalayas near the country's disputed border with India, where
tensions have been rising
.
The heavy machines, also known as spider excavators for the way they move, can be seen in the background of a video showing People's Liberation Army soldiers on the Tibetan plateau by the Yarlung Tsangpo River, or Brahmaputra as it is known in India. The footage was released last week by the PLA's Tibet Military District, which looks after the frontier with India.
With four hydraulic legs on tyres and two sawtooth extensions, the excavators can stand and step over obstacles, walk across ditches and streams, and climb and work on near-vertical terrain.
The PLA uses two models made by state-owned firm XCMG Construction Machinery in Jiangsu province – one that weighs 11 tonnes and can walk at 10km/h (6.2mph), and another that can be operated remotely without a driver. They are also used for emergency rescue operations by China's paramilitary People's Armed Police.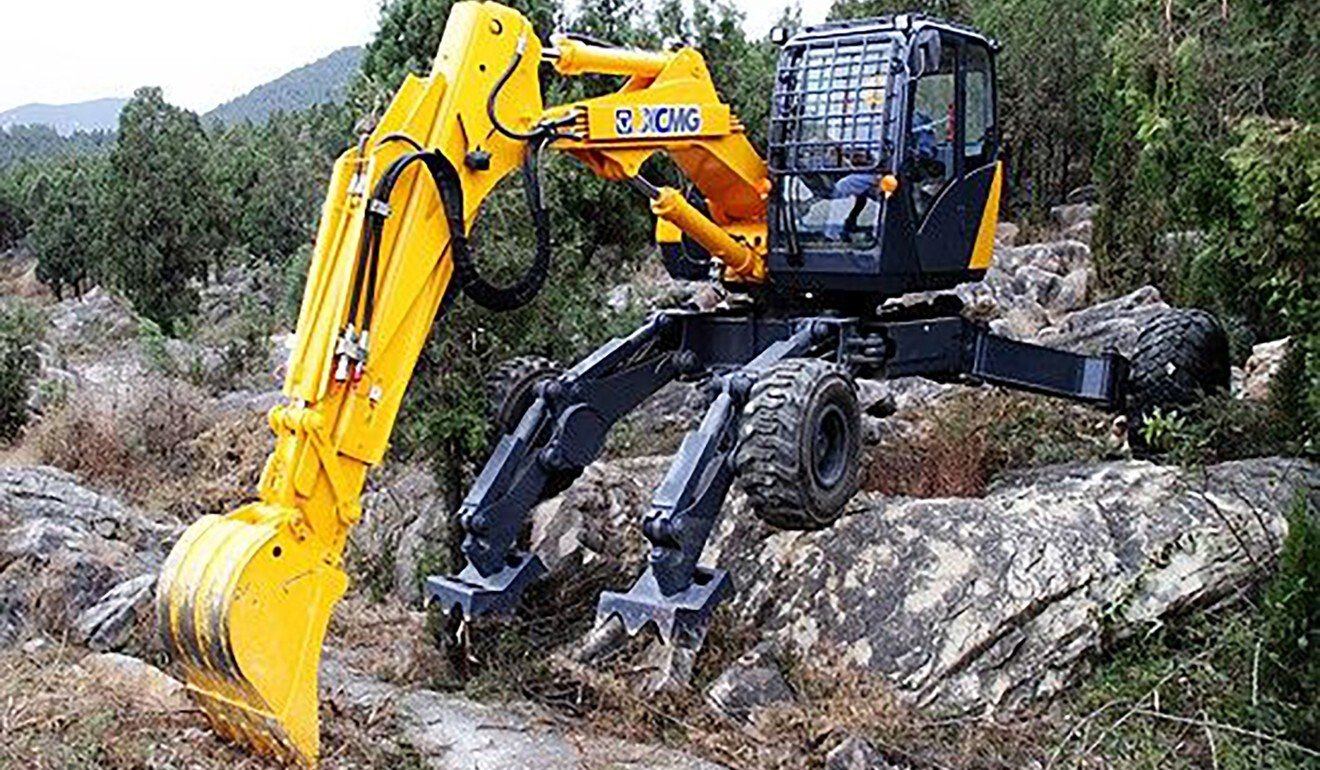 Both China and India have in recent years been upgrading infrastructure along their Line of Actual Control – a 3,488km (2,167-mile) unmarked boundary that has seen decades of claims and counterclaims.
These construction projects have led to increased skirmishes between border troops, including a long stand-off at the Doklam plateau in 2017, and a brawl on June 15 in the Galwan Valley, part of the disputed Ladakh region in Kashmir, which left at least 20 Indian soldiers dead, with an undisclosed number of Chinese casualties.
The two militaries agreed to disengage after
last month's incident
– their first fatal clash since 1975 – but both sides have continued to deploy reinforcements, which has highlighted the need to improve infrastructure in the remote region.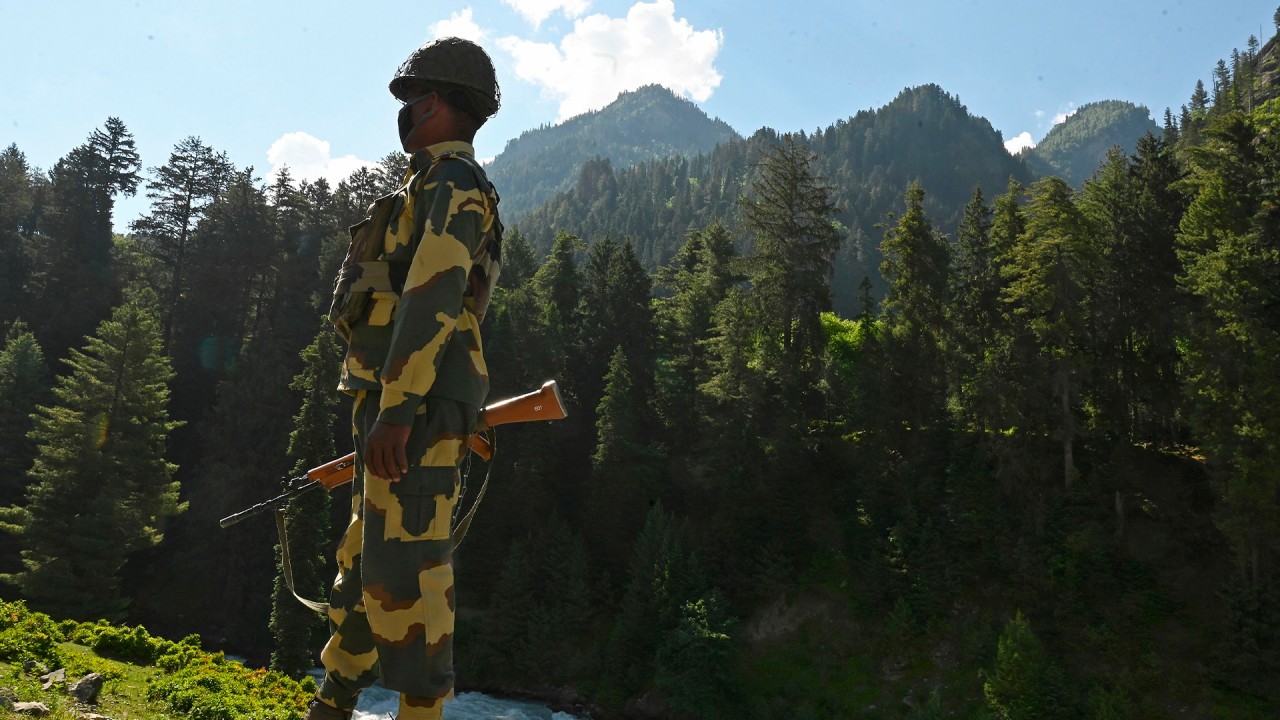 02:13
India and China attempt to de-escalate border tension after deaths
India and China attempt to de-escalate border tension after deaths
Building roads and infrastructure on the "roof of the world" is a tough job given its elevation of more than 4,000 metres (13,123 feet) and the treacherous terrain and conditions. As well as harsh weather, the region is prone to earthquakes, landslides and floods.
Even transporting the heavy construction equipment to the front line is a dangerous mission. Two people were injured on the Indian side of the frontier on June 22, when a bridge collapsed as their truck was driving across it.
The truck was carrying a tracked excavator that was to be used to build a road from the village of Milam towards the Chinese border in the state of Uttarakhand.
Still, the PLA appears to be building up a presence that includes heavy machinery in an area where there is no road, with construction work being carried out at a fast pace.
In just a week, a camp had been built on the Chinese side, with a passage widened along the mountains, crossings built on the river and a temporary dam constructed, according to the satellite photographs taken by Earth-imaging company Planet Labs.