US spy planes in South China Sea 'creating risk' for civilian aircraft
American reconnaissance craft initially identified as commercial airliner until it flew near Guangdong last week, source says
Cases of mistaken identity have led to passenger planes being shot down in the past, observers warn
The US Air Force is creating risks for passenger flights over the
South China Sea
with its close-in reconnaissance missions near the Chinese coast,
a Chinese military source and observers have warned.
The US military has several types of reconnaissance aircraft developed on commercial aeroplane platforms, and they usually follow civil aviation flights as cover when approaching China's airspace, a source close to the People's Liberation Army told the South China Morning Post.
The source said the E-8C Joint Surveillance Target Attack Radar System aircraft was initially identified by the air control radar system in the southern province of Guangdong as a commercial airliner, flying at more than 9,000 metres (29,500 feet) over the South China Sea.
It was only when it flew close to the provincial capital of Guangzhou that the plane was identified as an American military aircraft, according to the source, who requested anonymity due to the sensitivity of the situation.
"It's possible to cause accidents or misjudgments amid the escalating tensions between the Chinese and US militaries," the source said. "Using civil aircraft as cover is a common operation for the Americans and their close ally Israel. But the South China Sea is one of the world's busiest international airspaces, which may put civil aircraft at risk."
Lu Li-shih, a former instructor at Taiwan's Naval Academy in Kaohsiung, said many navies and air forces played tricks to cover up their military activities, which may cause safety problems to civilian airlines and vessels if ground-based military operators failed to make repeated verifications.
"War allows deceit. There have been some accidents that happened when ground-based missile defence troops failed to carefully verify intruding aircraft," Lu said.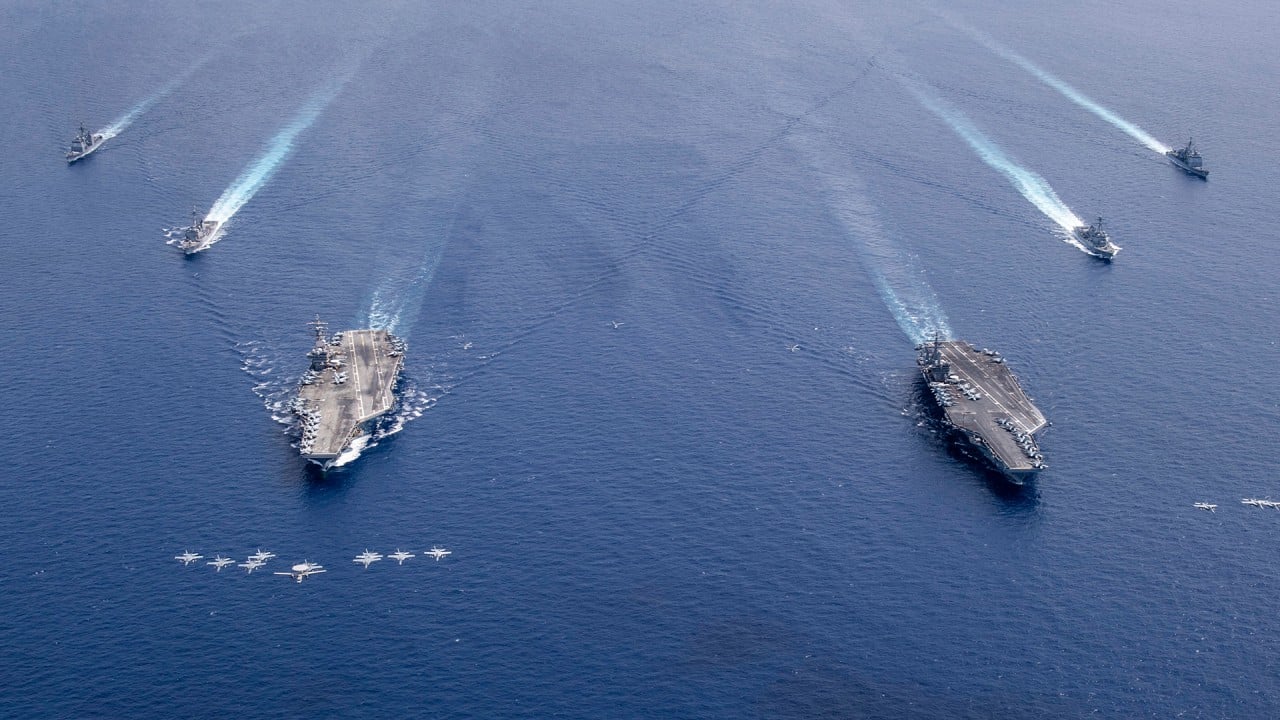 02:32
Washington's hardened position on Beijing's claims in South China Sea heightens US-China tensions
Washington's hardened position on Beijing's claims in South China Sea heightens US-China tensions
On January 7 this year a
Ukrainian Boeing 737 passenger plane was shot down
by Iranian forces soon after take-off from Tehran, killing all 176 passengers and crew. Iran said the aircraft had been mistaken for a "hostile target" in a case of "human error".
A similar accident happened on September 1, 1983 when a Korean Air Lines Boeing 747 was shot down by a Soviet Su-15 interceptor on its way from New York to Seoul. All 269 passengers and crew were killed in the incident, which happened because the Soviet air force responded to the airliner as "an intruding US spy jet".
Collin Koh, a research fellow at Singapore's Institute of Defence and Strategic Studies, said all military and civilian air traffic control departments around the world used the radar-based "identification of friend or foe" (IFF) signals to verify aircraft, and safety issues should not be a concern if military aircraft kept a safe distance from civilian flights.
"Because the E-8C itself is also a large plane, the aircrew will be concerned about safety, besides accomplishing their mission successfully," Koh said.
Hong Kong-based military expert Song Zhongping said the use of civil aviation airframes as military reconnaissance aircraft platforms not only saved costs, but also facilitated spying missions. "Fortunately, almost all reconnaissance aircraft modified from big passenger [planes] do not carry weapons, but they will collect valuable military information that may cause a direct threat to the PLA," Song said.
"The night operation conducted by US aircraft in the South China Sea aimed at spying on the PLA's recent weapon and troop deployments, because military mobilisations are usually arranged for the night."
The E-8C – the US Air Force's main platform for battle management and tracking of ground targets – uses a modified 707-200 commercial airliner airframe. Other US military reconnaissance aircraft reported over the South China Sea in the past two months have included the RC-135, also based on the Boeing series airframe, and the EP-3E.
In 2001, a PLA pilot died when his J-8II fighter jet collided with an American EP-3E which was conducting close-in reconnaissance near China's southernmost island province of Hainan.
The military source said that, to prevent future accidents, the PLA had demanded its US counterpart establish a communication mechanism similar to the one between Chinese and Indian militaries which covers several levels of command.
The US Seventh Fleet declined to comment on the night operation of E-8C, saying the aircraft was not from the navy.