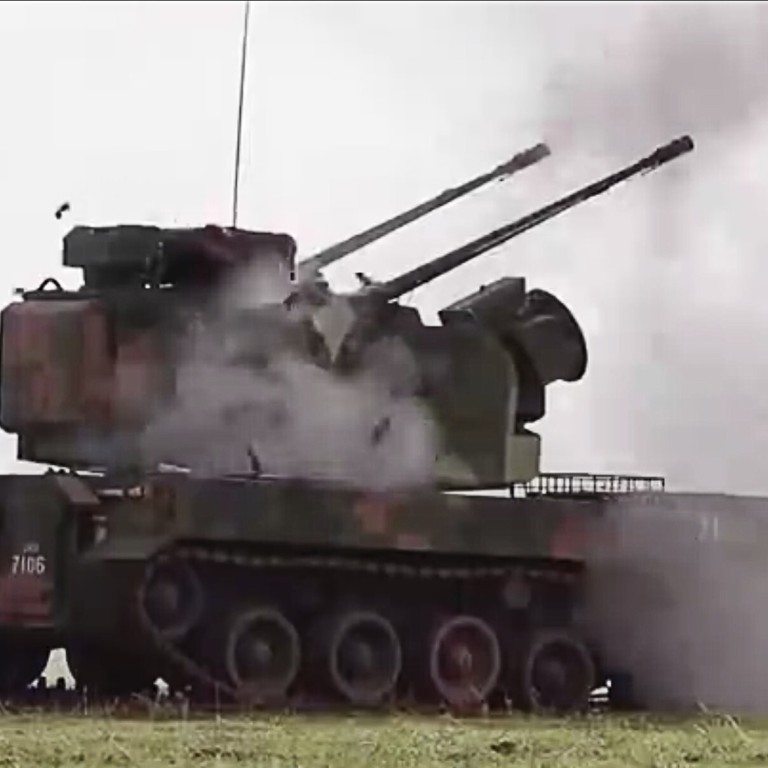 Chinese forces focus on combat readiness as US keeps close watch
75th Group Army mounts series of live-fire drills to test coordination and strike skills in action
Anti-aircraft guns, drones and armoured vehicles rolled out for exercises, state media report
A major military unit responsible for the defence of southern China has stepped up combat-readiness training in the last few weeks as US warplanes have mounted more frequent
close-up reconnaissance missions.
The
People's Liberation Army
's 75th Group Army, based in the southwestern city of Kunming, has conducted a series of live-fire and anti-aircraft drills since late July, according to state media.
The most recent exercise was in the southern province of Guangdong and involved four self-propelled anti-aircraft guns firing rapidly on targets identified by radar units, state broadcaster CCTV reported on Tuesday.
Battalion commander Yang Hu told CCTV that the exercise tested troops in "equipment operation, air enemy detection and coordination between officers and soldiers under combat conditions".
"This ensures that we can detect, collaborate and strike, as soon as the enemy appears," Yang said.
The 75th Group Army's artillery brigade also worked on its combat readiness in a series of day and night live-fire exercises in late July.
China News Service reported that the brigade used observation stations and drones to monitor and mount attacks on various targets.
"In this exercise, our strike units worked together … to show their combat effectiveness. The exercise improved the strength of the army's reconnaissance, command and control, strike and backup abilities in combat," Liu Shengguang, the brigade's deputy chief of staff, said.
The report did not say where the exercise took place.
Other exercises included use of new armoured vehicles in heavy rain, state media reported.
Song Zhongping, a Hong Kong-based military commentator, said the drills indicated that the military was focusing on multiple functions to maintain air and marine defences.
"This change can help the Chinese army fight in the South China Sea and the Taiwan Strait," Song said.
The exercises were staged as relations worsened between China and the United States.
According to a think tank affiliated with Peking University, 67 US reconnaissance aircraft operated over the South China Sea in July, up from 49 in June, and almost doubled the total for May. Both the US Navy and Air Force took part in the reconnaissance activities, the South China Sea Strategic Situation Probing Initiative said.