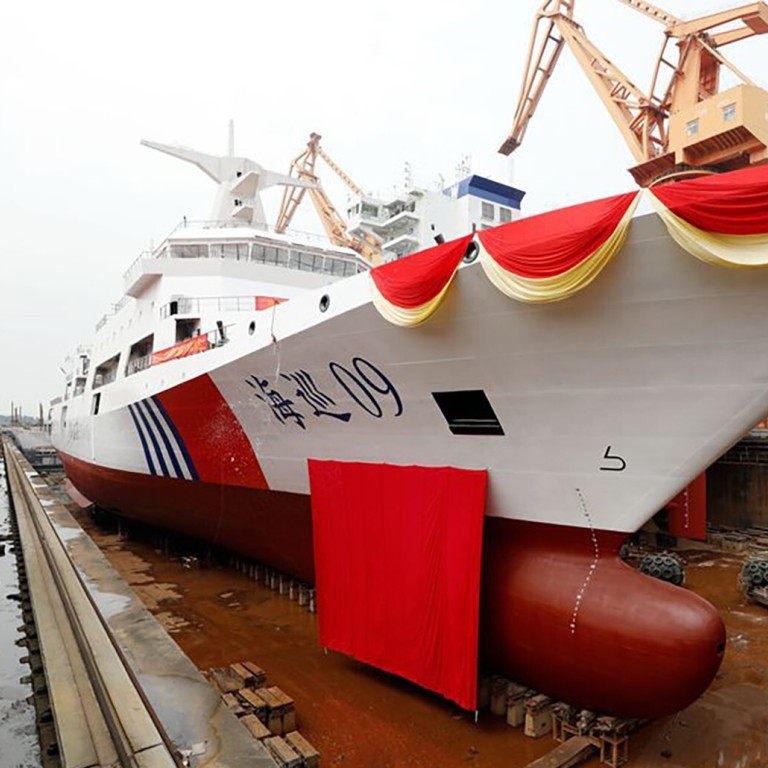 China launches largest maritime patrol ship amid rising regional tensions
Vessel will be used to manage and control maritime traffic, help with emergency support and safeguard nation's interests, transport ministry says
It could also be used to boost so-called grey zone tactics in contested waters, according to analyst
China launched a new maritime patrol vessel on Tuesday – the largest and most advanced to join its civilian fleet – as tensions rise between Beijing and its neighbours over
the disputed South China Sea
.
The Haixun09 – meaning "sea patrol" – is big enough to accommodate several types of helicopters and will be able to handle rough seas and strong winds, its chief engineer Yan Peibo told state-run China National Radio.
With a displacement of 10,700 tonnes, it is larger than the navy's Type 052 guided-missile destroyers that accompany its aircraft carriers, and analysts say it could be used to assert Beijing's territorial claims in the South China Sea.
The Guangdong Maritime Safety Administration will manage
the 165-metre vessel
, which can sail more than 10,000 nautical miles at an economical speed of 16 knots and will be able to make voyages of more than 90 days, according to the report.
"The Haixun09 will strengthen China's management and control of maritime traffic, help with emergency support, ensure that maritime transport is safe and unimpeded … and safeguard China's maritime interests," said Cao Desheng, director of the transport ministry's Maritime Affairs Bureau.
He said the patrol vessel could also be used in international rescues in cooperation with other countries.
Chen Biwu, director of the Guangdong maritime authority, said the patrol ship would play an important role in ensuring maritime traffic safety, protecting the marine environment and safeguarding the country's rights and interests.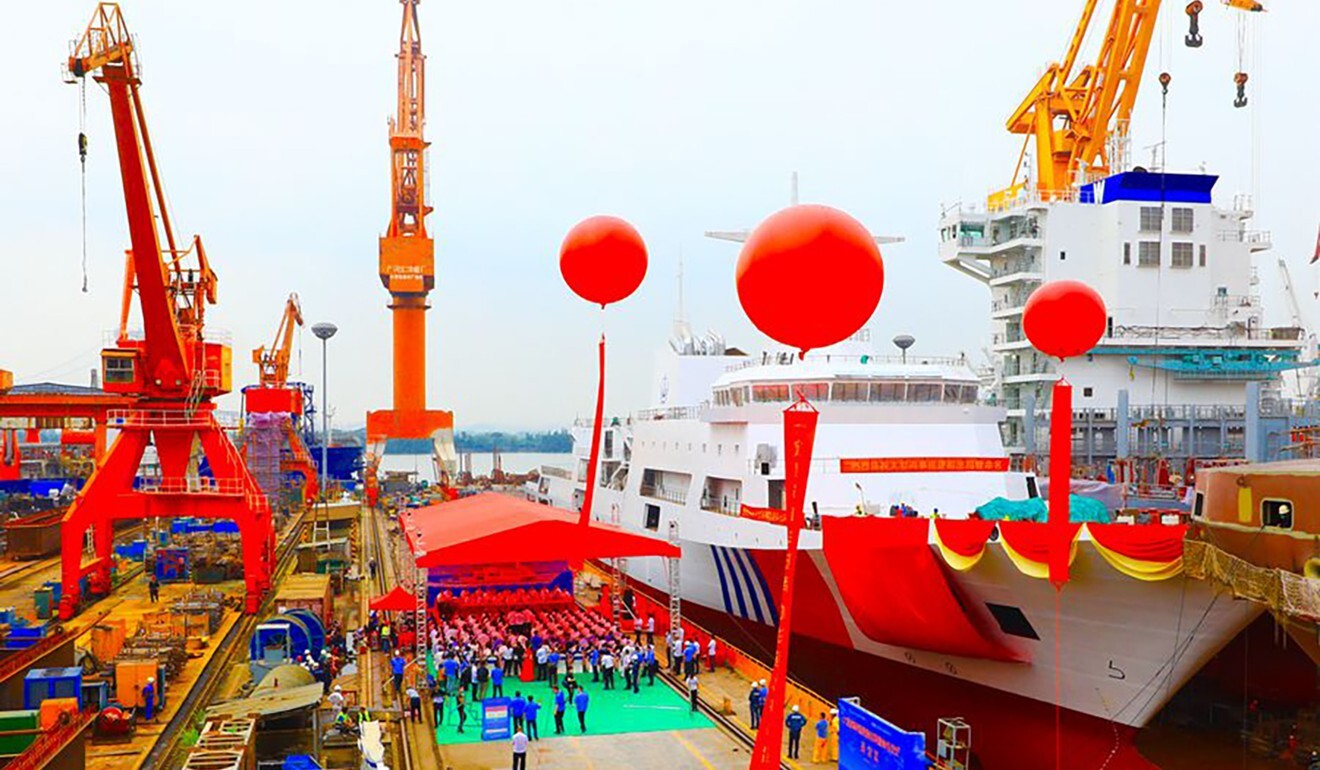 The new vessel could also be used to boost China's
"grey zone tactics"
in contested waters, according to Ben Ho, an associate research fellow with the military studies programme at the S. Rajaratnam School of International Studies at Singapore's Nanyang Technological University.
Such tactics involve coercive actions below a threshold that could typically prompt a conventional military response.
"Sovereignty disputes in the South and East China seas are not usually under the purview of the Maritime Safety Administration, but as Beijing consolidates its South China Sea outposts, it is not inconceivable that vessels from the maritime authority could be forward-deployed from there," Ho said.
"A larger vessel is usually a more capable one – the Haixun09 is ideal for 'out of area' exercises and missions given its ocean-going capabilities," he added.
Adam Ni, director of the China Policy Centre, an independent think tank in Canberra, said the launch of the new patrol ship was part of Beijing's efforts to defend its maritime claims.
"The vessel will add to China's maritime capabilities. Compared to the last few years, China is in a much better position now to monitor its near seas and to make its presence felt," Ni said.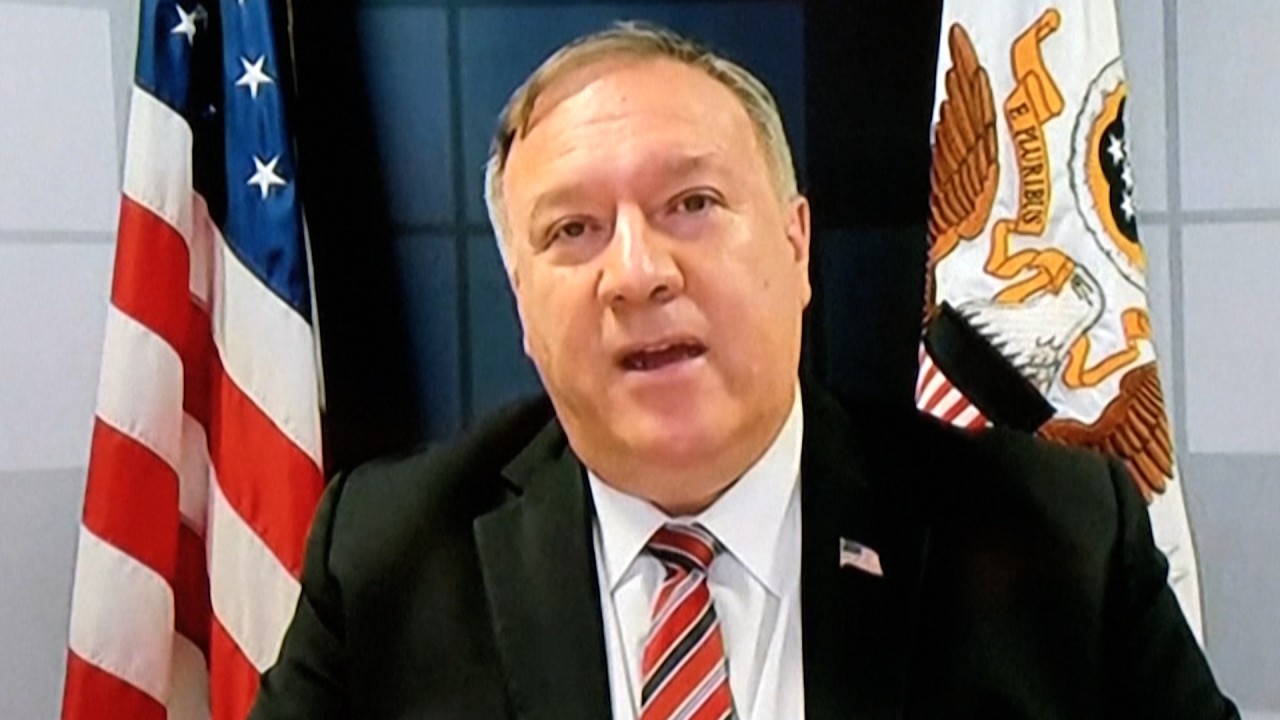 00:53
South China Sea: Don't let China 'walk over us', says Pompeo during Asean meeting
South China Sea: Don't let China 'walk over us', says Pompeo during Asean meeting
Beijing has extensively used non-military ships – from the coastguard fleet and even fishing boats – to increase its presence in the region, where its extensive island-building and construction of military installations has fuelled China's growing rivalry with the United States.
Relations have also worsened between Beijing and its neighbours over the South China Sea, where its expansive territorial claims overlap with those of Vietnam, the Philippines, Taiwan, Malaysia and Brunei. Beijing rejected a 2016 international tribunal ruling in The Hague that its claims to the waterway had no legal basis.
Vietnam has become the most vocal regional challenger of Beijing's maritime claims. Tensions flared in April when
a Vietnamese fishing boat sank
in the South China Sea after colliding with a Chinese coastguard ship, with the two sides trading accusations over who caused the incident. Four months later,
Japan signed a US$345 million loan agreement with Vietnam
to provide the Southeast Asian country with six patrol boats to boost its maritime law enforcement capabilities.
This article appeared in the South China Morning Post print edition as: China launches largest patrol ship amid tensions