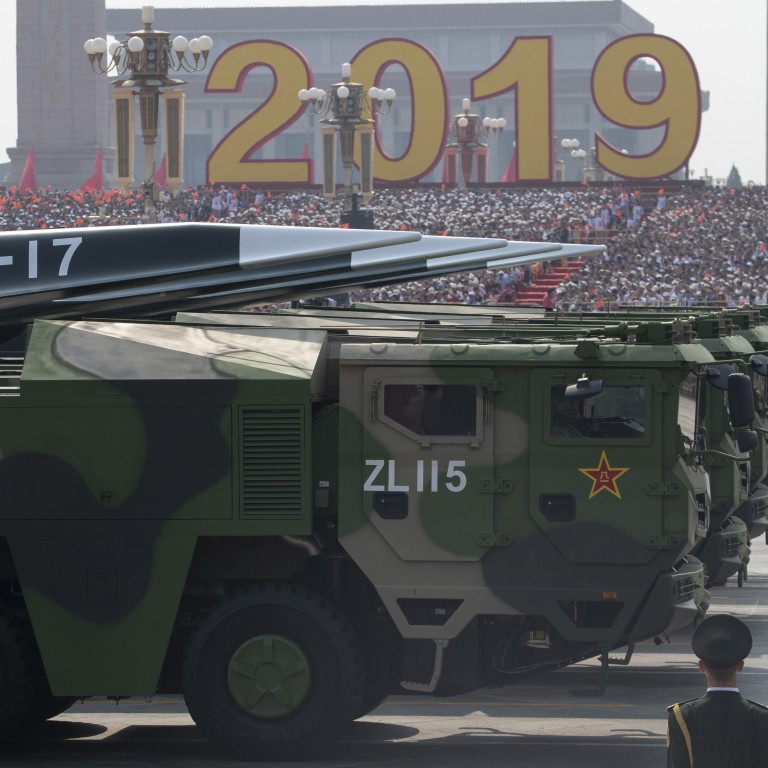 China-US rivalry: Beijing banking on 'disruptive technologies' for a military edge, observers say
Speeding up the development of 'strategic forward-looking disruptive technologies' is a focus of the country's latest five-year plan
Testing of sixth-generation fighters, quantum radar systems and a prototype rail gun already under way, expert says
China's plans to develop "disruptive" technologies could be key to it closing the gap or even overtaking its arch-rival the
United States
in the military field, analysts say.
Beijing published its latest blueprint for the nation's development, known as a
five-year plan
, on Tuesday. The document, which spans the period from 2021-25, was adopted at a plenary session of the Communist Party Central Committee last week.
For the first time, the document used the term "disruptive technologies" with regards to its military development. Its predecessor, for 2015-20, focused on civil-military fusion and the modernisation of combat forces.
Among other things, the new plan seeks to "accelerate the modernisation of weapons and equipment, focus on indigenous innovation in national defence science, accelerate the development of strategic forward-looking disruptive technologies, and accelerate the upgrading of weapons and equipment".
Military observers said the disruptive technologies – those that fundamentally change the status quo – might include such things as sixth-generation fighters, high-energy weapons like laser and rail guns, quantum radar and communications systems, new stealth materials, autonomous combat robots, orbital spacecraft, and biological technologies such as prosthetics and powered exoskeletons.
Wang Haifeng, chief technology officer at Aviation Industry Corp, China's state-owned aerospace and defence conglomerate, said last year that the development of a sixth-generation fighter had already begun.
There have also been reports that a prototype rail gun has been installed on a test ship, a quantum radar system capable of detecting stealth aircraft has undergone trials, and progress has been made in the development of technologies related to spacecraft, such as scramjet engines.
Shi Lao, a military commentator based in Shanghai, said other possible highlights of the plan would be an integrated system of hypersonic weapons and unmanned equipment platforms driven by artificial intelligence.
By developing disruptive technologies, China can focus on niche areas where it has a better chance of making a breakthrough while avoiding the battleground where other nations already have extensive experience and resources.
"Neither China nor the US has much technological experience in these new fields," Shi said. "Both are starting from scratch."
China last month showed off its progress by deploying a glider DF-17 surface-to-surface missile, while an
H-6N bomber
was reported to have been carrying an air-launched glider-shaped missile, which is believed to be a step in the development of an all-platform hypersonic missile arsenal.
Zhou Chenming, a military observer in Beijing, said China was indicating its long-term development direction by adding the new terminology to the five-year plan.
"The technologies are not for immediate use in a possible regional conflict, but lay the foundation for the future," he said.
Song Zhongping, a former instructor with the People's Liberation Army, said one of the most likely disruptive changes to military technology would be the greater use of unmanned weapons.
"In the future we will see wars fought by unmanned warships, unmanned aircraft and unmanned ground equipment, all controlled by AI," he said.
With Washington also pouring huge amounts of money into the development of new technologies, the race was now on between scientists and researchers from the two nations, Song said.
"It will be China's goal to keep pace with the Americans in this area," he said.
A report by the US Congressional Research Service published in August said that although the US was a world leader in many advanced technologies, China and Russia were making steady progress.
China had already overtaken the US in the development of lethal autonomous weapons, according to the report, titled "Emerging Military Technologies: Background and Issues for Congress".