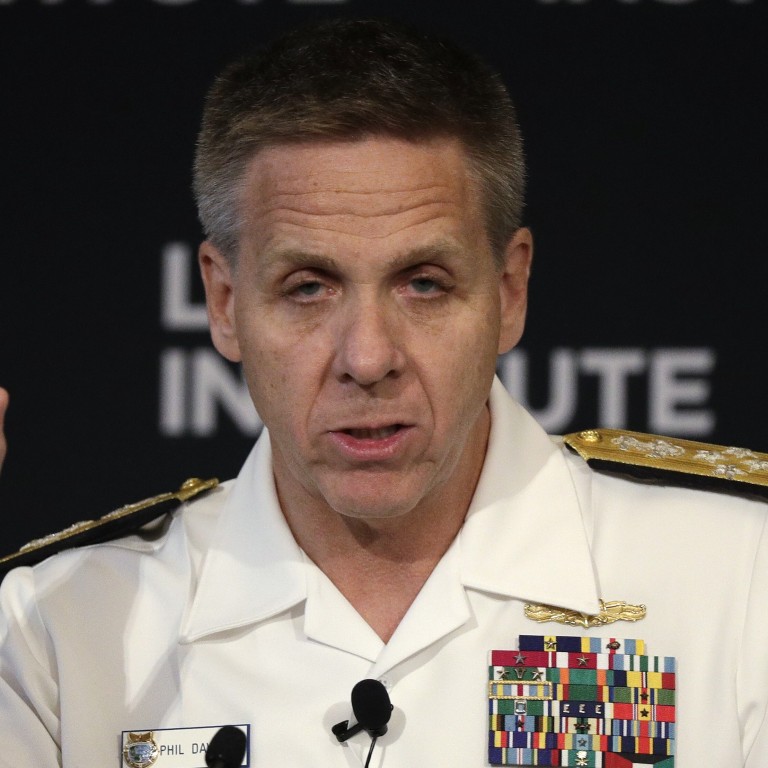 Commander warns US lawmakers about China's growing military strength in Indo-Pacific
Admiral Philip Davidson says a key to Washington's efforts to counter China is the Quad: the alliance between the US, Japan, India and Australia
'Our No 1 job is to keep the peace, but we absolutely must be ready to fight and win should competition turn to conflict,' he tells Senate committee
Unable to match the pace of China's military budget increases, the Pentagon needs to restructure and work more closely with allies to improve efficiency and otherwise counter Beijing's growing assertiveness, the nation's top Pacific naval commander told Congress on Tuesday.
Comments by Admiral Philip Davidson, head of the US Indo-Pacific Command, follow China's announced 6.8 per cent increase in its 2021 military budget and President Xi Jinping's urging on Tuesday that the People's Liberation Army (PLA) be "prepared to respond" to complex and difficult security challenges.
In comparison, the US military budget, which is more than twice as large as China's, has risen less than 1 per cent over 2020 levels.
"The Communist Party of China promotes a closed and authoritarian system through internal oppression and external aggression," Davidson told the Senate Armed Services Committee. "Our No 1 job is to keep the peace, but we absolutely must be ready to fight and win should competition turn to conflict."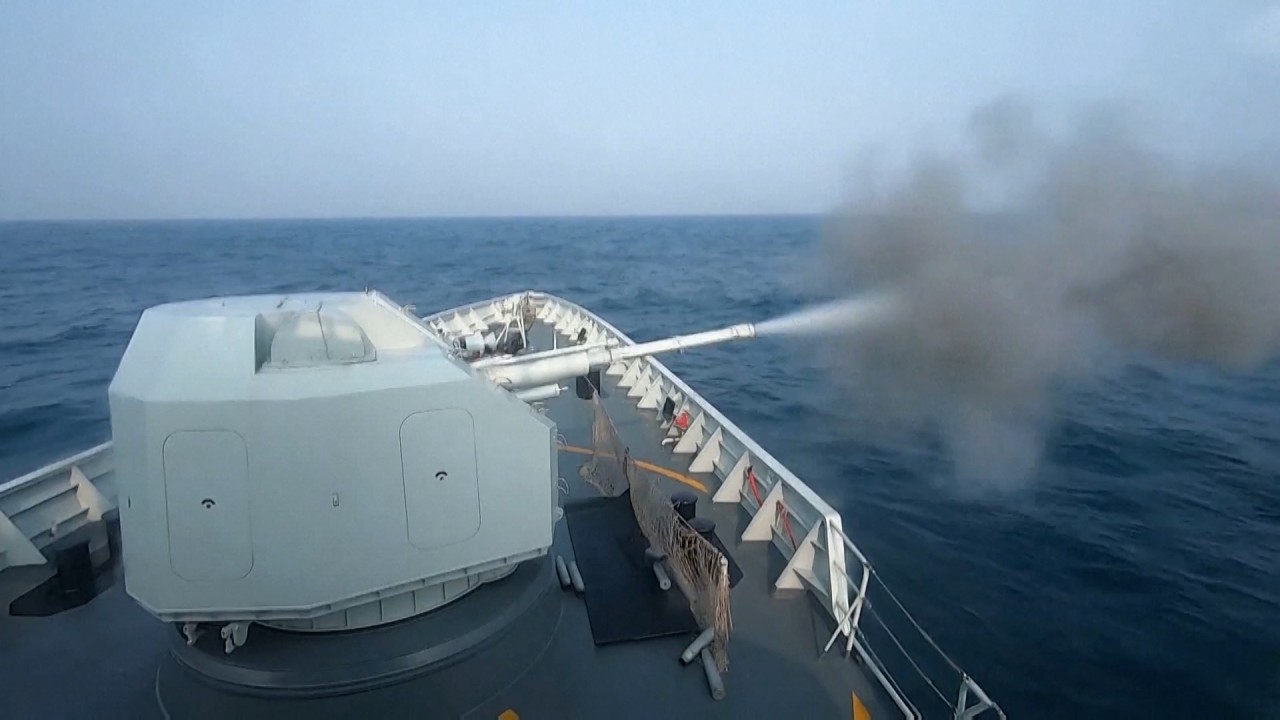 01:16
China's navy frigates launch military drill at sea
China's navy frigates launch military drill at sea
The Pentagon is reviewing its strategy in the region, and the admiral was invited to testify before the committee to discuss military spending and priorities.
Davidson said a goal was to bolster the United States' conventional defence abilities, in part by expanding long-range strike capabilities, ground-based cruise and ballistic missiles and by building sophisticated missile defence systems in Guam and other outposts.
"They prevent a cheap shot," Davidson said, adding that offensive firepower lets China know "that the costs of what they seek to do are too high, and to give them doubt in their success".
As the US becomes increasingly wary of China's growing prowess, island building in the South China Sea and muscle-flexing along the de facto Indian border, a showdown of military budgets has followed. This has seen China step up its spending in line with its economy and ambition and the US struggle to do more with less.
At a conference last week titled "Competing with China Through Budget Agility" hosted by the Hudson Institute, speakers said the US must move quickly to adopt technologies and gain first-user advantage or lose its primacy.
"The tech race is at the heart of that competition and the tech race implies speed," said Michael Brown, director of the Pentagon's Defence Innovation Unit.
"As it relates to the budget cycle, that's not moving at a rate of speed that's consistent with its competition. As we all know, it takes two years to plan a dollar of spending" at the US Department of Defence.
A cornerstone of the Pentagon's bid to check China is the US network of allies and partners, Davidson said, particularly the Quad – a grouping of the US, Japan, India and Australia – a "diamond of democracies" that can serve as a platform for diplomacy, economic and political initiatives as well as defence issues.
White House press secretary Jen Psaki said on Tuesday that the Quad planned a virtual meeting on Friday, its first involving top leaders, to discuss climate change, the pandemic and economic cooperation. She did not mention China.
Analysts said China's outsize military ambitions, driven by Xi, are hardly a surprise.
"Xi has been actively calling for the PLA to be ready to 'fight and win wars' for several years," said Elizabeth Economy, a senior fellow at the Hoover Institution at Stanford University. "What is unfortunate is that he is creating a threat where none exists."
"No country is preparing to attack China," said Economy, who is also a senior fellow at the Council on Foreign Relations. "It is China that is attempting to change the geostrategic landscape in the Asia Pacific and therefore destabilising the region."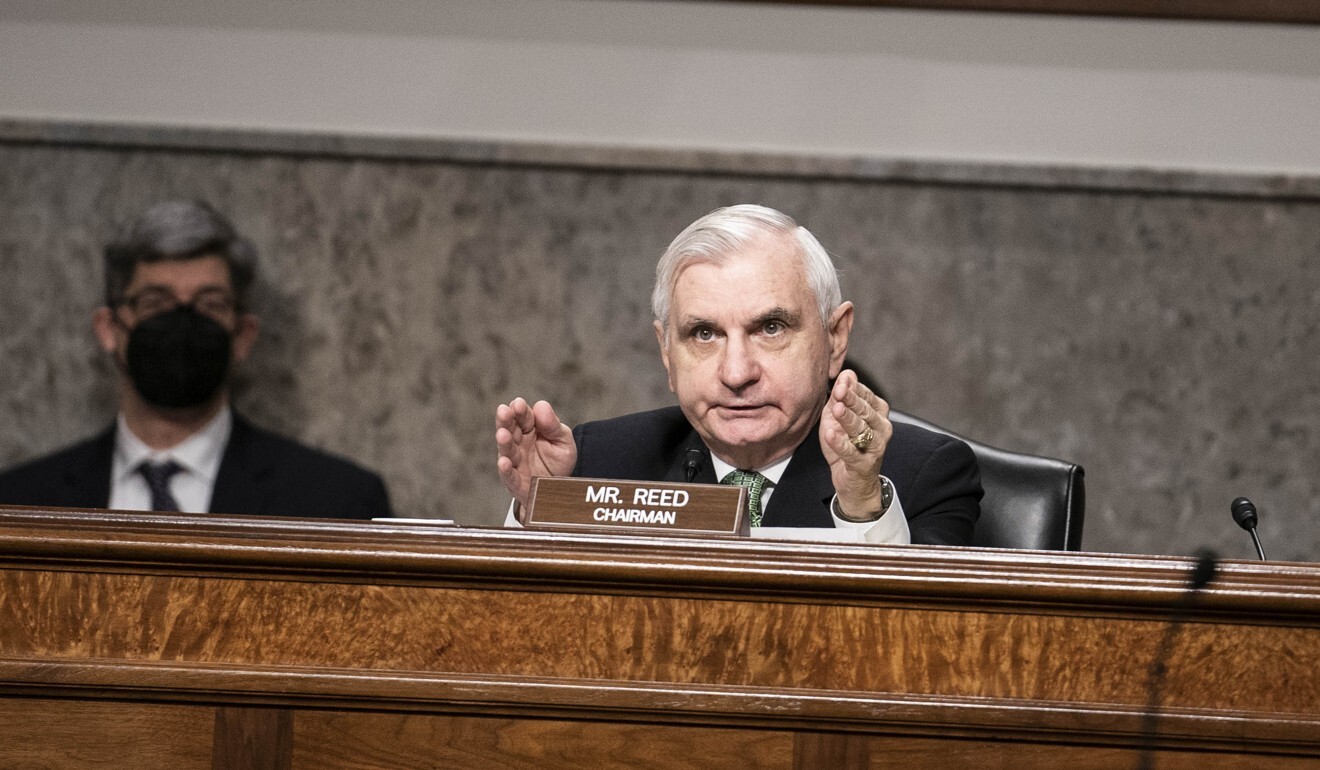 Davidson declined to say whether the US should end its policy of "strategic ambiguity" – neither committing nor ruling out coming to Taiwan's defence – but said China's aggressive military expansion was concerning, particularly around the Taiwan Strait.
"I worry that they're accelerating their ambitions to supplant the United States and our leadership role in the rules-based international order," he said. "They've said that they want to do that by 2050. I'm worried about them moving that target closer. Taiwan is clearly one of their ambitions before that. And I think the threat is manifest during this decade, in fact in the next six years."
The Pentagon also believes China is pursuing a nuclear triad capability – the ability to launch weapons from the ground, air and sea – and may try to develop nuclear strength "commensurate with a great power", Pentagon spokesman John Kirby said at a separate briefing on Tuesday.
Left unchecked, China's nuclear arsenal could grow "commensurately with its regional ambitions", he said, without offering specifics on the size of Beijing's arsenal.
Xi has been on a crusade to root out incapable or inefficient PLA leaders unable or unwilling to make the transition to more information-driven military operations, said Larry Wortzel, a senior fellow at the American Foreign Policy Council.
Underscoring this was a July 2017 speech Xi gave citing the need for commanders qualified in "modern joint operations" and the 2017 appointment of Lieutenant General Yang Xuejun – a supercomputer specialist and advocate of automation and information sharing technology – as president of the prestigious Academy of Military Science, he added.
"Xi Jinping has been unhappy at the speed with which senior PLA officers have embraced the concept of adopting and relying in information systems," said Wortzel, a former commissioner on the United States-China Economic and Security Review Commission. "Perhaps Xi also was not satisfied that senior PLA leaders even understood what it meant and its implications."
China's growing ballistic missile capability has been of particular concern to US planners. A coordinated test launch of the PLA's leading anti-ship ballistic missile into the South China Sea in August sent an "unmistakable message to regional and global audiences", Davidson said.
But some also cautioned against US overreaction.
"We must guard against treating the Chinese People's Liberation Army and China as 10 feet tall," said Senator Jack Reed, a Democrat from Rhode Island and chairman of the Armed Services committee.
"As an emerging power, China faces a number of challenges that it must contend with both domestically and internationally," he added.