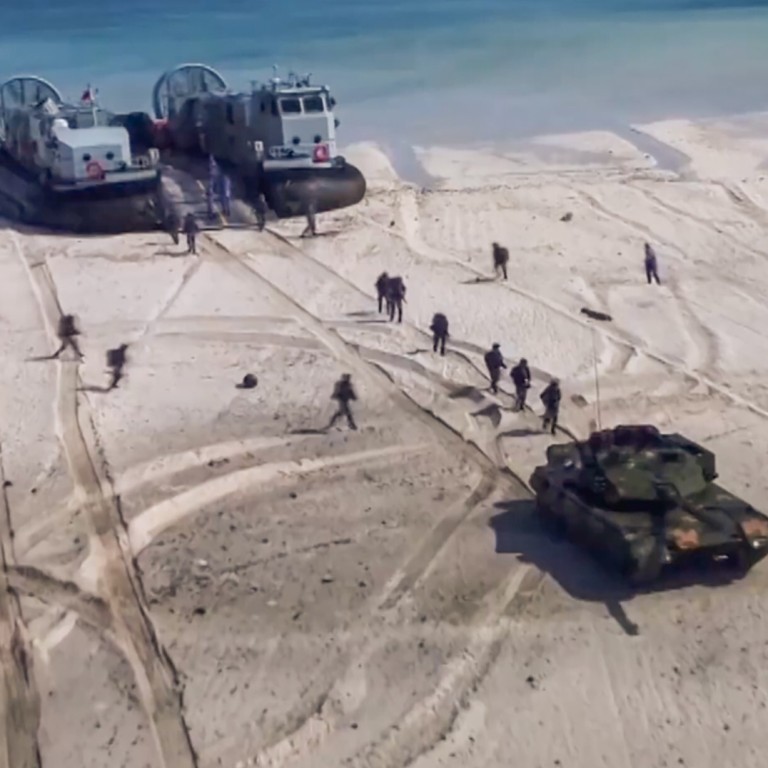 PLA releases videos showing marines in island landing drills 'targeting Taiwan'
Navy says recent exercises involving amphibious landing docks aimed to improve rapid response in enemy territory
Analyst says combat training is preparation for a possible conflict over Taiwan and more such drills are expected
Video footage released by the PLA Navy on Monday shows marines from the Eastern Theatre Command in a recent landing exercise involving a Type 071 amphibious transport dock, the Yimengshan, along with landing craft and armoured vehicles. It was not clear where or when the drill was conducted.
The navy also released a video last week showing a recent landing drill by the Southern Theatre Command in which another Type 071 amphibious landing dock, the Qilianshan, made its debut with sister ship the Wuzhishan, in an exercise in an unknown location that included vertical landing training using ship-borne helicopters.
The navy said the drills were aimed at training marines in rapid response in enemy territory and using different amphibious platforms and weapon systems.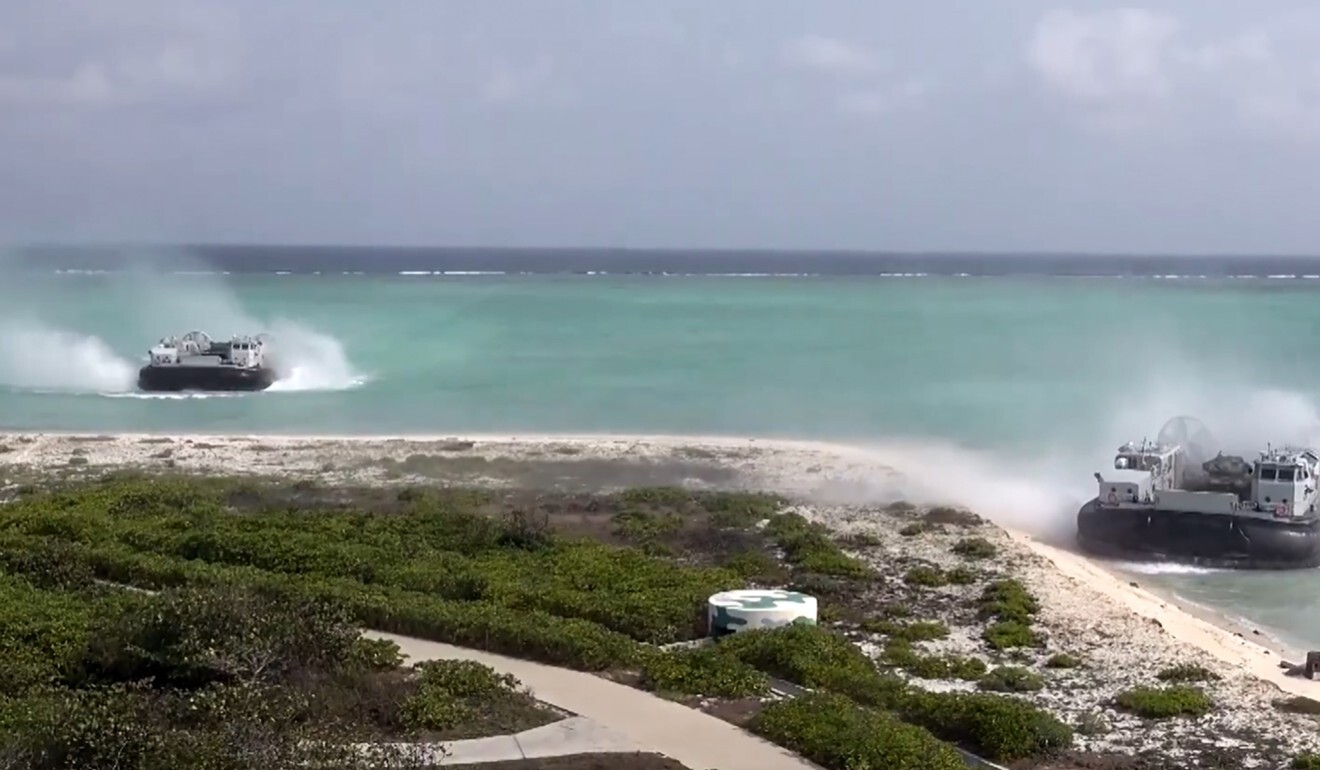 Both the PLA and Taiwan's military have launched new amphibious vessels in the past month, and analysts expect more such exercises in the weeks to come, ahead of the typhoon season.
The
Type 075 amphibious landing helicopter dock
and two other warships were commissioned on April 23 to mark the PLA Navy's 72nd anniversary. The 40,000-tonne amphibious warship is the biggest of its type and is estimated to be able to carry 30 helicopters and nearly 1,000 personnel.
"The Type 075 will be able to use all the PLA's existing amphibious weapons [such as hovercraft and light landing tanks]," Beijing-based military analyst Zhou Chenming said.
A separate navy propaganda video shows amphibious landing drills being conducted two months ago.
Military commentator Song Zhongping said the PLA was targeting its combat training to prepare for a possible conflict over Taiwan, and the landing drills were part of that. He said the exercises were also preparation for more Type 075 amphibious warships going into service.
"Training marines on the Type 071 transport docks is the best way to get them used to operating the newer and more powerful Type 075," said Song, a former PLA instructor based in Hong Kong.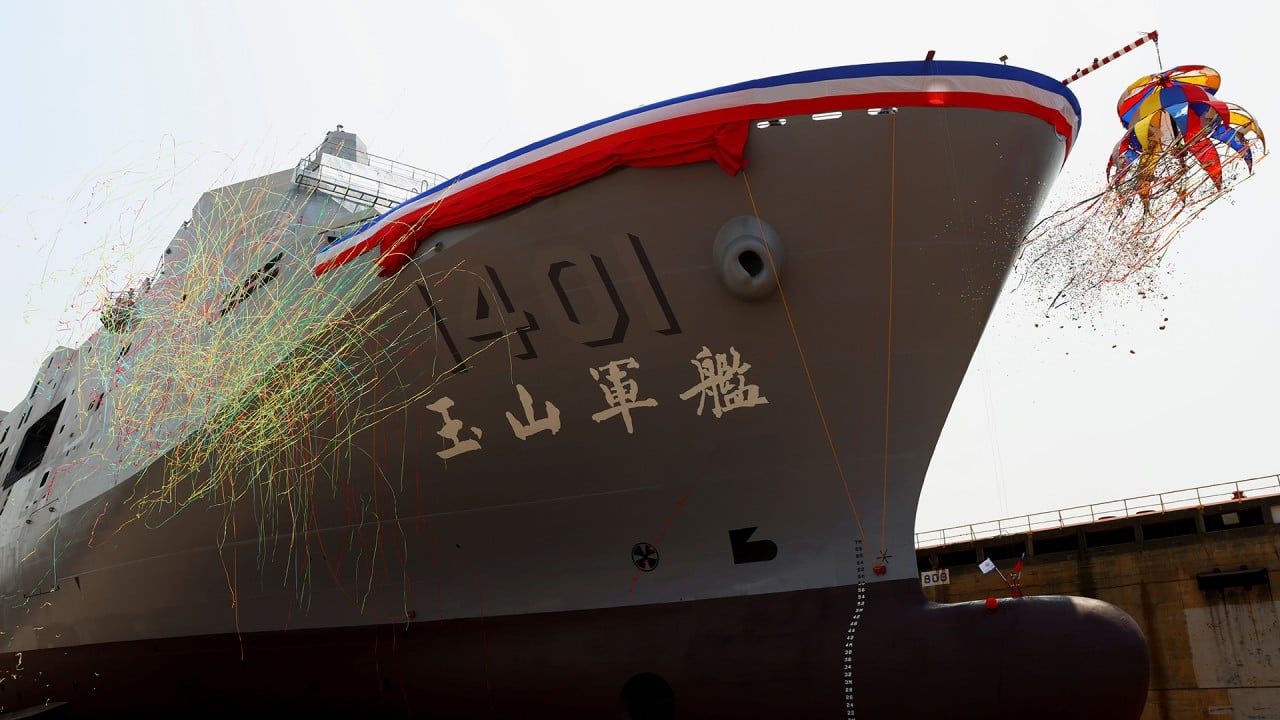 01:45
Taiwan unveils new amphibious assault and transport ship for service in the South China Sea
Taiwan unveils new amphibious assault and transport ship for service in the South China Sea
It comes as tensions are rising in the region, with both the United States and PLA navies sending aircraft carrier strike groups to the South China Sea, and the PLA staging drills near Taiwan.
Lu Li-shih, a former instructor at Taiwan's Naval Academy in Kaohsiung, said there would be more landing and defensive exercises this month.
"Both navies across the Taiwan Strait will be planning drills – whether it's island landing drills or defensive island operations – before the typhoon season begins [in June]," Lu said.
Beijing sees Taiwan as part of its territory and has vowed to bring the self-ruled island under its control, by force if needed. It has stepped up military intimidation of Taiwan, including by sending warplanes into its air defence identification zone on an almost daily basis since last year, and increased pressure on President Tsai Ing-wen, who has refused to accept the one-China principle. Beijing has also been angered by closer ties between Taipei and Washington.
This article appeared in the South China Morning Post print edition as: PLA releases new video showing itsisland landing drills 'targeting Taiwan'