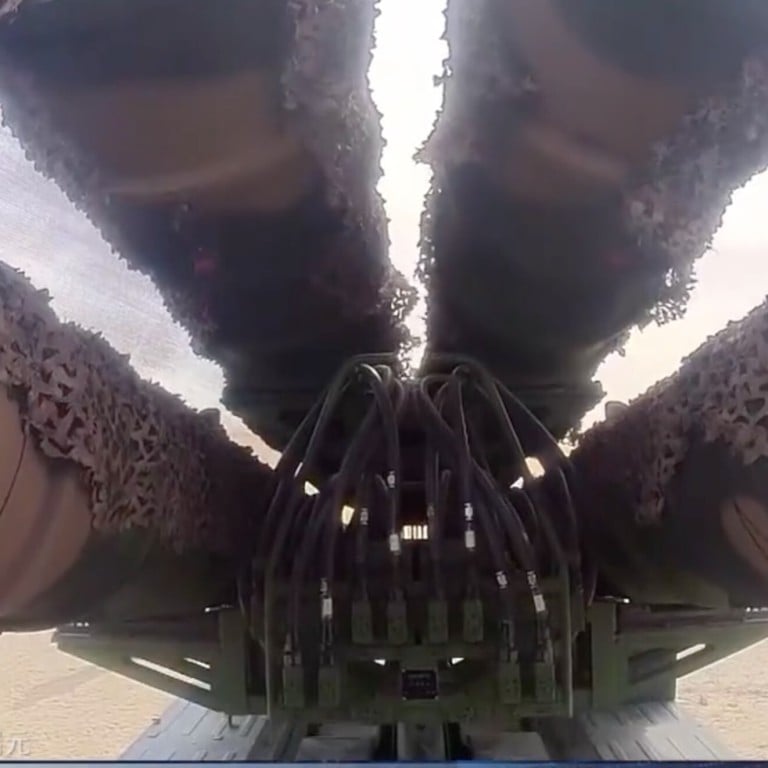 China puts upgraded HQ-9 missile system to extreme test
A PLA red vs blue team drill allowed the testing of a newly commissioned missile system, including electromagnetic interference to challenge the missile type
The HQ-9B is a new vertical launch, medium and long-range ground-to-air missile defence system to intercept airborne targets up to 250km
The Chinese air force has put an upgraded version of one of its most advanced air-defence missile systems to an extreme test in unfamiliar terrain, according to state media.
Observers said the exercise involving the upgraded HQ-9 system was meant to show the hardware at full stretch, as the military presses on with plans to develop a modern combat-ready force.
"[We] want to learn how to protect and maintain the new weapon system under rugged surroundings, as well as to better camouflage it and … try all efforts to fulfil our task," air force commander Du Tao told state broadcaster CCTV.
During the exercise, a ground-to-air missile brigade of the People's Liberation Army Air Force was deployed 500km (310 miles) to unfamiliar territory for a simulated confrontation between red and blue armies.
Using the missile system, the brigade knocked down four target drones with four shots, CCTV reported.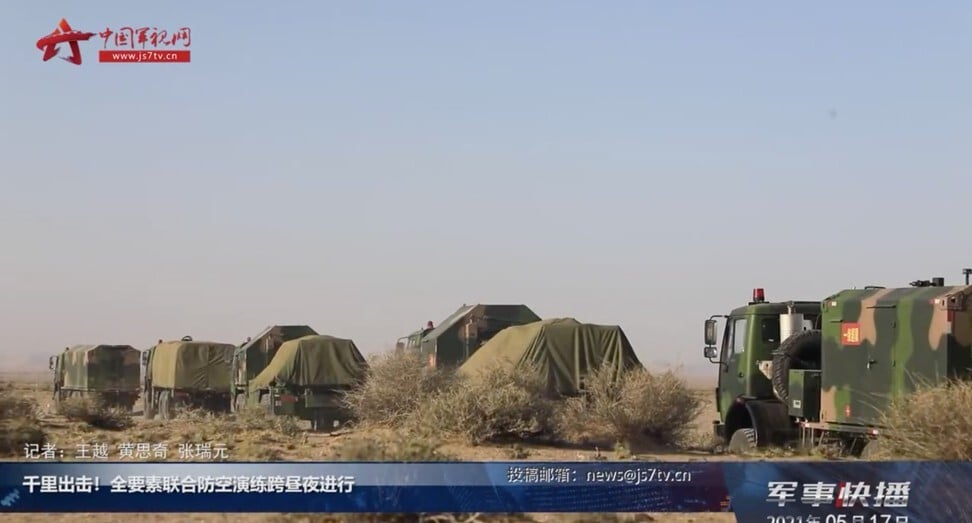 The exercises were reportedly conducted with stealth under the joint operations of different combat units, including the air-defence missile battalion and strategic support troops equipped with early-warning radar and electronic surveillance systems.
Special forces played the role of the rival blue army with electromagnetic interference devices to confuse operations for the new missile type, the CCTV report said.
The report did not reveal what type of missile was used or when and where the exercises took place, but Du said the drill aimed to test a new air-defence missile system under dark, cold, sandy and other extreme conditions, indicating the system being tested was likely to have been the upgraded HQ-9B system.
The HQ-9B is a new vertical launch, medium and long-range ground-to-air missile defence system developed for the PLA to intercept airborne targets at ranges of up to 250km. The missile system was deployed to the artificial islands in the disputed South China Sea in 2016. The PLA Navy has deployed the shipborne HHQ-9B to the new Type 052D guided-missile destroyers.
Former PLA instructor Song Zhongping said the drill indicated that the air force air-defence combat unit could deploy and operate new weapon systems such as the HQ-9B missiles in unfamiliar terrain at any time.
"Those kinds of long distance deployment and massive joint operation drills are aimed at enhancing the PLA's manoeuvrability," Song said. "It's important to test and operate a new weapon system as soon as possible after its commissioning, which could also beef up combat capability."
Beijing-based military expert Zhou Chenming said all PLA combat units needed to show their full military "mechanisation" capacity. Last year, China's defence ministry declared that the PLA had achieved the goal of upgrading its weaponry after more than two decades of efforts towards building a
modernised military
.
"The PLA has completed massive and comprehensive weapon replacement over the past two decades," Zhou said. "Now all combat troops should reinforce their training and get used to operating all new weapons systems via joint operations between different units."
This article appeared in the South China Morning Post print edition as: Upgraded HQ-9 missile system put to extreme test