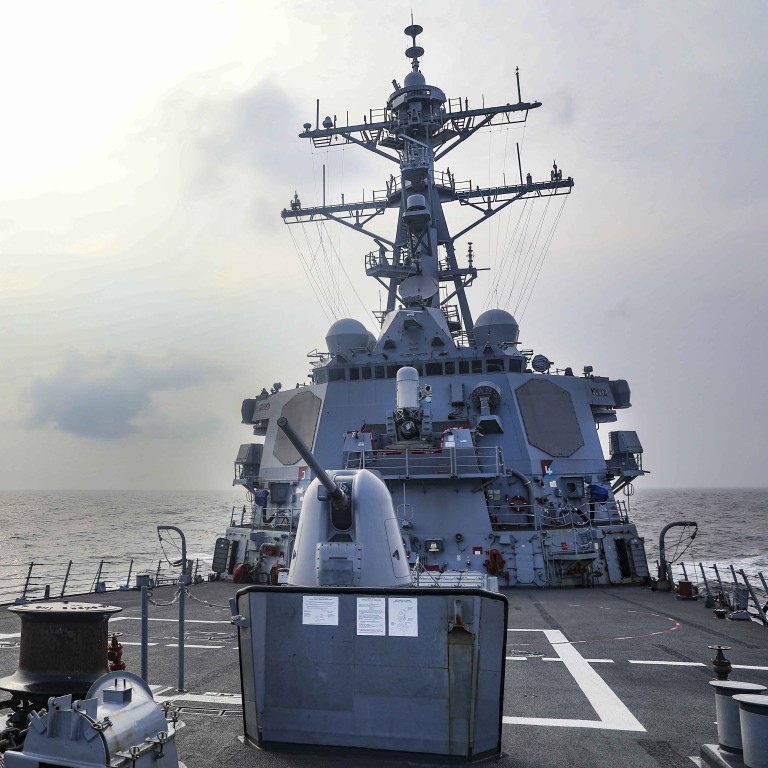 China says Taiwan Strait crossing by US warship shows America as 'biggest destroyer of peace'
The PLA's Eastern Theatre Command says its troops are 'ready to respond to all threats and provocations'
As China asserts sovereignty, the US – which has sailed ships through the strait seven times this year – insists it has the right of freedom of navigation
China accused the United States on Thursday of being the single biggest cause of friction and threats in the
Taiwan Strait
, soon after a US warship crossed the waterway for the seventh time this year.
The frequent passage of American vessels through the strait showed that "the US is the biggest destroyer of peace and stability … and the biggest maker of security risks across the Taiwan Strait", according to a statement from the People's Liberation Army Eastern Theatre Command.
It said Eastern Theatre troops were ready to respond to all threats and provocations and would defend national sovereignty and territorial integrity.
The PLA's Eastern Theatre is mainly responsible for operations in the Taiwan Strait – the narrow waterway that separates the Chinese mainland and the self-ruled island of
Taiwan
, which Beijing sees as part of its territory.
The statement came after the Arleigh Burke-class guided-missile destroyer USS Benfold sailed through the Taiwan Strait on Wednesday. The US Seventh Fleet said the warship's transit through the Taiwan Strait showed America's commitment to a free and open Indo-Pacific and that the US military "flies, sails and operates anywhere international law allows".
Two weeks earlier, the USS Benfold made
its first "freedom of navigation operation"
within 12 nautical miles of the disputed Paracel Islands – claimed by Beijing, Hanoi and Taipei – in the South China Sea. Beijing responded by driving away the ship, and said it "had seriously violated China's sovereignty and undermined the stability of the South China Sea".
The US military has ramped up freedom of navigation operations in the region over the past five years, according to the South China Sea Strategic Situation Probing Initiative, a Beijing-based think tank. In 2016, three US warships sailed within 12 nautical miles of Chinese-controlled islands in the South China Sea. There were four patrols in 2017, five in 2018, eight in 2019 and nine in 2020.
A similar pattern has been seen in the Taiwan Strait. According to a list compiled by Collin Koh, a research fellow from the S Rajaratnam School of International Studies at Singapore's Nanyang Technological University, US warships conducted 15 transits in the Taiwan Strait last year, up from nine a year earlier.
Taiwan has become another source of tension in the fraught
US-China relations
hip, with Beijing angered by Washington moving closer to Taipei in recent years. Beijing has become more assertive about its claims over Taiwan, ramping up military pressure on the island with frequent sorties into its air defence identification zone and naval activities in the Taiwan Strait.
This article appeared in the South China Morning Post print edition as: 'u.s. the biggest destroyer of peace'