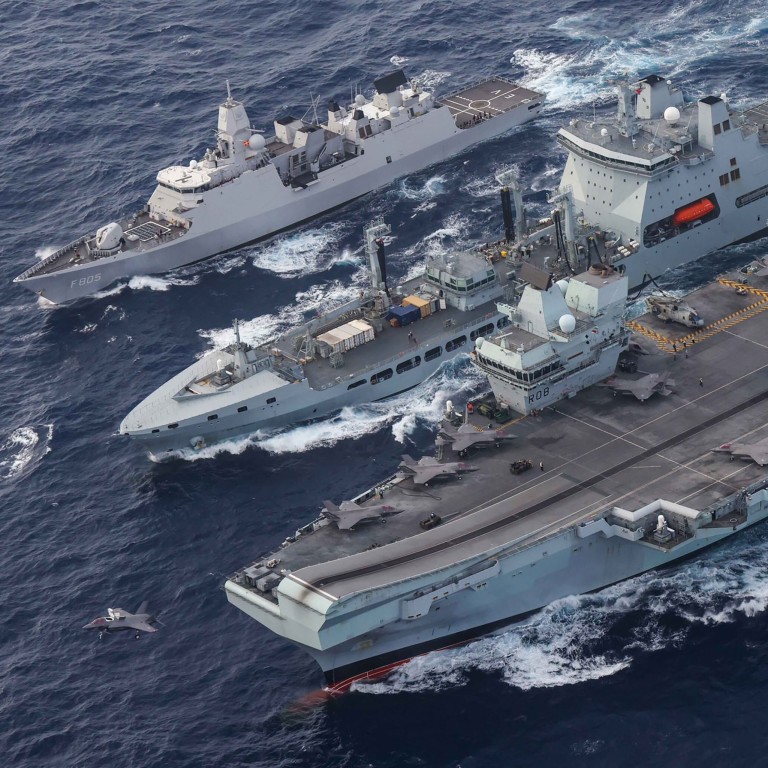 British navy 'shows global ambitions' with aircraft carrier's South China Sea mission
HMS Queen Elizabeth and its strike group venture into contested waters in show of support for US efforts to contain China, analyst says
But the forces have been careful to not make one move that would antagonise Beijing
The presence of
Britain's new aircraft carrier
and scheduled permanent deployment of two warships to Asia reflects the country's ambition to become a major global player and its commitment to US plans to contain China, according to military analysts.
HMS Queen Elizabeth and its strike group are in the
South China Sea
for freedom of navigation exercises and a series of military drills with a number of other countries in the region.
The warships left Britain two months ago and are on a 42,000km (26,000-mile) mission that will continue until the end of the year.
Beijing-based military expert Zhou Chenming said the mission had left a gap in defences in Europe where US-led Nato forces were needed to counter the Russian military.
"The strike group's journey from Europe to Asia can be seen as a political show. It should stay home to cope with the Russian navy instead," Zhou said.
However, Macau-based military observer Antony Wong Dong said London had used the maiden voyage of its strike group to try to rebuild its credibility and highlight its commitment to joining France, Germany and the Netherlands in supporting the US' freedom of navigation efforts and operations in the South China Sea.
The US and China have been at odds in the contested waterway, where Beijing has territorial disputes with a number of neighbours, including Vietnam and the Philippines.
"The high-profile visits and joint naval drills along its journey from home to the contested South China Sea is [a sign of] the Royal Navy's resurgence after decades of contraction. It's good training for the British navy," Wong said.
"The US welcomed Britain's support in containment against China because Washington understands London's influence in the region due to its former glory of being the 'empire on which the sun never sets'."
Carrying more than 30 aircraft, the strike group embarked on its maiden voyage in late May, taking part in military exercises with French, US, Canadian, Danish, Greek, Israeli and Italian forces as well exercises with South Korea, Japan and Singapore.
Addressing an event sponsored by the International Institute for Strategic Studies in Singapore on Tuesday, US Defence Secretary Lloyd Austin said both Britain and the US were "global nations with global interests".
"As we look to balance our efforts in various parts of the world, we are not only looking to help each other in the Indo-Pacific but we are looking to ensure that we help each other in other parts of the world as well," Austin said.
"Resources are scarce, no matter which country you are talking about. But again we have a global perspective and there are a number of places we have helped each other as we shift our stance."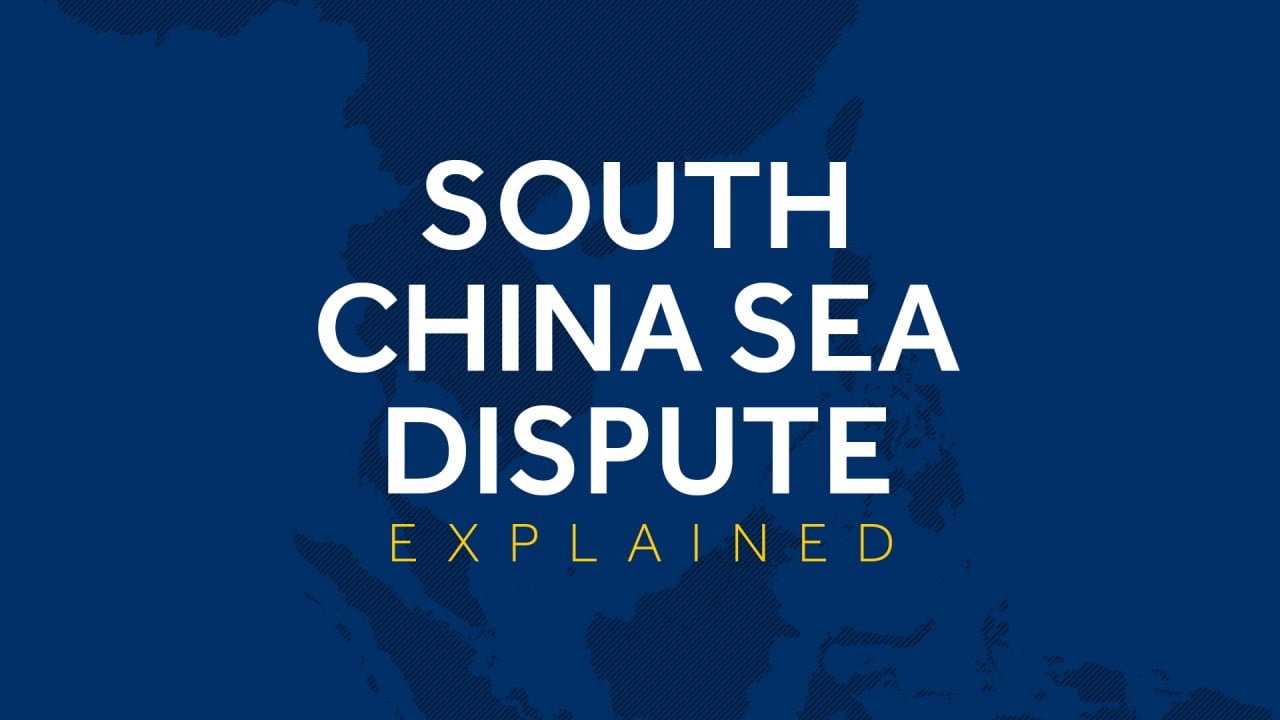 03:23
The South China Sea dispute explained
The South China Sea dispute explained
Collin Koh, a research fellow with the S. Rajaratnam School of International Studies at Nanyang Technological University in Singapore, said the ongoing deployment of the strike group to Asia had highlighted London's new "Global Britain" approach in the post-Brexit era.
"[The deployment] definitely showcases that [Britain] continues to be one of the world's major military powers," he said. "It definitely serves as a reminder that London has long-standing interests spanning centuries in this part of the world."
But the two warships to permanently support US freedom of navigation operations in the Asia-Pacific would not be considered "high-end platforms", Koh said.
"They are actually offshore patrol vessels that are optimised more for lower-intensity operations that would be tailored more for this region," he said.
"[Britain] continues to devote more attention to its neighbourhood in Europe. While it has exited the EU, London is still a major Nato power."
Lu Li-Shih, a former instructor at Taiwan's Naval Academy in Kaohsiung, noted that the British carrier strike group did not provoke Beijing on its maiden voyage by entering the Taiwan Strait.
"The strike group's journey to Asia is a political gesture to indicate London's response to the US' China containment strategy, but the British navy is careful not to provoke Beijing," Lu said.
"The strike group's joint exercises with so many countries from the Commonwealth nations along its long maiden would help London to rebuild its military supply and logistic coordination system with Nato and other allies."