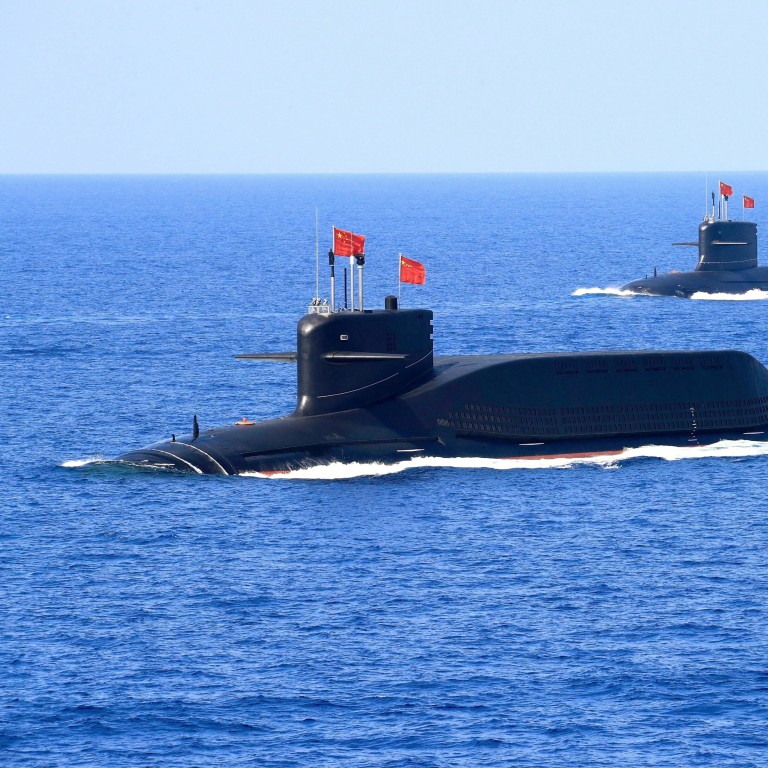 China raises nuclear submarine stealth game with redesign and tactics to 'hide ID numbers'
The PLA Navy has reconfigured its new generation Type 094 submarines, capable of firing ballistic missiles that can reach the US mainland
The redesign will make the subs stealthier, quieter, and able to hide ID numbers to confuse observers, a report and analysts say
China has not only revised and upgraded its strategic nuclear-powered
ballistic missile
submarines (SSBN) to increase their stealth power and reduce noise, but is also using deceptive tactics to hide their identification numbers, according to both a recently released report and military analysts.
The report, co-authored by French submarine encyclopaedia author Eric Genevelle, and Richard W. Stirn, a former sonar technician submariner with the US Navy, said China had reconfigured its new generation type 094 submarines, and also introduced deceptive tactics to hide identification markers, thus making it difficult to assess how many of the powerful boats it had built.
The Chinese
People's Liberation Army
(PLA) has developed two kinds of SSBN, the Type 092 and Type 094, with an upgraded version of the latter reportedly able to fire the
JL-3 or Julang
(Big Wave) submarine-launched ballistic missile (SLBM) that has a range of over 10,000km (6,200 miles) – capable of hitting the US mainland.
The Type 094A and Type 094B, upgraded versions of the Type 094, have improved hull designs, according to the report.
It said that apart from modifying the towed sonar array dispenser to try to reduce noise, both the A and B variants of the Type 094 had changed the shape of their sails by taking out windows and had reduced limber holes on the bow.
Zhou Chenming, a researcher from the Yuan Wang military science and technology institute in Beijing, said it was normal practice for China to keep upgrading and revising the hulls of nuclear subs, even within the same type.
"Building to commissioning a submarine can take up to eight years, while electronic and many sophisticated components would have advanced by several generations within this period," Zhou said.
"The Chinese navy would request shipbuilders to install the most advanced facilities into the next hull, while sub engineers need to think about how to put those components in the right places. All this may require changes to hull design involving dimension, sail, rudder, number of limber holes and other factors."
The subtle differences and design changes can give observers some insights into the PLA's sub technology. However, it was still difficult to count the real number of the underwater weapons, Genevelle and Stirn's report said.
The Chinese military does not disclose how many SSBNs have been built and put into service, unlike the
United States
and other Western countries. This is especially true of the new generation Type 094 submarines.
One of the B variants that joined the PLA Navy as part of its 72nd anniversary celebrations in April was the "Changzheng 18" and had "421" as its pennant number.
From its first nuclear sub with the hull number "401" to the latest "421", it might seem that China had built 21 of the boats, but the duplication of hull numbers can create confusion. Some of its nuclear hulls have been scrapped since its first one was launched in 1970, but China has not announced how many have been decommissioned so far.
The report said the PLA Navy would also print "409" as a pennant number on four hulls of its Type 094 SSBNs. Also, each sub was supposed to have one team of crew members on board, but the "409" had four.
"The purpose of this deception is to minimise the detectable number of existing submarines and deceive observers about their location," the report said. "If a spy were to observe a '409', they wouldn't think there was another '409' out on patrol."
The report added that like many countries, China had decided to no longer display the hull number on its vessels and even tampered with photos to hide their identification details, making it more difficult for observers to count the real number of SSBNs in the PLA Navy.
Similar tactics of deception could also be traced to the old generation Type 092, of which Beijing formally announced just "one", with the hull number "406". However, at least two Type 092 subs with different dimensions and hull designs were found to be sharing the hull number "406".
A military insider said China once owned up to four Type 092s, which shared "406" as the hull number.
"But China now really just owns one active Type 092, and the last one will be replaced by the advanced Type 094 in the coming few years," said the insider, who requested anonymity due to the sensitivity of the topic.
Lu Li-Shih, a former instructor at
Taiwan
's Naval Academy in Kaohsiung, said using a fake hull number or even hiding it could only be aimed at confusing the enemy, but this was unlikely to work during a battle.
"A certain number of PLA nuclear subs berth at their second naval base in Yulin, Sanya, which is just next door to Hainan province's famous Yalong Bay National Resort, which welcomes a huge number of foreign tourists every year," Lu said, adding that photographing the subs had become a popular activity among visitors.
"Using a fake hull number would help confuse spy observers when a submarine emerges from the water, but the number would become meaningless in naval battles, as the hull would disappear when the subs dived into deep water."