Taiwan
Get more with myNEWS
A personalised news feed of stories that matter to you
Learn more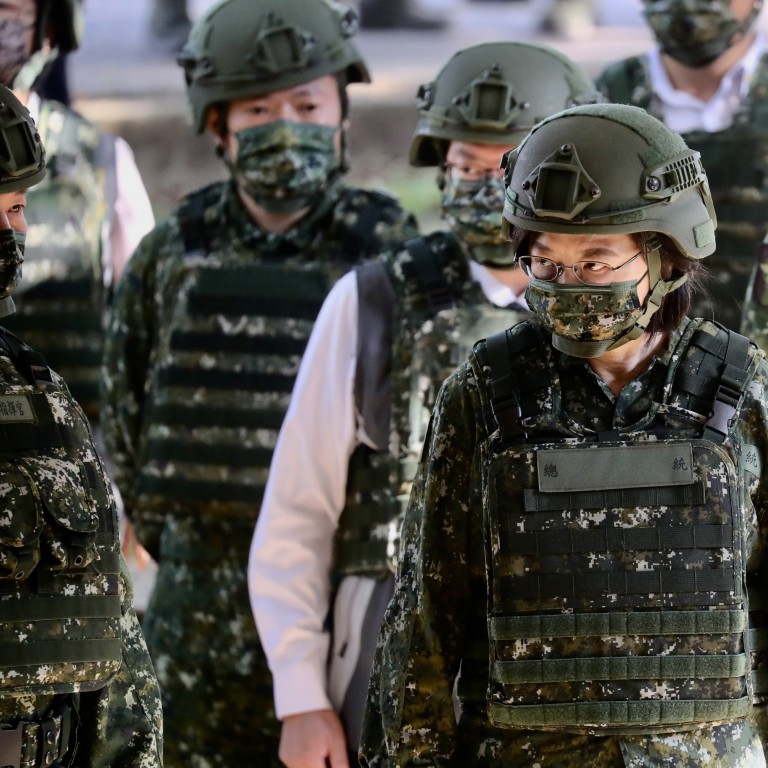 Taiwan looks to develop military drone fleet after drawing on lessons from Ukraine's war with Russia
On a visit to a proposed research and development facility, President Tsai Ing-wen says UAVs are necessary for the island's defences
But defence analysts warn the island is a long way behind mainland China and will need a major effort to close the gap
Noting the effectiveness of Ukraine's drone fleet
, Taiwanese President Tsai Ing-wen said recently: "Regardless of whether it is for military or civilian use, it is highly necessary for us to speed up our development of drones as it will be an important matter for the next generation."
But analysts warned it was unclear if the island would succeed given mainland China's much more advanced unmanned aerial vehicle industry.
Beijing considers Taiwan a breakaway province that must be returned to its control – by force if necessary.
In recent years it has
ramped up pressure on Taiwan
, including sending warplanes almost daily and staging war games around the island to try to force Tsai accept the one-China principle and hold unification talks.
Tsai made her comments last Sunday during a visit to the southwestern city of Chiayi where the local government is planning to open an aerospace park to research and develop artificial intelligence and drone technology.
Under the plan, the government-funded National Chung-Shan Institute of Science and Technology – the island's top weapon developer – would work with local developers in building state-of-the-art drones, Tsai said.
Taiwan has several manufacturers, including Thunder Tiger Technology, GEOSAT Aerospace & Technology, and Coretronic Intelligent Robotics, which focus on the research and development of flight systems and other aspects of drone technology.
While these companies do not make military drones, the Chung-Shan institute has been developing them since the 1990s and has so far produced four models.
These include two used for surveillance and reconnaissance – the Albatross 2 and Cardinal 2, which have a range of 180km (112 miles) and 50km respectively.
They have been used to gather intelligence and track the People's Liberation Army's movements, but both types, especially the Albatross, have suffered many crashes, according to a defence ministry source.
The two other drones are used for attack purposes. The Chien Hsiang (Rising Sword) is designed to destroy ground facilities in high-speed kamikaze attacks.
Meanwhile, the medium-size Teng Yun 2 (Cloudrider) resembles the US MQ-1 Predator and carries two Hellfire missiles, according to the Chung-Shan institute.
"Because both types of drones have destructive power, they will play an important role in a potential war with the PLA in the future," the source said.
But Taiwan's military had yet to commission the Chien Hsiang and Teng Yun 2 as they have yet to be mass-produced, the source added.
Defence analyst Erich Shih said Taiwan trailed far behind mainland China when it came to military drone development. "It is all because the mainland has a vast domestic market which has allowed the PLA to seize the opportunity from advances in the civilian UAV industry to develop military drones," he said.
Shih said some PLA drones, including the WZ-8 hypersonic surveillance drone, were already comparable, if not better, than the state-of-art drones developed by the US.
Chieh Chung, a senior researcher at National Policy Foundation, a think tank affiliated to the main opposition party Kuomintang, said Taiwan had focused on developing fighter jets and warships rather than drones in the past.
"At present, our military drones can only carry out surveillance and reconnaissance missions," Chieh said, adding that if those drones identified a target, they would have to send back the information to the military's strike force – potentially resulting in a delay that allowed the target to escape.
Mainland analysts said it was already too late for Taiwan to catch up with Chinese UAV technology and the PLA had been using reconnaissance and combat drones as part of its joint operations training.
Zhou Chenming, a researcher from the Yuan Wang military science and technology think tank in Beijing, said Taiwan would need "huge investment" in the sector.
"Beside research and development costs, you also need to build a specific communication system to connect with military and weapon control systems," Zhou said.
"Mainland China's UAV technology has been developed under the support of its comprehensive satellite networks, which took several decades to build up."
Kuo-ming Chen, editor in chief of Taipei-based magazine, Defence International, said what Taiwan needed urgently was to improve its payload systems. "There is no problem for us building the drone's body, but it is the payload system that matters," he said.
Chang Ching, research fellow at Society for Strategic Studies, ROC, a Taipei-based think tank, said: "To sustain the operational capabilities of its unmanned aerial vehicles, Taipei needs to enhance the survivability of the C4ISR infrastructures [a term for command, control, communications, computers, intelligence, surveillance and reconnaissance systems].
"Otherwise, no matter how capable those vehicles are, all the efforts towards operational tasks will be in vain."
Additional reporting by Minnie Chan