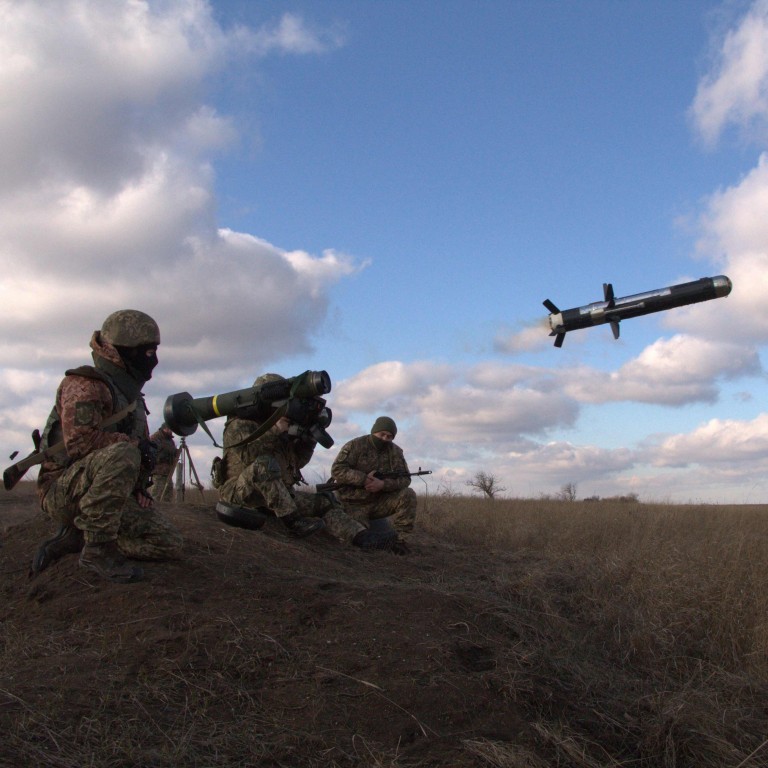 Taiwan tests 'tank killer' Javelin missiles in drills to deter potential Beijing attack
The missiles have been used against Russia's armoured vehicles during the invasion of Ukraine, whose resistance has been studied by Taipei
Taiwanese marines and army units have used them to destroy decoy tanks in drills in the past week
The Taiwanese military has been using US-made Javelin missiles in training to test their effectiveness in helping to deter potential attacks from mainland China.
The 66th Marine Brigade, which has a unit to guard Taipei, the island's capital, has practised firing the portable missiles, dubbed "tank killers", which have been used recently by
Ukraine
to destroy a number of invading armoured vehicles from Russia.
According to the Military News Agency, affiliated to the Taiwanese defence ministry, marines from the brigade joined air force and army units in a series of drills in the past week at the Joint Operations Training Base Command in Pingtung, southern
Taiwan
.
During the training, the air force's F-16 fighter jets used decoy flares to counter infrared homing (or heat-seeking) surface-to-air and air-to-air missiles. Also used in the drills were howitzers, mortars, tanks, amphibious assault vehicles and US-made OH-58D helicopters, the agency said.
The brigade successfully destroyed the decoy tanks in day and night drills, it said.
The American-made FGM-148 Javelin (AAWS-M), which has been in use since 1996, is a portable anti-tank missile system. Its warhead is able to defeat modern tanks by hitting them from above, where their armour is the most vulnerable.
The Javelin can also be used to attack buildings, helicopters, and targets beneath obstructions or that are too close to attempt an overhead strike.
It has a range of 2.5km (1.5 miles), and can reach a peak altitude of 150 metres (490 feet) in top-attack mode, or 60 metres in direct-fire mode. It is equipped with an infrared seeker.
The type being used by the Taiwanese military is the third-generation model of the Javelin, according to a brigade officer. That was the first generation to be designed with the two assault modes of direct and overhead.
Taiwan's armed forces have about 1,000 such missiles for use in the army and marine corps. It has bought 400 more of them from the United States, and these are expected to be delivered in batches, beginning this year.
The missiles and 42 launch systems cost US$112 million, according to a defence ministry budget document.
The island's military has also ordered 250 Stinger missiles – which have also proved effective in Ukraine's efforts to repel Russia. Those missiles are expected to be delivered to Taiwan by 2026.
The Taiwanese government is watching the war in Ukraine closely, and drawing lessons from it in the hope of enhancing its own combat-readiness.
"The lesson we can draw from the Russia-Ukraine war is that, despite its military disadvantages, Ukraine is still able to use the uniqueness of its domestic battlefield and asymmetric capabilities to resist a giant enemy like Russia," Taiwanese Defence Minister Chiu Kuo-cheng said late last month.
Chiu said Taiwan was studying how the Ukrainians were keeping Russian aggression at bay with "asymmetric warfare" – the use of movable and easy-to-operate weapons.
Beijing views self-ruled Taiwan as a breakaway province that awaits reunification, by force if necessary.
Tensions have escalated in recent years, with the mainland's People's Liberation Army sending warplanes into Taiwan's air defence zone and staging war games nearby. Beijing is trying to ramp up pressure on
Tsai Ing-wen
, the island's independence-leaning president, who has rejected the one-China principle.