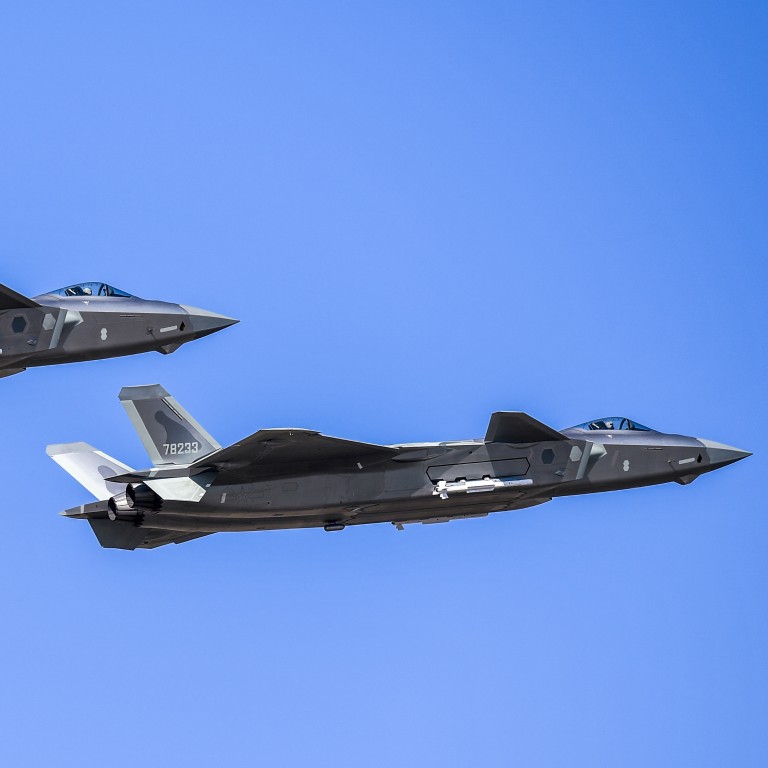 China's 'Mighty Dragon' stealth fighter stretches its wings over a wider area
The country's most advanced fighter, also known as the J-20, is patrolling the South China Sea as well as the East China Sea, the manufacturer has confirmed
A press conference also heard that the planes had a 'Chinese heart' – or home built engine – a reference to a problem that has long limited their performance
Chinese
J-20 stealth fighters
have been making regular patrols over the East and South China Seas, the developers have said – the first official confirmation that the country's most advanced warplane is operating over such a wide area.
"The J-20 has switched to a 'Chinese heart' and it has become a training routine to conduct combat patrols in the East China Sea and alert patrols in the South China Sea," Ren Yukun, a senior official from the state-owned Aviation Industry Corporation of China (AVIC), told a press conference on Tuesday.
"Combat patrols" require a high level of combat readiness, whereas "alert patrols" are mainly for early warning and surveillance.
The PLA has not disclosed the number of J-20s to enter service since they were introduced in 2017, but it is widely estimated to be more than 150 jets.
The Chengdu Aircraft Industry Group, the developer of the J-20 and a AVIC subsidiary, set up a fourth production line in 2019 and began mass production in 2020. Each line has the capacity to make about one J-20 a month.
Ren's reference to operating with a "Chinese heart" is a common industry term for the switch to domestically produced engines.
Work to produce a high-thrust turbofan engine that would allow it to perform at its maximum capacity repeatedly fell behind schedule. The model, known as the WS-15, failed its final evaluation in 2019.
Instead, engineers have been fitting planes with WS-10C engines, an upgraded version of the original WS-10.