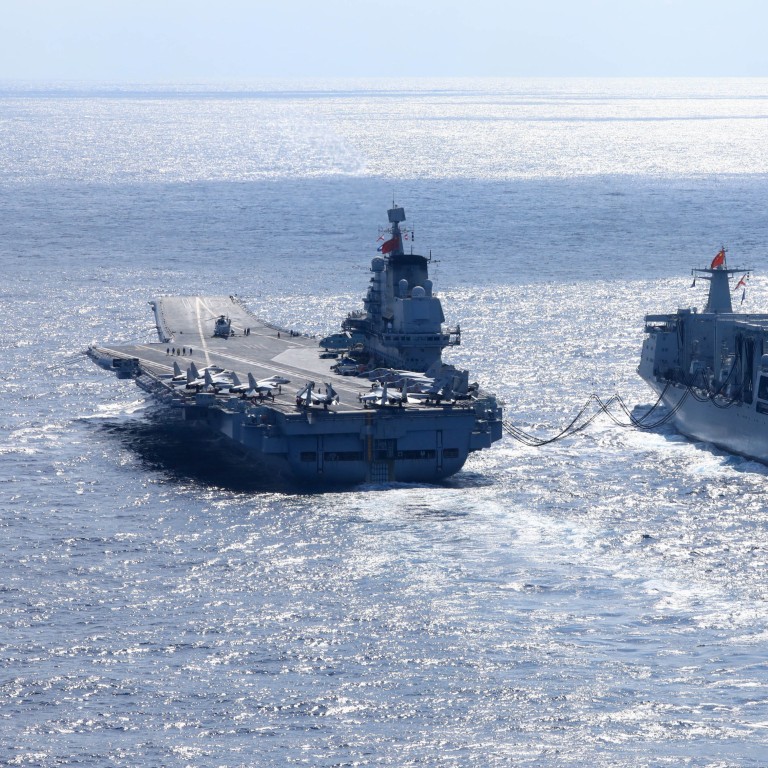 Do PLA drills reveal China strategy to deny military help for Taiwan?
Observers see a pattern in recent exercises suggesting Beijing is testing its ability to restrict other countries' access to the island
'Anti-access and area denial' strategy aims to deter, delay and prevent external forces from occupying or crossing an area of land, sea or air
An analysis of recent
PLA
exercises appears to show China has been testing a key strategy to restrict other countries' ability to respond to an effort to take
Taiwan
, which Beijing considers part of its territory.
Drills have included a three-day exercise from May 6 involving naval, air and conventional missile forces from the PLA's
Eastern Theatre Command
to the east and southwest of the island.
In the same period, the PLA kept up its
air patrols
over the Taiwan Strait, sending 18 planes on Saturday into the Taiwanese air defence identification zone in the strait and to the southeast of the island, according to Taiwan's defence ministry.
The Japanese Defence Ministry also reported that China's Liaoning aircraft carrier was further east of the island, on
an exercise
that included its ship-borne J-15 fighters and Z-18 helicopters. The USS Abraham Lincoln carrier strike group was also deployed in the nearby Philippine Sea.
There was a similar proximity on April 11, when four of China's largest and most advanced Type 055 destroyers were spotted off the east coast of the mainland in the Yellow Sea as a US carrier group conducted an exercise with Japan near the Korean peninsula.
With China, Japan and the US all ramping up their military activities in the region, perhaps it was coincidence that so many exercises overlapped.
But one underlying signal picked up by observers from China's recent drills is that they all pointed to the PLA's increasing capability to deny foreign access or aid to Taipei, either by launching missiles, sending warplanes or groups of naval vessels.
Malcolm Davis, a senior analyst specialising in Chinese security at the Australian Strategic Policy Institute, said the PLA was likely to be working on a military strategy known as anti-access and area denial (A2/AD).
The strategy aims to deter, delay and prevent external forces from occupying or crossing an area of land, sea or air.
"These drills certainly sound coordinated and it would make sense to do anti-access and area denial, and test how different elements of their A2/AD network function together as a system of systems," he said.
"We should expect the PLA to continue to test different components of its A2/AD capabilities as these types of coordinated exercises make it easier for the Chinese to identify what works well, and what needs further development in preparation for any operations around and against Taiwan."
An effective A2/AD capability is seen as vital to any PLA action against Taiwan. The US has pledged to support the self-ruled island's defence, without specifying what any help may entail.
In addition to the military exercises, the PLA released two videos last month showing its latest missile and bombing capabilities.
On April 19, the Chinese navy released a video of an advanced anti-ship missile – the YJ-21, also called Eagle Strike-21 – being launched from a Type 055. The missile is believed to be capable of hitting an entire carrier strike group, within an estimated range of 1,000 to 1,500km (600 to 930 miles).
Also in April, the PLA released the first clear footage of its latest variant on the H-6 bomber. According to the website Military Watch, the H-6N ballistic missile carrier provides "what will almost certainly be China's longest-range strike capability by aircraft".
Michael Raska, an assistant professor with the S. Rajaratnam School of International Studies at Singapore's Nanyang Technological University, said the PLA had been upgrading existing weapons systems and platforms over the past decade, while experimenting with next generation concepts, as its strategic priorities shifted towards A2/AD.
"This can be seen in the comprehensive modernisation of China's nuclear and conventional ballistic missiles – integrated air, missile and early-warning defence systems – [as well as] electronic and cyberwarfare capabilities, submarines, surface combat vessels and the introduction of the fourth and fifth generations of multi-role combat aircraft," he said.
According to Raska, while the PLA showcased its A2/AD military technologies via the recent training exercises, the Chinese military still has a long way to go before it is ready to implement joint operations.
"The question is, whether the traditional military mindsets in the PLA can incorporate new paths, which embrace creativity and bottom-up initiative, that may question existing rules in the PLA's strategic culture," he said.
Raska added that Beijing faced another challenge, with its military improvements prompting the US to upgrade its deterrence through the concept of multidomain operations – a combination of organisational reforms and emerging technologies – to sustain its long-term power projection in contested areas while mitigating escalatory risks.