Chinese PLA Navy sorties test combat readiness 100 times over in message to West over Taiwan
The Liaoning aircraft carrier conducted 'more than 100 landings and take-offs' in six days, according to Japan's defence ministry
China 'working hard' to achieve military capability to take over Taiwan, but would prefer not to use force, US spy chief says
Chinese aircraft carrier Liaoning has displayed mature
combat readiness
via high-frequency plane operations, military analysts said, calling it a message to foreign navies nearby as
military tensions heat up
over Taiwan.
Fighter jets and helicopters on the Liaoning conducted "more than 100 landings and take-offs" in six days during exercises
south of the Okinawa Islands
and east of Taiwan last week, according to the Japanese defence ministry, whose ships and planes monitored the drills.
This marks the first time the Chinese aircraft carrier's sortie capabilities have been reported.
While the Liaoning – a refurbished Soviet Kuznetsov-class carrier – can carry up to 24 J-15 fighter jets, it is unclear how many J-15 and other helicopters were on board this time, or how many were involved in the take-off and landing training each day. However, the total number of sorties it flew appeared to be "good enough", military experts said.
"Sortie rate", or the number of take-offs and landings per aircraft per day is an important indicator of the
capability of an aircraft carrier
. The US Nimitz-class carriers, with their
more efficient
catapult take-off system than the Liaoning's ski-jump ramp, are expected to generate two to three sorties per fixed-wing aircraft per day.
"The higher the sortie rate, the more efficient the carrier's aircraft operation," said Ni Lexiong, a Shanghai-based military observer. "More than 100 sorties in six days suggests the operational capability is pretty mature and ready."
In comparison, the Russian navy's Admiral Kuznetsov, the Liaoning's sister ship, flew about 420 sorties in 60 days with 20 fighters on board during its mission in Syria in 2016, while the USS Carl Vinson, a Nimitz-class carrier, once set a maximum record of 975 fixed-wing sorties in 98 hours during military exercises.
China's People's Liberation Army (PLA) has said the latest drills of the Liaoning strike group were "routine training" following the navy's annual work plan to improve its capability, and not targeted at any party. But the timing and sensitive location of the exercises have caused concern and prompted foreign navy deployments.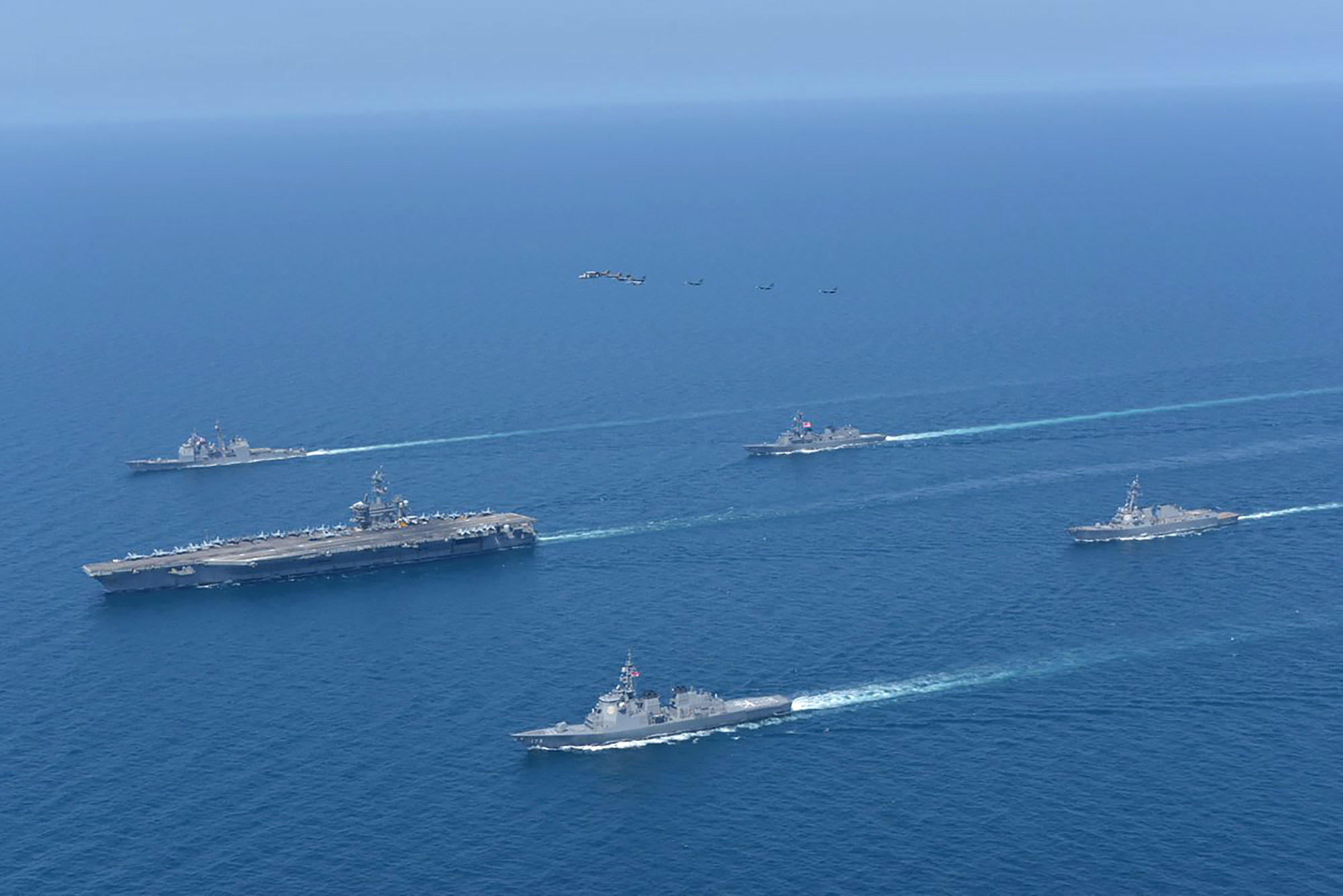 "Given that [the PLA Navy's] activities are conducted in the sea and airspace close to Japan's southwestern islands and Taiwan, they must be closely monitored with concern," Japanese Defence Minister Nobuo Kishi said.
The
Japanese military
scrambled fighter jets and sent its F-35B-capable carrier, the Izumo, to keep watch on the exercises.
The Liaoning drills came with the US Navy's Abraham Lincoln carrier strike group's deployment in the nearby Philippine Sea. The USS Ronald Reagan strike group also started heading to the same area on Sunday, right after undergoing annual repairs at its home port of Yokosuka, Japan.
Tensions in the area have risen following Russia's invasion of Ukraine, with the US and its allies dialling up worries about the security of Taiwan, which Beijing considers a breakaway province and has vowed to reunify, by force if necessary.
"It's our view that they are working hard to effectively put themselves in a position in which their military is capable of taking Taiwan over our intervention," US intelligence chief Avril Haines told a congressional hearing, but added that Beijing would prefer not to use military force.
Ni said the PLA also needed to show its ability to the West, which now had a psychological edge from Russia's struggle in Ukraine.
"Ukraine has been able to resist Russia with some Western-made weapons, and many PLA weapons are bought from or modelled on Russian-made ones. As a result, the development of the Ukraine war surely has boosted their confidence and in fact the American and its allies are becoming more aggressive and rough towards China," he explained.
"So the PLA needs to deter the pro-independence forces in Taiwan, while demonstrating a better capability through the exercise to make up for the psychological aspect."