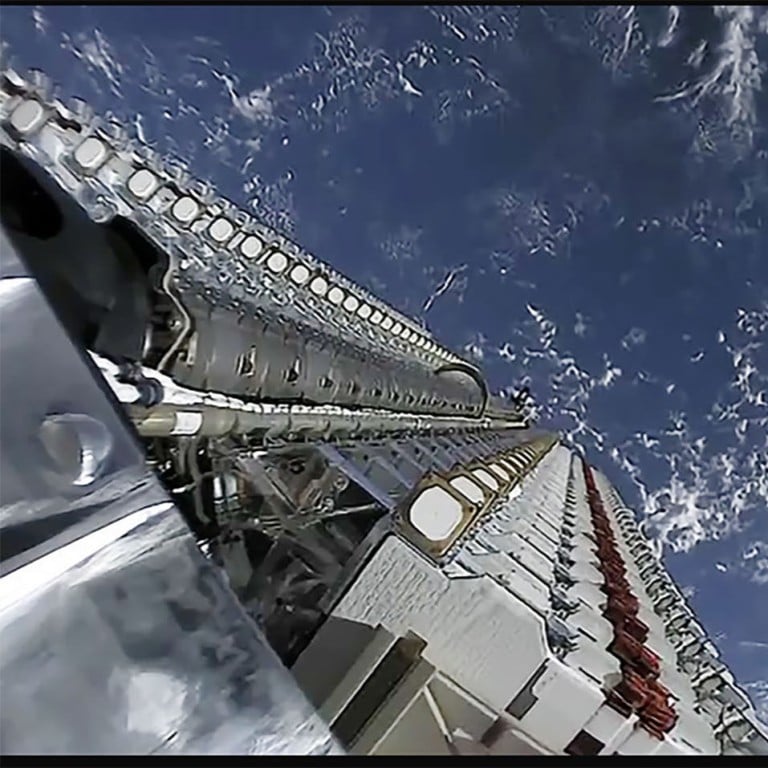 Musk's bigger Starlink satellite 'too small' for military applications
Even at almost five times the size of the current version, the new spacecraft will not be able to carry potentially deadly extensions, analyst says
According to SpaceX founder a functional prototype has already been built and shipped to factory where heavy lift launch rocket is being developed
Elon Musk's upgraded Starlink satellite will be too small for military applications, despite weighing almost five times the current version, according to a military affairs analyst in China.
The SpaceX founder on Monday told an online video show called Everyday Astronaut that a functional prototype had already been built and shipped to the South Texas factory where a heavy lift launch rocket called Starship is under development.
Musk said the new satellite weighs "about 1.25 tonnes" – compared to the company's existing 260kg (573 pounds) satellites. Starlink 2.0 is twice as long and likely to have at least five times as much surface area for Earth-facing antennas than its predecessor.
Zhou Chenming, a researcher at the Yuan Wang military science and technology institute in Beijing, said the new satellites would still be relatively too small to carry destructive weapons, powerful energy generators or large sensors.
"The key improvement in Starlink 2.0 is the size of antennas, which could significantly improve transmission," he said.
According to Musk, data throughput for the new satellite will be "almost an order of magnitude more" than Starlink 1.0, putting it at 140-160 gigabits per second, compared to current estimations of about 18 Gbps.
The Starlink network's military potential has been a cause for concern since 2018, when the US Air Force awarded SpaceX a US$28.7 million contract to explore broadband data connectivity between ground sites, aircraft and assets in space.
A paper published in April by several senior scientists in China's defence industry called for development of anti-satellite capabilities – including a surveillance system to track and monitor every Starlink satellite.
The research team, led by Ren Yuanzhen from the Beijing Institute of Tracking and Telecommunications under the PLA's Strategic Support Force, said China needed to be able to disable or destroy Starlink satellites if they threatened national security.
An article published in January by the Xian-based military magazine Ordnance Industry Science Technology, said the Starlink network could potentially be applied to an extensive range of scenarios if the satellites were loaded with extension devices.
These included monitoring, surveillance and tracking of intercontinental ballistic missiles or to control military drones, robotics or vehicles thousands of kilometres away.
The article said the Starlink network would pose a challenge to international security, not only in terms of national defence but also industrial value chains, information sovereignty and regulation, access to orbital and spectrum resources and astronomical exploration.
The article also warned the satellites could be set to target and damage other spacecraft if fitted with certain devices, and even intentionally aim for a collision to destroy them.
But even if there are no aggressive intentions behind the Starlink network, its planned 42,000 satellites when complete have already prompted warnings from scientists about overcrowding of Earth's lower orbit.
Beijing has complained to the United Nations about two close encounters with China's Tiangong space station last year "which could constitute a danger to the life or health of astronauts".
Musk denied the claim, saying space is big enough for all and the Starlink satellites have autonomous orbit-changing features to avoid collisions.
"Starlink does represent a possible approach to integrate mobile communication in space and on the ground in the future 6G era, and what SpaceX is doing is occupying the limited lower-Earth orbit space resources as much as possible," Zhou said.