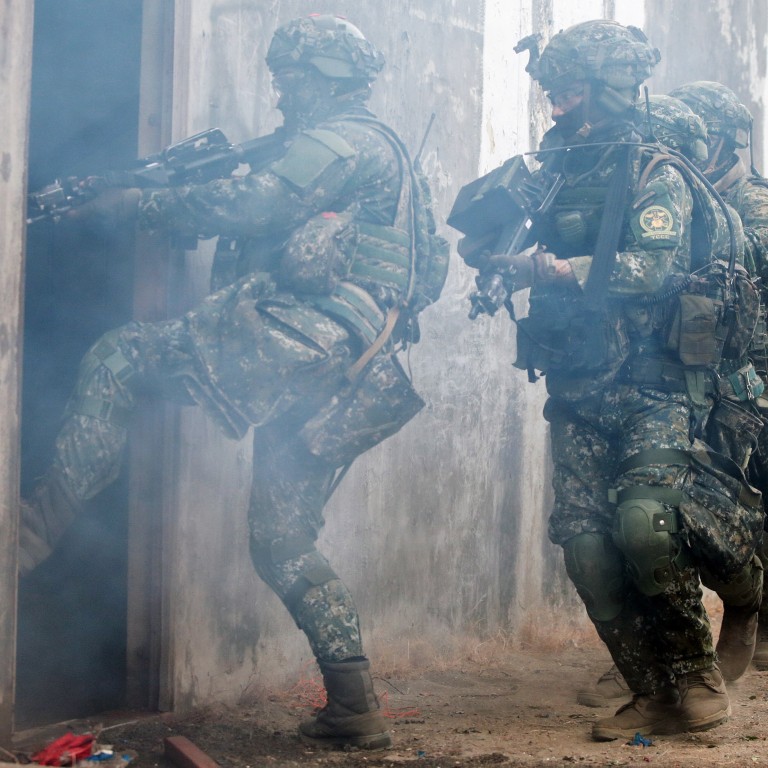 Russia's urban warfare struggles in Ukraine 'a key lesson for China' in possible Taiwan conflict
A mainland Chinese military magazine says the mountainous terrain and the problem of fighting in cities are among the main challenges in attacking Taiwan
The analysis also warns against repeating Russia's mistakes, adding that the US and Nato may also try to help the island if it was under assault
A key lesson mainland China has learned from
the Ukraine war
is how to conduct urban warfare that might one day be used in a
conflict with Taiwan
, a leading Chinese military magazine has said.
An analysis of Russia's military operations published in Naval and Merchant Ships said this was a particularly important issue for China.
"Ukraine has exploited Russia's weaknesses … and successfully forced Russia to change its strategies," the article said. "How this success was achieved can hardly exclude
factors such as Nato and the United States
. And it's not difficult to imagine that Taiwan would receive guidance, plans, intelligence, experience and training [from Nato and the US] too."
It also said Taiwan's mountainous landscape would make any assault far harder than in Ukraine.
"Taiwan's major transport routes are limited in number and circle around the island; while roads are like nets in Ukraine cities, offering Russian forces multiple choices to enter a city," the article said.
"This limits the options to perform surprise attacks, as any deliberate damage to the major roads would segment Chinese forces into smaller components."
It said an assault would need to be an integrated option conducted by the navy and air force aided by logistic support forces.
"To be more specific, amphibious forces not only need to complete the tasks of soldier delivery, landing and support, but also guarantee Chinese forces' manoeuvring across regions on Taiwan island, forming a comprehensive combat team," the article said.
Another lesson, the article said, was the overwhelmingly unfriendly attitude of the Taiwanese towards Chinese forces. To deal with this situation, the article suggests keeping Taiwanese forces outside cities, persuading Taiwanese stay at home and cutting off internet access when necessary.
"If the Taiwanese forces chose to forcefully occupy residential areas … we can use medium and small size drones to gather intelligence and perform precision strikes," the article said.
Beijing regards Taiwan as a breakaway province that must eventually be reunified with the Chinese mainland, by force if necessary.
Ni Lexiong, a military analyst at the Shanghai University of Political Science and Law, said the article did not touched upon essential questions about any cross-strait conflict.
"First of all, the article hasn't discussed how China could project forces to Taiwan island, even before we can talk about the roads issue, because dispatching soldiers to Taiwanese soil across the Taiwan Strait is already difficult and would inevitably involve casualties," Ni said.
"And it's unrealistic to separate Taiwanese troops and civilians since Taiwan's major cities are port cities, which the Chinese military would try to seize in the first place and will be bound to meet Taiwanese military on the ground."
Zhou Chenming, a researcher from the Yuan Wang military science and technology think tank, also disagreed. "Ukraine and Taiwan cannot be compared. The Chinese forces have enough strategies and forces to destroy targets in Taiwan."
"Because of its illusions, Russia didn't carry out nationwide mobilisation … didn't consider and prepare contingency plans … and didn't prepare well for a possible long-term conflict," the article said.
Naval and Merchant Ships has published various articles analysing possible attacks on Taiwan.
Last year it described how it thought a three-stage attack could unfold and posted an accompanying video on its Weibo account with the message "we must solemnly warn some people that the road of Taiwan independence only leads to a dead end".