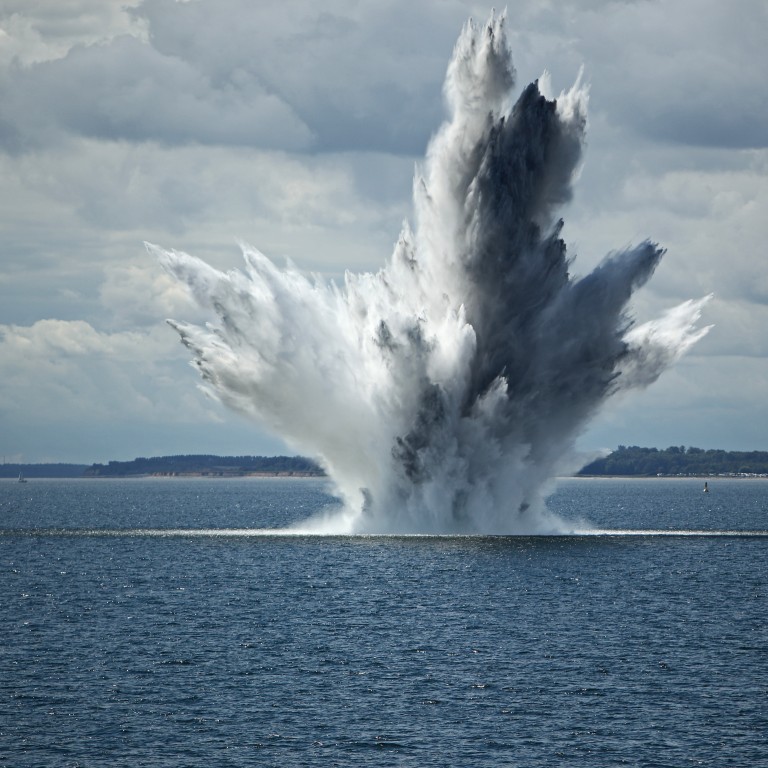 US urged to plan minelaying campaign to halt mainland Chinese attack on Taiwan
A US navy commander suggests that laying mines in the Yellow Sea and Pearl River Delta could help bring Beijing to the negotiating table
But some defence analysts question how effective the strategy would be, and warn it would risk escalating the situation and may breach international law
The United States could pursue an aggressive but low-cost strategy of laying mines in the Yellow Sea and Pearl River Delta to force China to negotiate in the event of conflict between the two powers, according to an American naval analyst.
The article, which won the first prize in naval mine warfare essay contest sponsored by the Mine Warfare Association, a non-profit aimed at promoting awareness of the weapons, suggested the US Indo-Pacific Command (IndoPaCom) should "pursue offensive mining capabilities to use in the Yellow Sea and Pearl River Delta".
Duenow, who has experience of airborne mine countermeasures, said the PLA Navy (PLAN) was "limited" in how it could respond, and had mainly focused on countering mines in ports and near the shore.
"Finding a way to bring China into diplomatic negotiations on favourable terms to the United States is the goal, and offensive mine warfare can help achieve it," he wrote, adding that mine warfare would also jeopardise China's economy by disrupting trade and oil supplies.
"The United States can also dispute Chinese sea control while preparing for a counteroffensive … By investing in cost-effective mine warfare, IndoPaCom can deter Chinese aggression and buy time while it builds high-end warfighting capabilities to better counter China."
Beijing considers Taiwan as a renegade province that should be brought into its fold – by force if necessary.
"Naval mining is a nasty countermeasure that would put both Chinese warships and commercial vessels at high risk," Beijing based naval analyst Li Jie said, but argued the tactic was more likely to trigger a response from the PLA than force China to the negotiating table.
"The PLAN will stage a comprehensive minesweeper campaign by blocking waterways in the region. If Washington wants to push Beijing into a corner, it might push the PLA to take tit-for-tat action by laying naval mines in some waterways used by American vessels."
Li said the PLA had already made plans in case the US or Taiwan sent submarines to lay mines off the coast.
Macau-based military observer Antony Wong Tong said the US could use stealth fighter jets to drop homing torpedoes in the Pearl River Delta.
"The Pearl River Delta area includes inland rivers and has no warships. Moves to lay mines in that area would actually be targeting civilian vessels, which will violate international law," Wong said.
The US navy is developing a new type of mine warfare that can be placed covertly on the seabed by a robot submarine with sensors to spot a target by firing an encapsulated homing torpedo.
Drew Thompson, a visiting senior research fellow at the National University of Singapore's Lee Kuan Yew School of Public Policy, said: "If [mainland] China decides to use force against Taiwan, there will be intervention, and there will be escalation," adding naval mining could be seen as a form of economic warfare.
"Economic warfare is a major tool in China's toolkit, as is economic coercion [against Taiwanese businesses], just as the US and UN use financial sanctions. China denounces other countries' unilateral sanctions, even when it practices its own. Blockades are an extension of warfare."
Collin Koh, a research fellow with the S Rajaratnam School of International Studies at Nanyang Technological University in Singapore, said: "Naval mining is ultimately one of the tools used in the lead up to, and during war.
"Assuming naval mining is done in the window of tension that precedes the possible outbreak of conflict, such a known act will of course be inflammatory and escalatory, but it may also help to cool heads and compel the other party to reconsider his options."
During the Vietnam war, the US conducted a short minelaying campaign after North Vietnam launched its Easter offensive in March 1972, that saw thousands being laid in the waters off Haiphong and other ports.
A year later it had to remove them all in a six-month operation agreed under the Paris Peace Accords.