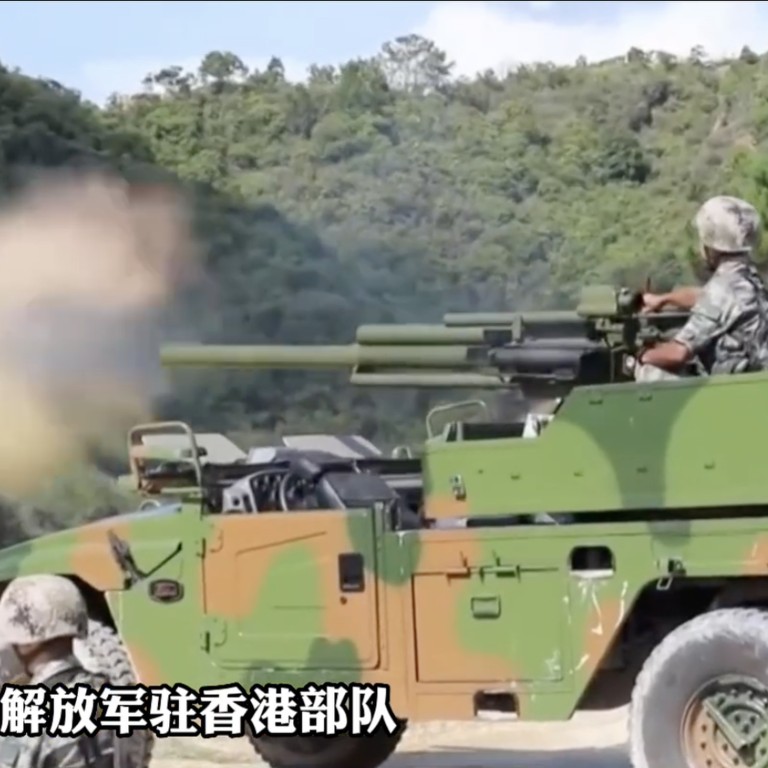 PLA soldiers train with rapid-fire mortar in video for Hong Kong handover anniversary
Footage of soldiers operating PCP-001 mortar during a training exercise was published on Hubei Communist Youth League website on Monday
The mortar is considered a weapon for specific environments, such as landing battles and urban warfare where the battlefield is just a few kilometres in depth
The
People's Liberation Army
Hong Kong garrison has been equipped with a new rapid-fire mortar that appears well suited to an urban environment and could provide troops with powerful fire cover.
New video footage shows two PLA soldiers from the Hong Kong garrison operating PCP-001 self-propelled mortars during a training exercise, with one of the soldiers controlling the auto-firing gun.
The vehicle was constantly shaken by recoil force but the shots appeared to be precise enough to hit targets on a mountain in the distance. More mortars could be seen in the background.
The footage was published on the official website of the Hubei provincial committee of the Communist Youth League on Monday, one in a series of videos to mark the
25th anniversary of the handover of Hong Kong
from Britain to China, although it was not clear when the exercise took place.
Since its deployment in the 2010s, the PCP-001 has been widely rolled out to ground forces as well as to PLA airborne paratroopers, PLA Marines and People's Armed Police.
The mortar is considered a weapon for specific environments, such as landing battles and urban warfare where the entire battlefield is just a few kilometres deep. In such circumstances the size and weight of a heavy howitzer could be restrictive.
But mortars could provide similar power and, when fired from a high angle, mortar shells could bypass high-rise buildings and other potential blockades in a city setting, according to the PCP-001 producer, Norinco.
The PCP-001 is an 82mm mortar on a pivoting mount carried by an open-top 4x4
Dongfeng Mengshi
, a vehicle that has a top speed of over 100km/h (62mph), and can travel on difficult mountainous terrain and in harsh environments, such as in low-oxygen plateau areas, hot and humid tropical zones and cold polar areas, Norinco says.
With a total weight of 4.8 tonnes, it could fit into an airlifter, or even a helicopter, rendering it a mobile artillery capable of being deployed to the battlefield to "shoot-and-scoot" quickly.
The mortar design was based on the Soviet Vasilek model and upgraded with a fire-control computer, a laser rangefinder and improvements to steering. Fed by a clip holding four rounds, it could fire at least 40 shells a minute, with an estimated firing range of 6km to 8km. Its 360-degree calibration provides fire cover during city warfare.
The PLA has added a digital data link enabling the mortar to be guided by unmanned reconnaissance vehicles or spy drones. It was reported last year that during an exercise a battalion in Xinjiang coordinated the PCP-001 with drones for reconnaissance, target guidance, fire strike and damage assessment.