Taiwan
Get more with myNEWS
A personalised news feed of stories that matter to you
Learn more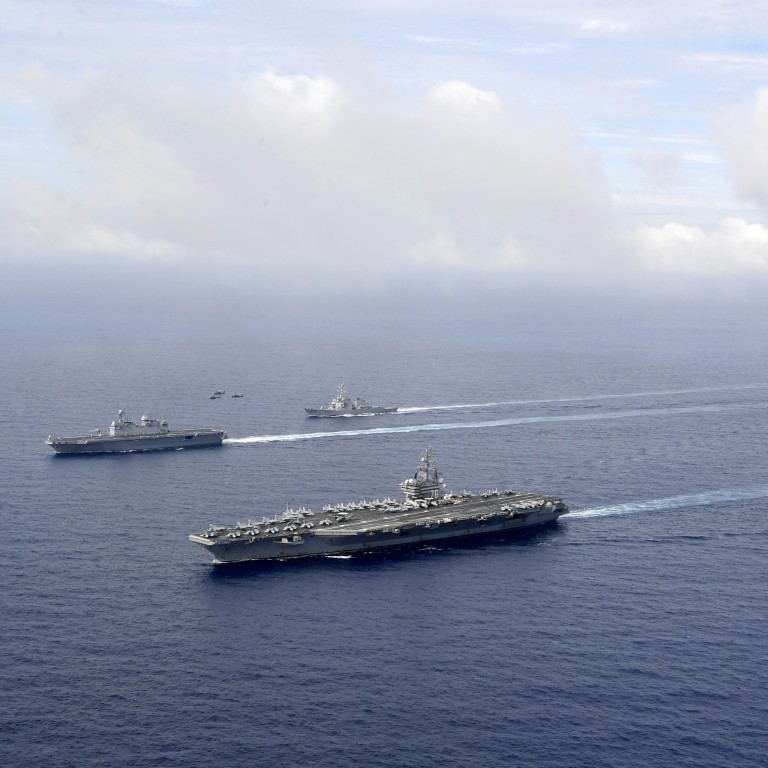 US aircraft carrier group heads towards Taiwan as tension over Nancy Pelosi's possible visit continues to grow
The USS Ronald Reagan and its escorts left Singapore on Monday sailing northeast, according to ship tracking information
The ship's deployment comes after Beijing warned it would 'take strong measures' if the US house speaker visits the island
The American aircraft carrier USS Ronald Reagan and its strike group, including a guided missile destroyer and a guided missile cruiser, set out from Singapore on Monday heading northeast towards the South China Sea, according to ship-tracking information provided by Beijing-based think tank the South China Sea Strategic Probing Initiative.
The US military has not disclosed its final destination, but the route would bring the carrier group to the Taiwan Strait if it continues in the same direction. Meanwhile, China is also building up its aerial strength in the region.
Pelosi has yet to confirm her travel plans, but if she does visit she would be the highest-ranking US politician to visit the island since 1997, and Beijing has warned it would see the visit
as a dangerous provocation
.
A Chinese ministry of defence spokesman has warned that the People's Liberation Army would "take strong measures" if the speaker "insisted on going ahead".
US officials have told the Associated Press that if her visit goes ahead,
the military will increase its movement of forces
and assets in the Indo-Pacific region. They said fighter jets, ships, surveillance assets and other military systems were likely to be used to provide overlapping rings of protection for her flight to Taiwan and when she arrives on the island.
The White House doubts that China will take direct action against Pelosi herself but cannot rule out China stepping up its patrols in the Taiwan Strait – which it did when a Congressional delegation visited Taiwan in April – or carrying out military exercises elsewhere.
Recent satellite images show how the PLA is also strengthening its deployment in the region, including expanding an airbase in Fujian, which lies across the strait from Taiwan.
The images show that earlier this month the Longtian Airbase, from which fighter jets can reach Taipei in seven minutes, was packed with Flanker-series fighters – either Russian-made Su-27s or the Chinese variants from the J-11 or J-16 series – and special drones made from old J-6 jets.
In the event of conflict with Taiwan, thousands of pilotless J-6s could be used as decoys to overwhelm the air defence system, carry electronic warfare devices or packed with explosives to act as a missile.
Pelosi originally planned to visit Taiwan in April but cancelled the trip after she tested positive for Covid-19. She has not yet confirmed her plans, but said that it is "important for us to show support for Taiwan".
However, US President Joe Biden told reporters the military thinks her visit is "not a good idea".