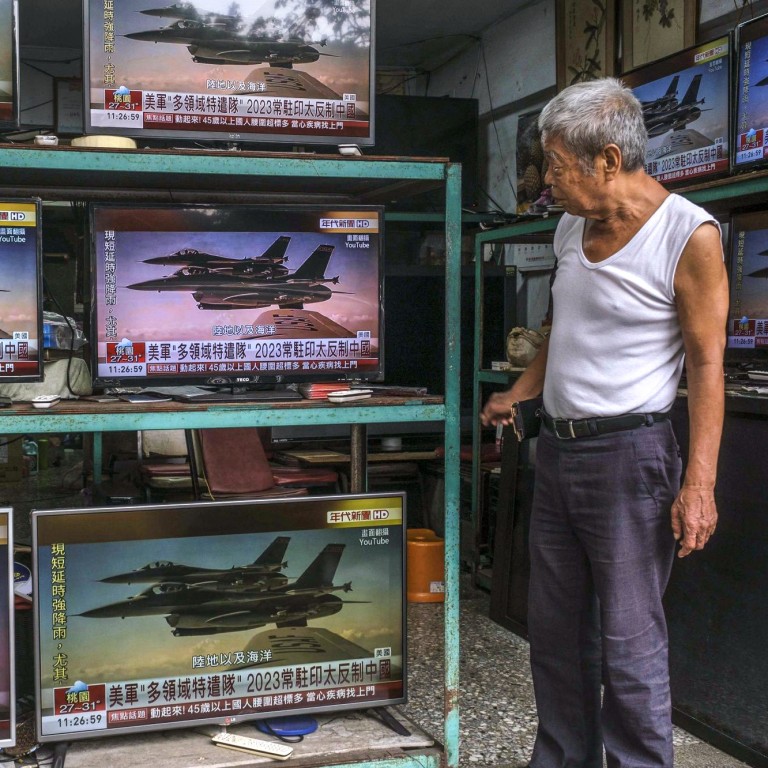 PLA 'very likely' to send warplanes over Taiwan Strait median line if Pelosi visits, analysts say
It could become a 'regular operation' as part of military intimidation campaign
Source close to PLA says it will step up pressure and 'Beijing will give Taipei a hard time'
The PLA could send warplanes across the median line that divides the Taiwan Strait if US House Speaker Nancy Pelosi visits the self-governed island, and analysts say it could start happening more regularly.
Pelosi is on an Asia tour that began in Singapore on Monday. She was in Malaysia on Tuesday and her official itinerary also includes South Korea and Japan.
Taiwan
was not on the list but it is widely expected that she will make an unofficial visit.
Beijing has repeatedly warned Pelosi not to visit the island, which it sees as a renegade province to be brought under mainland control, by force if necessary. Most countries, including the US, do not recognise Taiwan as an independent country and acknowledge Beijing's one-China principle. But Washington is against any attempt to change the status quo by force.
A military source close to the
People's Liberation Army
said it would step up its pressure campaign against Taiwan in response to a Pelosi visit and that "Beijing will give Taipei a hard time" afterwards.
The PLA last week described a possible trip by Pelosi as a move to support "Taiwan independence" that violated the one-China principle and warned that the military would not "turn a blind eye" to it.
Lu Li-shih, a former instructor at Taiwan's Naval Academy in Kaohsiung, said the PLA would likely send warplanes over the unofficial median line that separates the Taiwan Strait in response.
"Chinese defence ministry spokesman Wu Qian has reiterated the 'legitimacy' of PLA fighter jet incursions into Taiwan's air defence identification zone that crossed the median line in recent months, saying the mainland has never recognised the line," Lu said.
He noted that new legislation on mainland China's coastguard operations, ship surveys and maritime safety passed by Beijing since 2020 included the Taiwan Strait and Taiwan's eastern coast in its "offshore navigation zones".
"Since Pelosi is likely to arrive in Taiwan from the south, the PLA might not blockade the whole Taiwan Strait to interrupt her tour," he said. "But it's very likely the PLA will take the chance to send aircraft across the median line – and later this could become a regular operation."
The median line of the Taiwan Strait – which separates mainland China and Taiwan and connects the East and South China seas – was demarcated by US Air Force General Benjamin Davis Jnr in 1955, and Washington then pressured both sides to enter into a tacit agreement not to cross it.
A PLA aircraft intentionally crossed the median line in 2011, and more fighter jets have done so since 2019 – most recently when US Senator Rick Scott visited Taipei last month.
The PLA's Eastern Theatre Command, which oversees the Taiwan Strait, on Monday released a video clip showing it testing its DF-11 short-range ballistic missile – seen as designed to target Taiwan – and other advanced missiles. Japan's defence ministry also said it had seen two Chinese survey ships operating near waters off eastern Taiwan on Monday.
Andrei Chang, editor-in-chief of the Canada-based Kanwa Asian Defence Monthly, said the survey ships would likely be used to help the PLA locate a landing site for future missile tests.
"It is likely that the mainland is going to escalate its ongoing military intimidation against Taiwan with a range of missile tests – not only across the median line, but the whole island to land on the eastern coast," Chang said.
"The PLA's missile tests in the previous Taiwan crisis in 1995 to 1996 didn't cross the median line, but I believe this time the scale will be much different as the mainland is more confident about launching larger and precise missile tests."
Beijing conducted missile tests that landed near Taiwan after the island's first democratically elected president, Lee Teng-hui, visited the US in 1995.