Taiwan
Get more with myNEWS
A personalised news feed of stories that matter to you
Learn more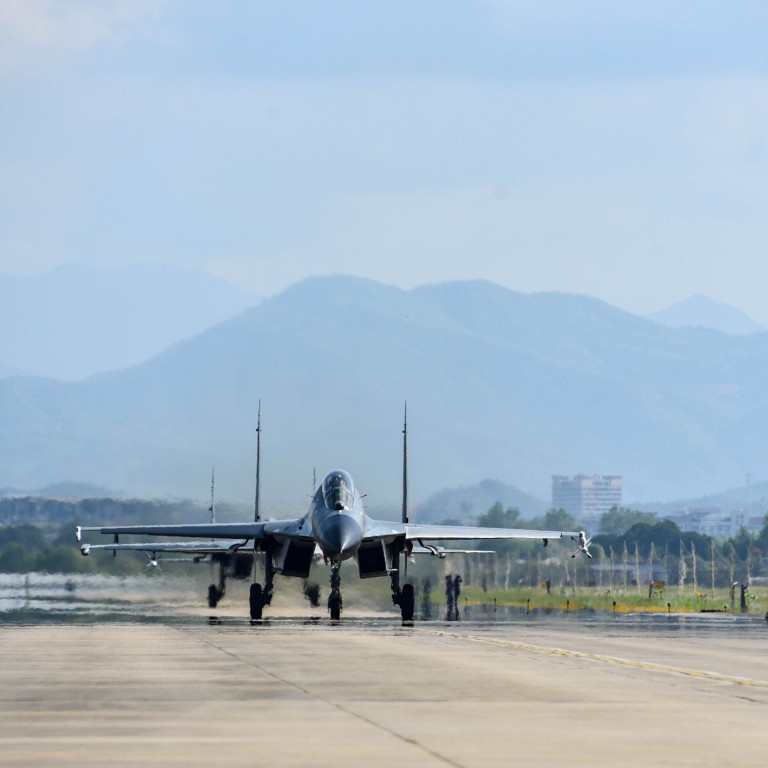 Higher risk of accidental clash as China suspends US defence dialogue: analysts
Beijing appears to be preparing for prolonged confrontation, Chinese observer says
Tensions between China and the US over Taiwan are likely to be felt in the South China Sea, according to analyst
Continued talks between the two militaries was regarded as one of the key areas of engagement between the two countries as they locked horns over others such as trade and human rights.
"There is a risk of accidental fire," former Chinese military instructor Song Zhongping said.
"China-US relations will further deteriorate and the tensions will be prolonged. The incidents [Pelosi's trip and the suspension of dialogue] are just opening the door [for deterioration]."
Citing three people with knowledge of the matter, Politico reported on Friday that top Chinese military officials did not return multiple calls from their American counterparts this week.
The report quoted officials and experts as saying that China's silence was a short-sighted and reckless move that increased the risk of escalation in an already tense situation.
In addition, the Chinese foreign ministry said several military dialogues would be cancelled.
Those cancellations included the China-US theatre commanders talks, the China-US defence policy coordination talks, and the China-US military maritime consultative agreement meetings.
Before Pelosi's trip, the two militaries talked to each other to calm tensions and prevent war.
Li also stressed that China would not compromise on issues of core interests.
Milley said it was important to responsibly manage competition and maintain open lines of communication.
White House spokesman John Kirby said while the announcement "does not completely eliminate the opportunities for senior members of our military to talk", it increased the risk of an accident.
"These lines of communications are actually important for helping you reduce the risk of miscalculation and misperception," Kirby said.
"You have this much military hardware operating in confined areas, it's good, especially now, to have those lines of communication open.
"We find the shutting down of military communications channels at whatever level and whatever scope and at a time of crisis to be an irresponsible act."
Ni Lexiong, a professor at Shanghai University of Political Science and Law, said talks between higher-level defence officials would continue, but the cancellation of the dialogues was a sign that Beijing was prepared for prolonged confrontation.
"The purpose of the suspension is that the military will not yield. This is sending a message that we are not afraid of you, and that we are prepared for military struggles and always be ready to accept military challenges," he said.
"Removing the mechanism that can prevent misjudgment is to show the other party that we are not afraid of misjudgment and conflict."
The US has stepped up freedom of navigation operations over the South China Sea in recent years.
On Thursday, the USS Ronald Reagan aircraft carrier, which had escorted Pelosi's flight, conducted operations in the Philippine Sea.
Collin Koh, a research fellow at Singapore's Institute of Defence and Strategic Studies, said the absence of dialogue and other confidence and security-building mechanisms meant the risk of escalation was heightened and there was less room for de-escalation.
"Given that tensions between China and the US look set to persist over Taiwan following the events of this week, the concern is that the suspension of these mechanisms is going to last for some time," he said.
"China has set new demands whereas it's also unlikely to see the US rolling back what it's doing over Taiwan.
"The more pressing concern, I believe, is how this latest Taiwan crisis will further deepen the schism between China and the US and how this spills over into the South China Sea dimension.
"In other words, the growing tensions between China and the US over Taiwan are likely to be expressed in their dynamics over the SCS issues."
But Ni said mechanisms in place to contain conflict before Pelosi's Taiwan trip remained in effect.
"Talks between Chinese Defence Minister Wei Fenghe and US Defence Secretary Lloyd Austin will still continue," Ni said.
"The past management and control agreements should continue. The foreign ministry announcement makes no mention of the cancellation of the previous agreement. It just says we won't meet any more to discuss issues."