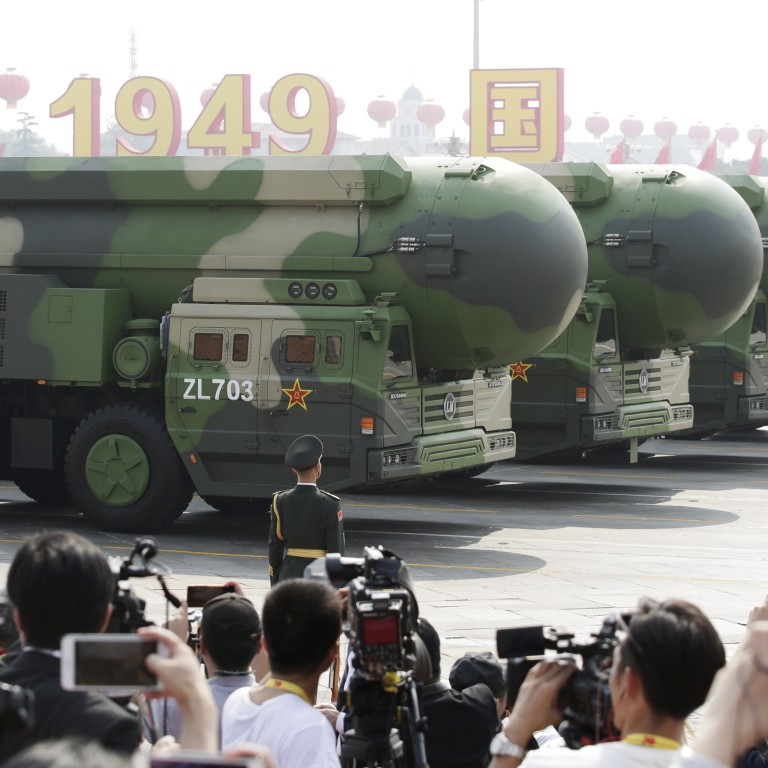 Analysts seize on Xi's mention of strong 'strategic deterrence' as sign of China's nuclear build-up
In opening of 20th party congress, Chinese president calls for boost to 'new-domain forces with new combat capabilities'
PLA watchers say it is a reference to countering threats from another nuclear power – the United States
China is expected to boost its nuclear arsenal after pledges to improve strategic deterrence appeared in its key Communist Party
congress report
for the first time.
In his work report, which lays out the country's development path for the next five years and beyond, Xi called for an increase in the proportion of "new-domain forces with new combat capabilities".
He also called for accelerated development of unmanned, intelligent combat capabilities, promotion of coordinated development and application of the network information system.
There was no mention of the concept of strategic deterrence in Xi's last party congress report in 2017 or in his historical resolution last year, but the country's
14th five-year plan
report released last year emphasised the need to "build a high-standard strategic deterrence".
Analysts said it indicated China would improve its nuclear deterrence capability amid its rivalry with another nuclear power, the US.
Song Zhongping, a former People's Liberation Army instructor, said the statement meant China would "strengthen its development of strategic nuclear forces" to safeguard its national security.
Song said the PLA must strengthen its "nuclear triad" forces – its combination of ground-based intercontinental ballistic missiles (ICBMs), submarine-launched missiles and air-launched weapons – as well as its second-nuclear strike capability to respond to a nuclear attack.
"All of these require the PLA to have a modern nuclear-armed force … and to moderately increase the nuclear arsenal," he said.
The US has warned of the expansion of China's nuclear weapons in the past, with a report released by the Pentagon in November estimating China could have up to 700 deliverable nuclear warheads by 2027 and at least 1,000 by 2030.
Air Force General Anthony Cotton, US President Joe Biden's nominee to take over the US military's nuclear arsenal and missile-defence operations, told US lawmakers in August that China's nuclear mettle had changed dramatically since 2018 when Beijing was judged as requiring "minimal nuclear deterrence".
Song said the need for strong strategic deterrence had arisen as the US had challenged the bottom line of both China and Russia regarding the Taiwan issue and the Ukraine war, and "only when China has a strong nuclear capability can it effectively safeguard our national security".
There have been calls in recent years for China to build up its nuclear arsenal.
Last year, Sha Zukang, a retired diplomat who was the Chinese ambassador for disarmament affairs to the United Nations in Geneva in the 1990s, said China should review its policy of not being the first to use a
nuclear weapon
in a conflict.
Sha said China should maintain its "no first use" pledge for most nuclear and non-nuclear states.
But he added that the policy "may not apply to the US unless China and the US negotiate a mutual understanding on no first use of nuclear weapons, or unless the US ceases to take any negative measures that undermine the effectiveness of China's strategic forces".
However, Song argued that Beijing would not engage in a nuclear arms race but would "appropriately increase" its nuclear arsenal "according to our own national and military strength".
He also said a "strong" system of strategic deterrence did not mean any change to the country's long-standing nuclear policy that China would never be the first to use a nuclear weapon in a conflict, and it would keep its nuclear force to the minimum level required for national security.
Strategic deterrence refers to the will and ability to wield military power to prevent or inhibit the use of force by another state, with the goal being to dissuade adversaries from launching a nuclear attack.
In recent years, China has developed a broader concept of strategic deterrence that extends to space and cyber warfare, with the use of AI technology, big data and unmanned combat platforms, according to a PLA Daily report.
A report in 2016 by US think tank Rand Corporation said China was boosting its strategic deterrence by deploying improved silo-based ICBMs and more survivable, solid-fuelled road-mobile ICBMs and nuclear-powered ballistic missile submarines.
China is also strengthening its conventional military forces and air, naval and missile capabilities, and improving its space and counter-space, cyber, and electronic warfare capabilities.
In 2004, Philipp Bleek, associate professor at the Middlebury Institute of International Studies at Monterey, wrote to the Kennedy School Review that China's nuclear deterrent was then at a crossroads, and its present and future modernisation efforts could take one of two paths.
He wrote that one path, credible minimum deterrence, called for an emphasis on concealment and secrecy and fielding more survivable mobile missiles and ballistic missile submarines.
The other path, limited deterrence, called for the development of war-fighting capabilities and a broader spectrum of capabilities, and the deployment of substantially larger nuclear forces.
Zhou Chenming, a researcher from the Yuan Wang military science and technology think tank in Beijing, said China was not likely to invest substantially in expanding its nuclear arsenal but would spend more to upgrade existing missile technology, given the high cost of development.
Zhao Tong, a senior fellow at the Carnegie-Tsinghua Centre for Global Policy in Beijing, said the new wording pointed to an ongoing, significant change in China's nuclear policy.
In 2021, the country moved from its traditional policy of building a "lean and effective" deterrent to one of constructing a "high-standard strategic deterrent". Then this year the declaration was to create a "strong strategic deterrent capability".
He said it was significant "especially when considering that for many decades China had maintained a traditionally small nuclear arsenal and a very modest, self-restrained nuclear posture. All of this appears to have become history now."
Zhao said it was very hard to tell how many nuclear weapons China planned to build eventually and the appearance of an open-ended nuclear build-up was what was driving concerns in the United States and other countries.