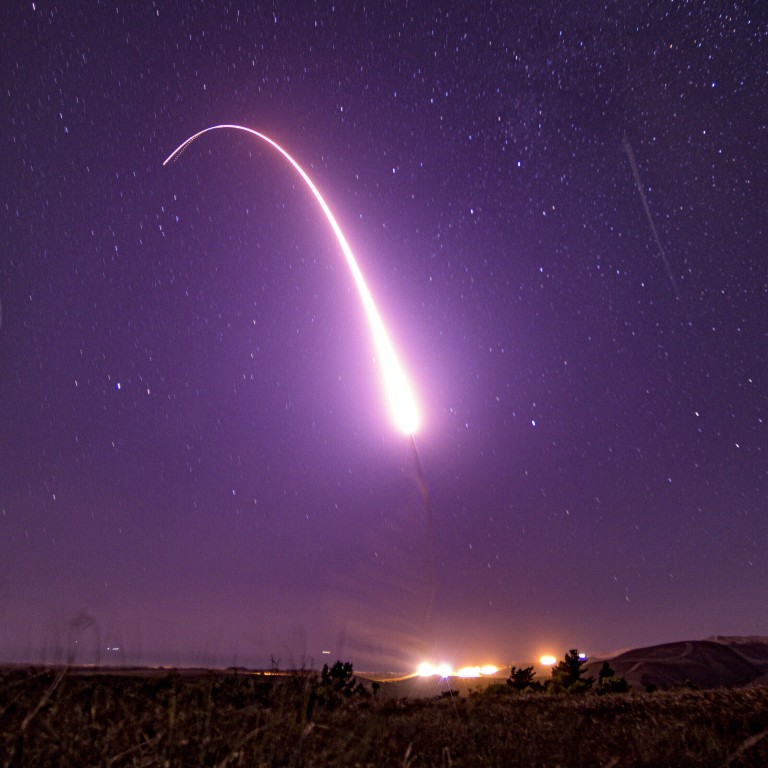 China warns US nuclear policy will fuel arms race and threaten peace
Chinese foreign ministry spokesman accuses Washington of using nuclear weapons for its own geopolitical ends
US Nuclear Posture Review is 'blatantly targeting China' in deterrence strategy, Wang Wenbin says
The United States' nuclear arms policy would fuel a nuclear arms race and jeopardise peace and stability, China's foreign ministry warned on Friday.
Ministry spokesman Wang Wenbin said that through its
Nuclear Posture Review
(NPR) released on Thursday, the US was aiming to use nuclear weapons "as an instrument to promote geopolitical goals and going totally against the international expectation of preventing nuclear war and avoiding a nuclear arms race".
"The US policy reflects their hegemonic logic of seeking absolute military superiority, which will stimulate a nuclear arms race," Wang said.
"By strengthening the role of nuclear weapons in its national security policy and lowering the threshold for their use, the US has increasingly become a source of risk of nuclear conflict."
In the NPR, the Department of Defence identified China as the US' greatest security challenge and questioned the scope, pace and lack of transparency in Chinese nuclear expansion.
The review concluded that an increased nuclear capability would allow Beijing to "adopt a broader range of strategies to achieve its objectives, to include nuclear coercion and limited nuclear first use".
In response, it recommended a "flexible deterrence strategy and force posture" tailored to counter China, including the deployment of W76-2 low yield submarine-launched ballistic missile warheads, globally deployable bombers, dual-capable fighter aircraft, and air-launched cruise missiles.
"Our intent is to prevent the [People's Republic of China] from mistakenly concluding that it could gain advantage through any employment of nuclear weapons, however limited," it said.
In the Indo-Pacific region, the NPR suggested strengthening alliances with South Korea, Japan and Australia "to ensure an effective mix of capabilities, concepts, deployments, exercises, and tailored options to deter and, if necessary, respond to coercion and aggression".
Wang defended China's nuclear development as "normal nuclear modernisation", and said the report made ungrounded accusations and the US was "blatantly tailoring its nuclear deterrence strategy to target China".
"We seriously inform the US that China has the ability and confidence to safeguard its national security interests. We will not be cowed by US extortion through nuclear arms," he said.
Wang said the US, as owner of the world's biggest nuclear arsenal, had been continuously upgrading its nuclear "triads" – land, sea and air-based nuclear strike forces – and been selective in promoting an international nuclear arms control agenda to suppress its adversaries.
"The US has exaggerated the nuclear threat of specific countries, tailored its nuclear deterrence strategy to them, advocated nuclear-sharing arrangements that violate the Treaty on the Non-Proliferation of Nuclear Weapons, and claimed to strengthen extended deterrence with its allies in the Asia-Pacific region, which undermines the mutual trust of major powers, provokes a nuclear arms race and nuclear confrontation, and seriously undermines international and regional peace and stability."
China has repeatedly criticised plans by the US and Britain to help Australia acquire nuclear-powered submarines as a violation of nuclear non-proliferation agreements and has tried to block the deal through the International Atomic Energy Agency.
"We urge the United States to abandon its cold war mentality and hegemonic logic, adopt a rational and responsible nuclear policy, earnestly fulfil its special priority responsibility for nuclear disarmament, and play its due role in maintaining global strategic stability and contribute to world peace and security," Wang said.