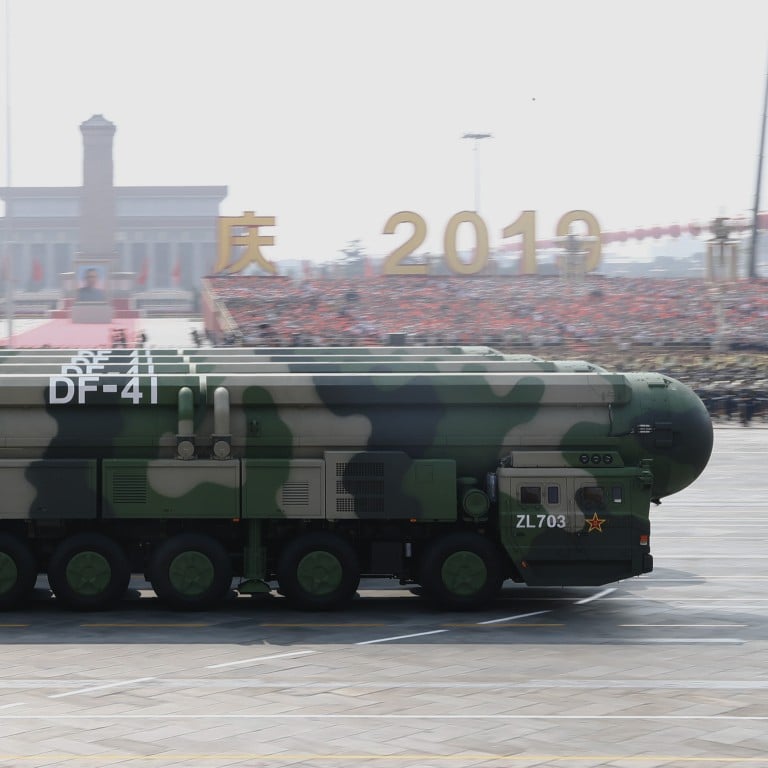 Upgrades for China's nuclear triad as Xi Jinping pushes for stronger strategic deterrence: analysts
Observers expect China to upgrade air, ground and sea-based weapons delivery platforms after president calls for system to dissuade enemies from attacking
Ukraine war shows Beijing that conventional weapons are not enough when dealing with geopolitical conflicts, defence experts say
Xi made the call in his work report to the
20th Communist Party congress
earlier this month in comments laying out the country's development path for the next five years and beyond.
Deterrence is the ability to wield military power to dissuade adversaries from launching an attack.
Defence analysts said the Ukraine war and an increasingly uncertain global order had reminded Beijing that conventional weapons were not enough for real "strategic deterrence".
"Deterrence with conventional weapons revealed their weakness on the battlefield of the Ukraine war, which has seen the Russian military and Ukraine's Nato-aided forces locked in endless fights, as neither could use aircraft and tanks to overwhelm each other," said Zhou Chenming, a researcher with the Yuan Wang military science and technology think tank in Beijing.
"Even the world's most capable military, the United States, still failed to wipe out the Taliban using powerful conventional weapons such as satellites, aircraft, tanks and others."
But the war in Ukraine had shown that Russia's powerful nuclear triad had deterred the US and Nato from direct combat with the Russian military, according to Song Zhongping, a defence commentator and former instructor with the People's Liberation Army's missile force.
"To some extent, nuclear force is an effective means to stop war from escalating," Song said.
"China needs to upgrade its nuclear triad capability, not only by increasing the nuclear warheads to a suitable size, but also modernising the performance of nuclear launch vehicles."
Beijing has made establishing a powerful and effective strategic deterrence system a priority since Xi took over as chairman of the Central Military Commission in late 2012, and nuclear modernisation has been part of his unprecedented overhaul of the military over the past five years, according to analysts.
Along with the US and Russia, China is now one of three members of the five permanent members of the UN Security Council to have a complete nuclear triad.
That capacity was revealed in October 2020 when the PLA Air Force released footage of the Xian H-6N bomber carrying a ballistic missile.
The footage showed that China had all the components of a nuclear triad: ground-based intercontinental ballistic missiles (ICBMs), submarine-launched missiles and air-launched weapons.
China's most powerful nuclear deterrent, the Dongfeng series of ICBMs were on show during its National Day military parade in 2019. They included the land-based DF-41, the road-mobile DF-31AG and the submarine-launched JL-2, all of which could reach the US mainland.
Zhou said that capacity would be boosted with the development of the Xian H-20 supersonic stealth bomber.
"Among the world's nuclear states, only those possessing nuclear triad capabilities are real superpowers. China's strategic deterrence will be significantly upgraded once the H-20 is put into service," he said.
Chinese military magazines and social media suggested the H-20's maiden flight could happen this year, but Beijing has been reluctant to announce any progress on the bomber.
The H-20 is expected to double China's nuclear strike range. It has a maximum take-off weight of at least 200 tonnes and the ability to fire four powerful hypersonic stealth cruise missiles.
China has been estimated to have around 200 to 300 deliverable nuclear warheads, compared with the more than 5,000 each held by the US and Russia. But a Pentagon report last November forecast China could have up to 700 warheads by 2027 and at least 1,000 by 2030.
Zhou Bo, a senior fellow at Tsinghua University's Centre for International Security and Strategy, said China must modernise its capabilities to ensure its "small but effective" nuclear arsenal could create enough deterrence.
"Compared with the US and Russia, China's nuclear arsenal has always been small," he said, adding that China had to modernise and increase the number of its warheads to make them more effective.
Zhou Chenming of the Yuan Wang think tank said that Beijing's best option was to raise the threshold for the use of nuclear weapons, rather than expand its nuclear arsenal and trigger an arms race.
"Since Beijing has promised to maintain its 'no first use' policy, China doesn't need to expand its nuclear arsenal, as its nuclear technology is now on a par with the US and Russia, meaning China's second-strike capability is also powerful enough to destroy the globe," Zhou said.
To raise the nuclear threshold, China had tried to improve its missile launches by establishing a comprehensive missile defence network and improving technologies that make it more difficult to intercept Chinese missiles, he said.
Defence experts said nuclear modernisation was just part of the PLA's strategic deterrence system, as Xi has also urged the military to speed up development of unmanned, intelligent combat capabilities to support modern warfare and "win local wars".
Zhou Bo said the local wars Xi referred to included potential military conflicts around China's periphery, including a possible Taiwan contingency and territorial disputes in the South and East China seas.