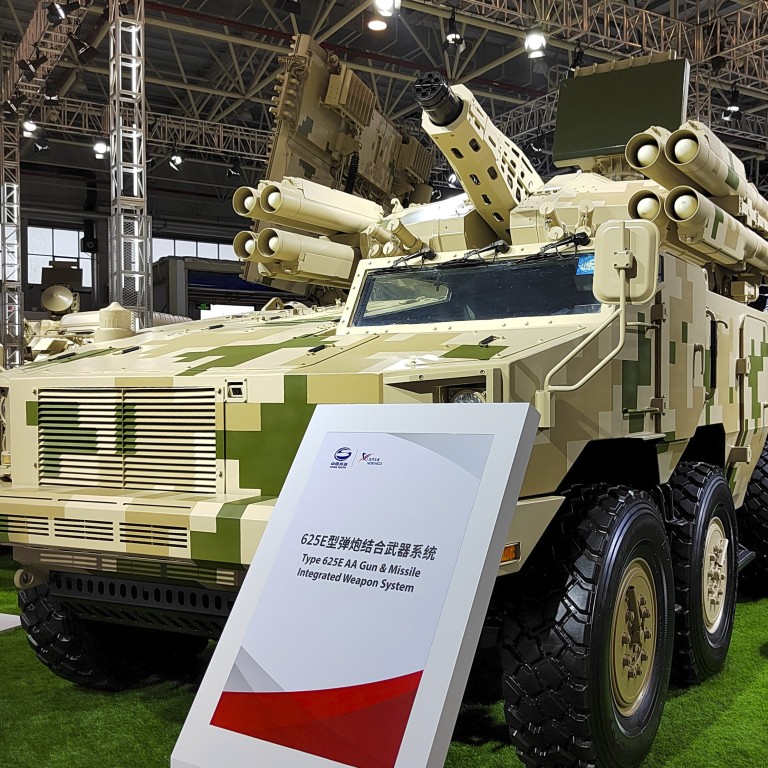 China has unveiled new short-range air defence systems that target drones
Arms makers showed several systems at this month's Zhuhai air show
Type 625E combines a Gatling-style gun and missiles on a tactical truck
Developing short-range air-defence systems to detect low-flying aircraft such as drones has become a key focus for China's rapidly advancing
military
.
Known as SHORAD systems, they are seen as important for defending against unmanned technology in future warfare – an area President
Xi Jinping
has repeatedly said should be a priority.
Chinese arms makers unveiled several new short-range defence systems earlier this month at the
Zhuhai air show
in southern Guangdong – the country's biggest aviation trade expo.
One of the most eye-catching was the Type 625E AA Gun Missile Integrated Weapon System, jointly developed by two state-owned arms suppliers: China South Industries Group Corporation and China North Industries Group Corporation.
It combines an anti-air gun and missiles on an 8x8 tactical truck – a concept similar to Russia's Pantsir system and the United States' Manoeuvre Short-Range Air Defence system.
The 625 refers to its six-barrel 25mm Gatling-style anti-air gun that is fixed in the middle of the vehicle. It fires lightweight shells whose fragments have a "killing radius" of 5 to 6 metres (16 to 19 feet) after they explode, and the barrage could cover up to 2.5km (1.5 miles).
There are also missile launchers on either side of the gun. They can accommodate various Chinese-made light air-defence missiles that are expected to be able to cover a range from 15 metres up to 6km.
The vehicle also has radars and optoelectronic detectors, making it a self-contained and highly mobile SHORAD system that could handle incoming air targets including drones, helicopters and cruise missiles. The saturated firepower of the Gatling gun could also be used against a swarm of smaller drones.
It is an upgrade to the Type 625 self-propelled air-defence system that has apparently been in use by the People's Liberation Army since at least 2020, when it started appearing in training videos and photographs released by the PLA.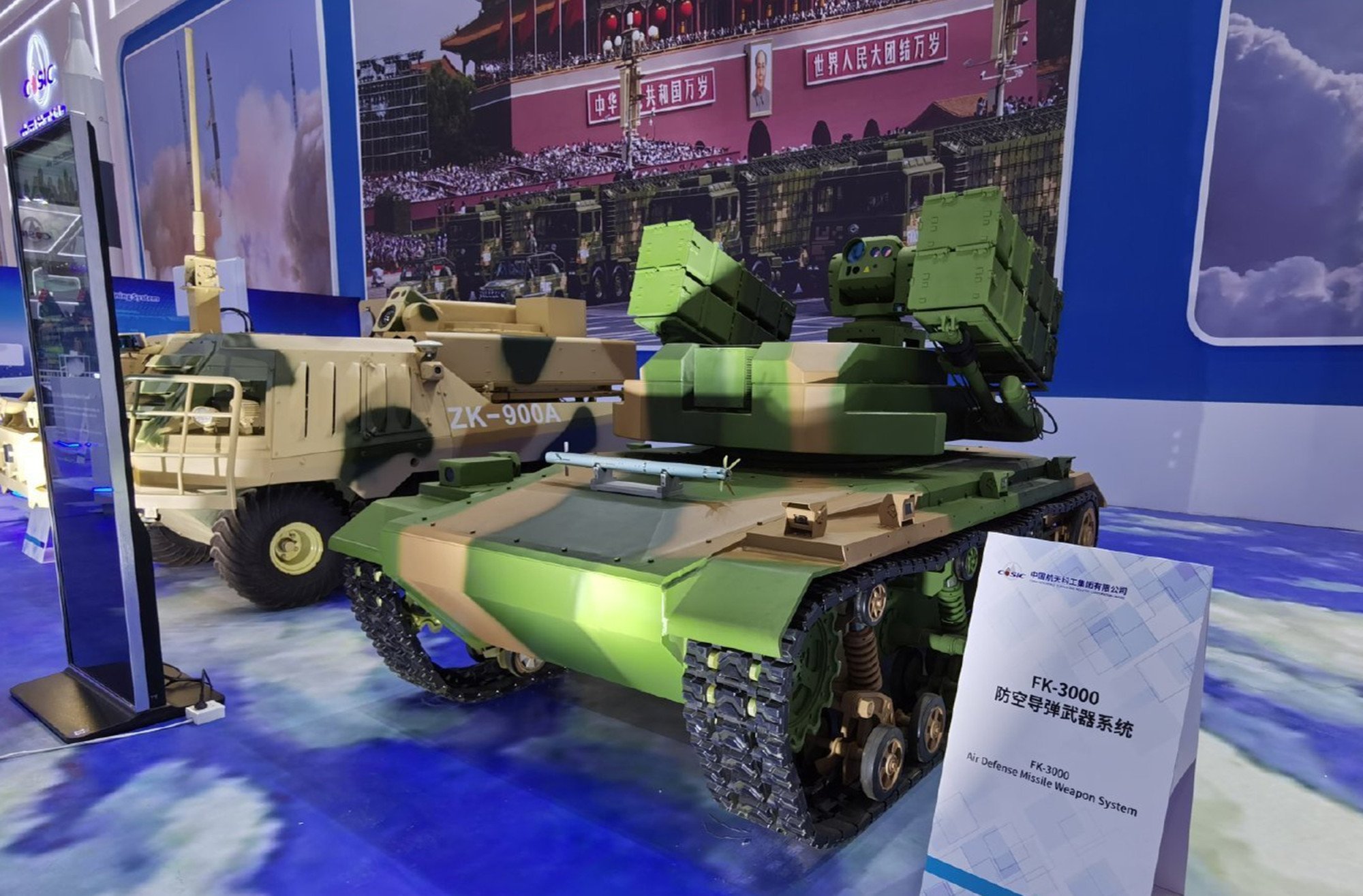 China has become a major manufacturer of both military and civilian drones for the global market, and it appears the Chinese SHORAD systems are also aimed at overseas buyers.
The Type 625E on display in Zhuhai was painted in pixelated desert camouflage, possibly targeting clients in the Middle East.
Another air-defence system, the FK-3000, was also unveiled at the air show. Again featuring anti-air guns and missiles, it is integrated with an anti-unmanned aerial vehicle system that includes active electronically scanned array (AESA) radars, electronic jammers and unmanned ground vehicles.
Also on display in Zhuhai was the CS/SA5 Wheeled Self-Propelled Anti-Aircraft Weapon, which combines air-defence missiles with a 30mm machine gun on a truck.
Missile maker China Aerospace Science and Industry Corporation has also developed an export version of the PLA's HQ-17A short-range air-defence missile system. The
HQ-17AE
– which was unveiled at last year's air show – has powerful AESA radars and a vertical launcher on a 6x6 truck with a range covering a distance of 20km and 10km altitude.