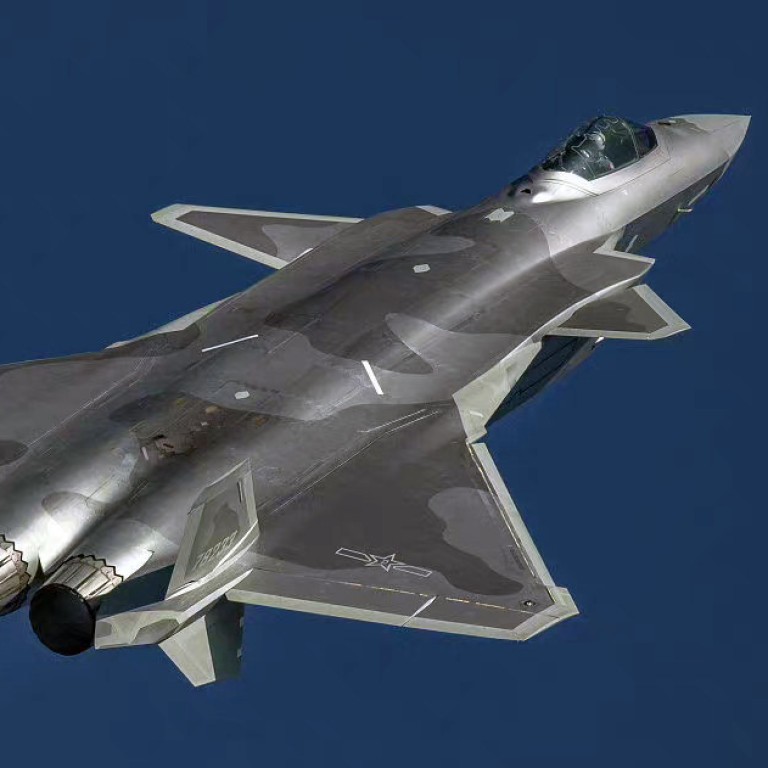 Is China's W-15 engine to power J-20 stealth fighter jet nearing completion?
Video footage of speech by one of the country's top aviation engine designers suggests maiden flight earlier this year
Analysts say while the WS-15 appears to be near the end of its development stage, it is too early to predict when it will be put into service
A top adviser to China's aircraft engine design programme appears to have unwittingly revealed that the WS-15 – specifically designed to support the
PLA
Air Force's most advanced stealth fighter, the
J-20
– completed its maiden flight this year.
It is unclear if the engine was tested on a J-20 Mighty Dragon but defence experts said that while the news hinted the powerful engine was nearing completion, it was too early to predict when it would be put into service.
Liu Daxiang, a professor with the school of energy and power engineering at Beihang University – previously known as Beijing University of Aeronautics and Astronautics – revealed the development late last month, during a keynote speech at an air show in Nanchang, Jiangxi province.
Last week, video footage of Liu's speech started circulating on Chinese social media platform WeChat. It was widely shared among military enthusiasts but was soon deleted because of its sensitivity.
Liu was a team leader for Asia's first high-altitude aircraft engine simulation test stand in the 1980s and a top adviser to state-owned Aero Engine Corporation of China.
"The engine with a push-to-weight ratio of 10, developed for our country's J-20, [has not been] put into service, but it has completed the maiden flight," he said, according to the video, recorded at the three-day China Aviation Industry Conference and Nanchang Air Show.
While Liu did not identify the engine by name, the thrust-weight ratio – similar to the US' most advanced Pratt and Whitney F119 engine for the Lockheed Martin F-22 – indicates that it is the WS-15.
State broadcaster CCTV boasted in 2017 that the performance of the WS-15 was a match for the F119 engine. In a documentary aired in May that year, CCTV claimed the engine would be widely used in the J-20 by 2020, a schedule which has not been met.
Military experts and sources said Liu's remarks indicated that the WS-15 had entered its last development stage.
"Aircraft engine development needs to go through five stages: ground tests, wind tunnel tests, high-altitude simulation tests, flight tests, and then enter the final small-lot production for product acceptance tests," said Fu Qianshao, a retired PLA Air Force equipment specialist.
All the tests are complex and the engine must meet strict standards, he added.
"The latest news shows the WS-15 is quite close to powering the J-20, even though it's not clear whether the Mighty Dragon was involved in the maiden flight."
A military insider told the South China Morning Post that it might take several years for the WS-15 to become a mature and reliable fighter jet engine.
"For safety considerations, the maiden flight could be taken by a four-engine cargo plane, with one being the WS-15 engine," said the insider, who refused to be named because of the issue's sensitivity.
"After that, the engine should pass another round of extreme tests, including flights to snowy mountains, deserts, high humid and salty South China Sea and other areas."
Beijing has been stepping up development of sophisticated jet engines since the turn of the century, spending at least 900 billion yuan (US$129 billion) in the past decade, according to a military source close to the PLA Air Force.
Developer Aero Engine – formed in August 2016 through the merger of 24 AVIC subsidiaries with about 10,000 employees – has led China's development and production of aircraft engines and gas turbines in recent years. One of the former AVIC subsidiaries, Shenyang Aeroengine Research Institute, developed the WS-10 and WS-15.
Pratt & Whitney and General Electric in the US spent more than 12 years developing prototypes for the F119 engine in the 1980s, followed by another 14 years of testing after its maiden flight – fitted to an F-22 – in September 1997.
Since 2018, the US has been deploying advanced F-35s at its military bases in the Asia-Pacific region, forcing the J-20 to use two stopgap alternatives, the Russian AL-31 engine and later the Chinese WS-10C, a thrust-vectoring engine modified from the WS-10 that also powered the PLA's J-10, J-11, J-15 and J-16.
In September, the PLA Air Force said that all of its newest batch of J-20s were powered by WS-10C engines, while state media reports showed world-class pulsating production lines working to speed up deliveries of the Mighty Dragon stealth jet fighters.