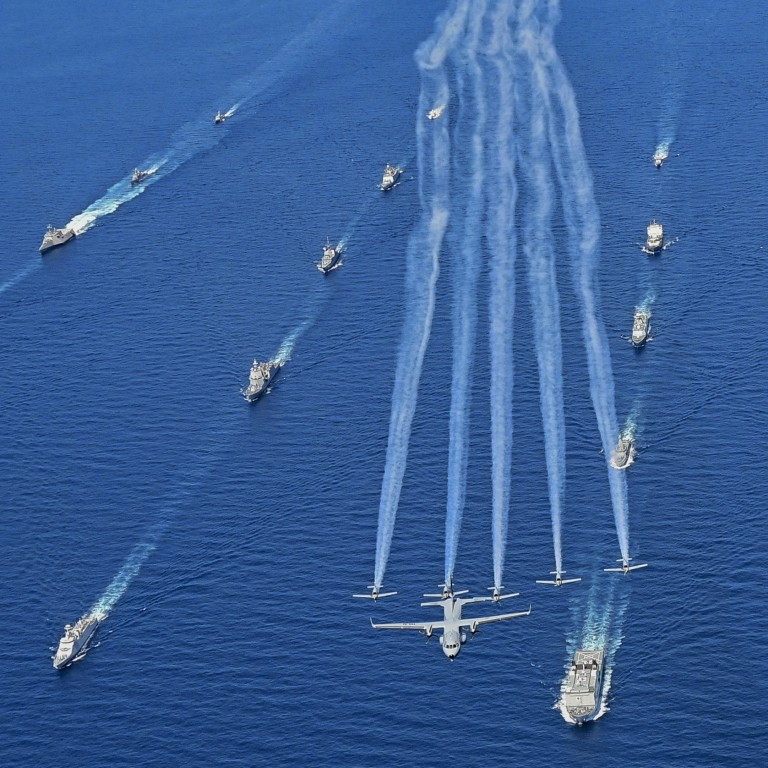 Chinese and US presence in Komodo navy exercise showed 'support for Indonesia', not each other
36 nations take part in Multilateral Naval Exercise Komodo off South Sulawesi, including traditional rivals India and Pakistan
Indonesia 'is of great importance to the South China Sea region and Asean, where China's national interests and concerns lie', analyst says
Tensions between
China and the United States
may be high but the navies of both countries took part in
Indonesian
military exercises last week in an apparent friendly gesture towards the Southeast Asian host.
Some other countries with traditional rivalries – like India and Pakistan – were also invited to the "non-war" event.
The event took place amid growing tensions between China and the US, and American allies in the Asia-Pacific region. High-level communication channels between the two militaries have been cut off since August.
The Komodo drills, which focus on disaster relief and humanitarian operations, seemed to be another chance to bring representatives of the two sides together.
The Chinese navy sent the latest version of its Type 052D guided-missile destroyer, Zhanjiang, and the Type 054A frigate Xuchang, which prepared navigation research, duty officer training and damage control en route to Indonesia, according to the PLA Daily, the news outlet for the People's Liberation Army.
The US Navy has not named the vessels it sent.
"I do see these navies' participation in MNEK, held in a third country – in this case Indonesia – as a way of maintaining some form of cooperative linkages, and I believe the higher political authorities also see similar merits some way or another," said Collin Koh, a research fellow at the S. Rajaratnam School of International Studies in Singapore.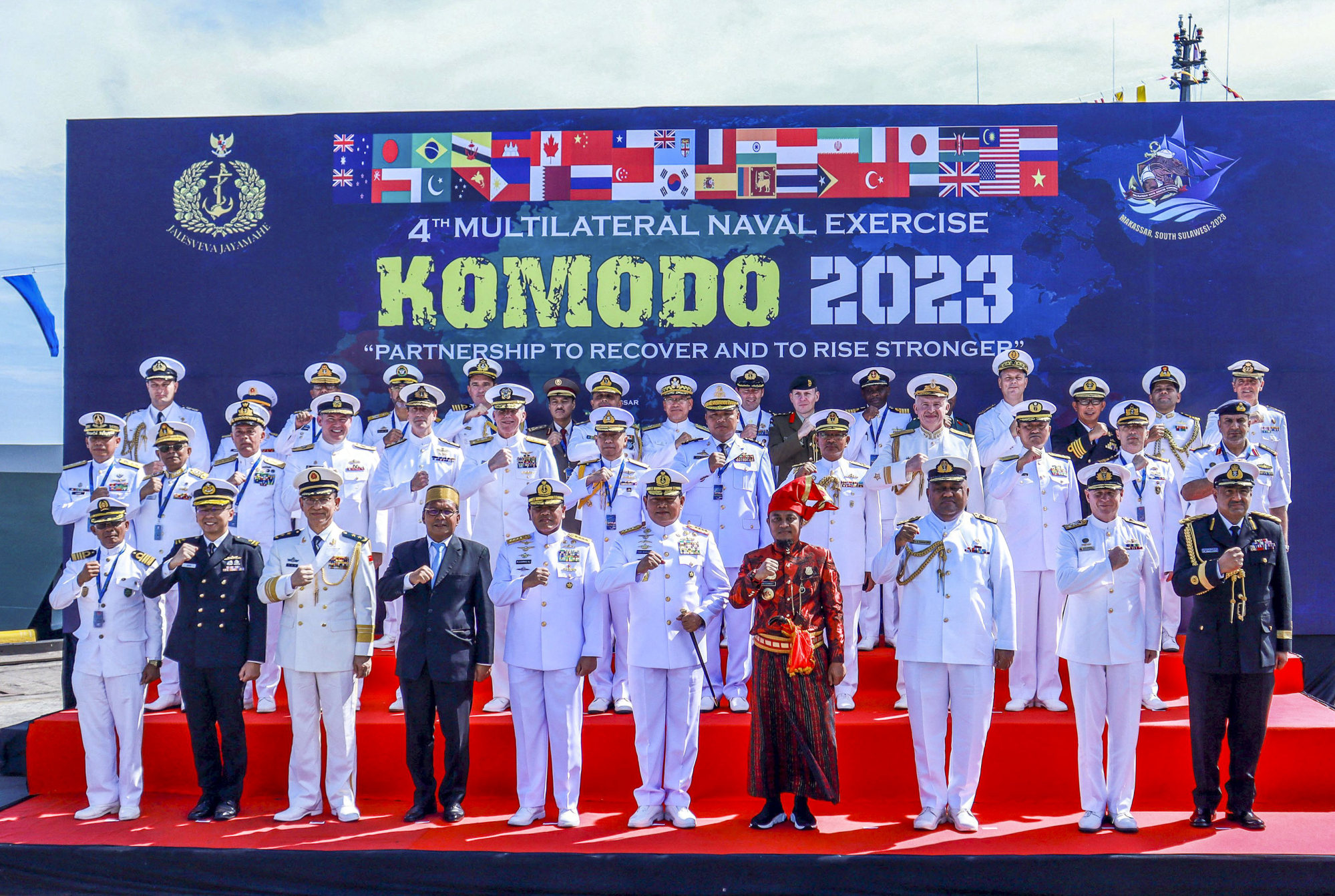 All foreign ships dropped anchor off Sulawesi and personnel were ferried to shore. The Indonesian navy said it organised icebreakers for the guests, medical training and an international maritime security symposium, in addition to recreational activities such as city tours and concerts.
The troops then returned to their vessels to practise maritime interception, search and rescue at sea and damage control.
The Chinese navy said it would take the opportunity to conduct military and cultural exchanges with other navies "to further deepen mutual understanding and practical cooperation", the PLA Daily reported.
It published photos of Chinese sailors snorkelling and taking part in international cooking competitions in an apparently relaxed and friendly atmosphere.
"We hope … to showcase a new open and confident image of the PLA Navy," Lei Xiao, an officer in the mission, was quoted as saying.
But these types of exchanges are not likely to ease US-China tensions or improve substantive communication between the two sides, according to former PLA instructor Song Zhongping.
"Everything was coordinated by the hosts, and the Chinese and US navies did not really need to have much direct engagement, and given the overall situation I doubt they would want to," he said.
"China took part in this event not for the US, but for Indonesia, which is of great importance to the South China Sea region and Asean, where China's national interests and concerns lie," he added, noting that also China took part in the last MNEK drills in 2018.
According to Koh, as with last year's
G20 summit
hosting duties, the Komodo naval exercises showcase Indonesia's growing defence diplomacy efforts, its increasingly prominent and more activist foreign policy and the
Asean
-centric regional architecture that emphasises inclusivity.
"Still, from the standpoint of realpolitik, it makes sense for these two countries to join MNEK as a way to demonstrate support for Indonesia, a very significant player in the region and, for this year, also the Asean chairman."