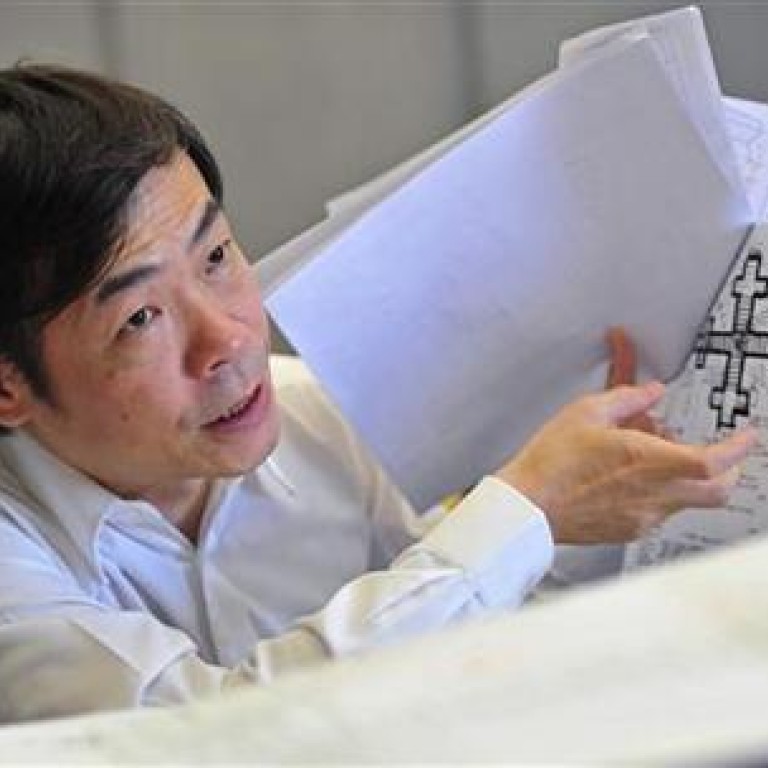 Chinese billionaire says plan to build world's tallest building no pie in the sky
Zhang Yue says he has not given up on his stalled dream of constructing a 838-metre prefab skyscraper in Changsha
Billionaire Zhang Yue grabbed international headlines with his ambitious plan to build the world's tallest building from pre-fabricated units.
But when his 9-billion yuan (HK$11.5 billion) vision for the 838-metre tall Sky City in Changsha in Hunan province stalled in 2013 amid concerns from regulators, Zhang began to fade from view.
Now he is back in the spotlight following the recent construction of a building dubbed Small Sky City, more than 200 metres tall, in an eyebrow-raising 19 days.
Questioned by reporters at the Boao Forum for Asia last month, Zhang, 55, insisted the 'big' Sky City was not a lost cause, despite the local government's suspension of the project amid controversy over its safety, environmental impact and source of funding.
"[Construction] shouldn't be far away. We'll start soon and complete soon," said Zhang, who is estimated by the Hurun Global Rich List to share a personal fortune of 7.9 billion yuan (HK$11.5 billion) with his wife.
As the president of Broad Group, a company that began life building air conditioners, Zhang was once considered one of the leading entrepreneurs in mainland China. And even now, despite the problems surrounding the would-be world's tallest building, the keen environmentalist has a style of talking big.
He said the high-profile, energy-saving project had received "too much attention, which scared the officials", as he explained why at present the project was little more than a big hole in a village in suburban Changsha, where his company is based.
Plans for the building are nothing if not eye-catching.
Not only would it be 10 metres higher than the world's current tallest building, the Burj Khalifa in Dubai, it would host everything from apartments, offices and restaurants, to supermarket stores and even schools so that its residents could live, work and play in its confines without the need to battle – or add to – the pollution outside.
At the Boao Forum Zhang demonstrated an air-quality reading machine and passed out business cards that were an environmentally-friendly half-size, as he urged businesspeople and officials to change to greener lifestyles.
Zhang claims to have embraced such change himself.
While in 1997 he became the mainland's first private business owner to have a private jet, Zhang ditched both his personal planes in 2008 and now drives only Smart and electric cars.
He says he made the decision after finding that a flight from Changsha to Beijing emitted eight tonnes of carbon dioxide. It would take eight trees 60 years to absorb such an amount, he said.
"When the plane took off, I would look out of the window and think [about] the trees," he said.
However, media reports covering the ground-breaking ceremony of Sky City in July 2013 showed Zhang arriving at the site in a US-made Bell Helicopter.
He co-founded Broad in 1992 with his brother Zhang Jian. The company specialises in four areas: air conditioners, air purifiers, sustainable buildings, and combined cooling, heating and power units. Air conditioners are the company's biggest source of profit so far.
An article posted on Broad's website in 2011 was ridiculed for boasting that Beijing's Zhongnanhai, the central government compound in the centre of the city, had started using its air purifiers and ventilation systems.
This was mocked by internet users who commented that even the air in China's centre of power was now specially supplied.
Zhang now takes a low-key approach, telling the South China Morning Post: "We have millions of customers and Zhongnanhai is one of the smallest ones."
Zhang places his greatest hopes for his future business on prefab buildings, which can be constructed speedily block by block using steel modules built off site.
So far, the market appears unconvinced. Broad has six franchises and most of the more than 30 buildings it has constructed were for its own use. Only five or six were built for commercial orders, Zhang said.
"I don't like making things showy. I'm not willing to build houses according to others' will. I like them to be upright and foursquare," he explained. "So there's often disagreement [with potential clients]."
Modular construction is popular in China and the rest of the world, but Broad was different because of its unusually high-level of factory production, he said.
"About 90 per cent of our payroll goes to workers in factories. Usually it's 20 to 30 per cent, like in the US and Japan."
Zhang was reported to have proposed co-operation with Feng Lun, chairman of the leading real estate developer Vantone, who had been promoting a similar venture named GREAT (Green, Relational, Economical, All-Encompassing, Technology) City, but no deal could be made.
"Zhang Yue hails from Hunan. Hunan people won't stop until they make things extreme," Feng was quoted as saying by the China Economic Weekly.
"I believe [Sky City] can be handled in terms of technology, but I don't think the conditions are mature enough regarding economic and social management," said Feng.
Zhang graduated from a teaching school in Chenzhou in Hunan, before starting work as an art teacher in his hometown more than three decades ago.
He quit the job in 1984 and dabbled in various businesses including selling camera films and motorbikes, decorating, and even ran a café.
In 1992, he and his brother Zhang Jian started making non-electric air conditioners in Changsha. At a time when electricity was in acute shortage the business boomed.
However, the brothers split in the late 1990s as Zhang Jian proposed to diversify the company's business by merging with Japan's Mitsubishi, something that crossed Zhang Yue's principle of "no diversification, no debt and no public listing".
This prompted Zhang Jian to start his own company, Broad Homes, which has grown into a leading player in precast concrete construction. Years later, Zhang Yue broke his own principle by introducing franchising for his company, Broad Group.
Broad Group's earnings are unclear. Its spokeswoman Zhu Linfang said that as it was not a public-listed company it was not obliged to disclose the information.
But Zhang has been quoted as saying that the company made about 6 billion yuan in 2012, of which more than 2 billion yuan came from air conditioners.
Most might be happy with such an amount, but it is small change when compared to a city in the sky and a 9-billion yuan dream.