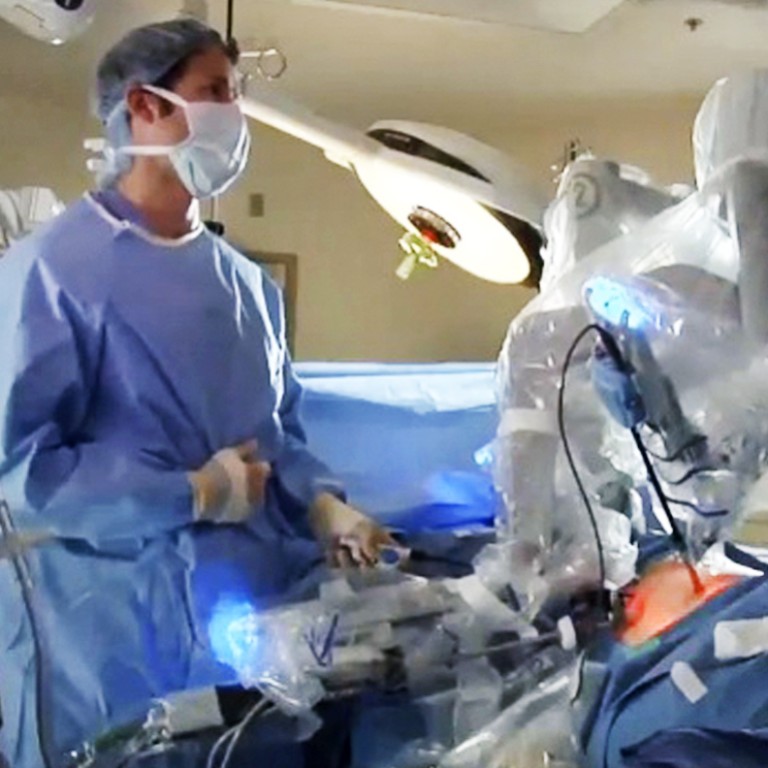 A cut above: Chinese agencies offer overseas medical treatment - for a price
More mainland patients are paying up and heading offshore in search of top-notch hospital services
For the first time since her daughter was diagnosed with epilepsy nine years ago, Yang Lei, from Inner Mongolia, had a clear understanding of the girl's radiology results after they were carefully explained to her by Japanese doctor.
The scenario is in contrast to her numerous visits to mainland hospitals, including some of the country's best in Beijing, Shanghai and Guangzhou. Yang sometimes booked VIP consultations, but still the doctors spent just a few minutes with her.
"Following years of treatment, my daughter still suffered several minor seizures a day which meant she can't take care of herself," Yang said. "The mainland's elite doctors told us that there was no further treatment to improve her condition."
At the beginning of this year, however, she discovered that epilepsy treatment was more advanced in Japan and the United States, which rekindled her hope. Through the help of a medical services agency, Yang made an appointment for her nine-year-old daughter at the National Centre of Neurology and Psychiatry in Tokyo in mid-May.
The girl had a thorough examination and was prescribed drugs. The family will return to Japan in mid-June to see if she qualifies for surgery.
As the mainland becomes more affluent and has more contact with the outside world, more people like Yang are heading abroad for better medical treatment.
The Wuzhou Hospital Management Company, based in Hangzhou, arranges treatment for clients in the US, Japan, Germany, Britain and Denmark. Fan Yuexin, the company's founder, said clients went overseas for superior medical technology and services.
One area of high demand has been among cancer patients. According to the National Cancer Prevention and Research Centre in Beijing, the five-year survival rate of Chinese patients is 30 per cent, half that of patients in the US.
This had been a boon to agents who introduced mainland patients to foreign hospitals and clinics, said Wang Gang, president of the Hope Noah Company in Beijing.
The company's business has grown by half annually in the past few years, and in April they signed contracts with nearly 60 new clients.
The company charges 98,000 yuan (HK$124,000) for its first week of service which includes booking appointments with overseas hospitals, translating medical records, applying for visas, arranging airport pickups, providing accommodation and accompanying patients. They charge 30,000 yuan per week thereafter.
Most of Hope Noah's clients are seeking treatment for serious conditions such as cancer or heart disease. But other patients were heading offshore for advanced pharmaceuticals that were still a decade away from approval for sale in China due to government red tape, Fan said.
"A lot of my clients with hepatitis C go to the US to get orally administered drugs that are believed to offer a 90 per cent chance of a cure. Chinese doctors still rely on the traditional method involving interferons [which have multiple side-effects]," he said.
Other drawcards were a more "humane" level of service and tailored medical treatments, in contrast to China's cramped hospitals and overworked medical staff.
Yang said the Japanese hospital left her with a good impression. "Doctors and nurses there really care for us and I think they deeply hope my girl can recover."
She said the cost there was not that much more than at home. One radiology test cost about 30,000 yuan in Japan, on par with one her daughter took at a major hospital in Guangzhou.
Fan said competition within the sector was fierce, with dozens of newcomers emerging in recent years, especially fuelled by capital markets that sensed the growth potential of the industry.
Sequoia Capital, a leading international venture equity firm, last year put 10 million yuan into Saint Lucia Consulting, an agency in Beijing, the China Business News reported.
Compared with the dynamic growth of Hope Noah, Fan's company had grown more slowly with only three or four new clients a month since it was set up at the end of 2013, Fan said.
Shanghai-based Ryavo Healthcare had a similarly sluggish start, according to its general manager Zhou Jizhao, who said the public response was cooler than he expected when he opened the agency two years ago.
That could be because people are still largely unaware that much better medical services can be accessed overseas.
The three agencies claim they all partner with top hospitals in the US and Japan, such as Massachusetts General Hospital  in Boston, MD Anderson Cancer Centre in Houston and Tokyo's Cancer Institute Hospital of JFCR.  
Mass General had about 100 Chinese patients last year, 10 times as many as in 2011, the Boston Globe quoted Dr Andrew Warshaw,  former chief of surgery who heads international and regional clinical relations for the hospital, as saying.
Nearly all mainland patients paid their own overseas medical expenses because commercial international medical insurance had scant coverage in China, the three agencies said.
But the industry is not without risk. CCTV reported that a domestic agency charged one Shandong patient with eye problems 600,000 yuan for translating his medical records and contacting an American hospital. The agency later told him to remit 10 million yuan for "treatment bills", saying the hospital said the illness could be completely cured. The man realised it was a con and didn't pay the second instalment.
In regular practices, agencies don't charge medical costs and patients pay their bills directly to the overseas hospitals.
Dr Yu Wenbing, from the Beijing Cancer Hospital, said it was good that wealthy patients sought overseas treatment because it would help reduce the workload for doctors at the mainland's top hospitals.
It is estimated that 700,000 people from outside Beijing flock to hospitals in the capital every day, according to the news portal Cnr.cn.
"I should point out that China's first-class hospitals have close communication with elite health centres abroad and the capacity gap [between China and the world] is narrowing," Yu said. "In terms of surgery skills, Chinese doctors are a cut above foreign counterparts because they practice a lot."
Huang Ruofan, an oncologist at Shanghai's Huashan Hospital, agreed, saying the only value of overseas medical care was to receive treatment from the best doctors acknowledged globally in the industry.
"I doubt agencies know who those first-ranked doctors are and I don't think they can access those leading experts," he said.