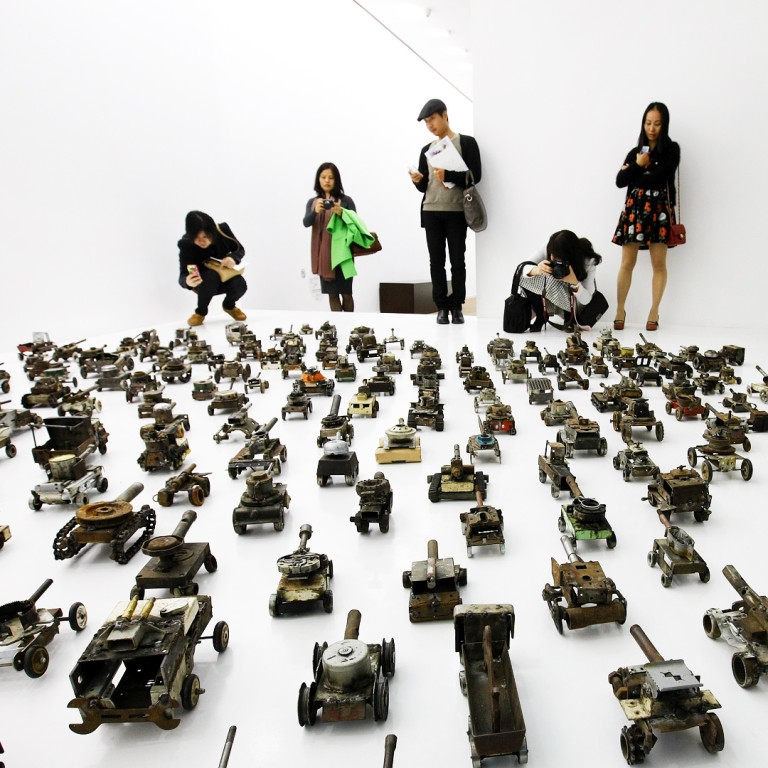 New Beijing collection joins rising ranks of China's private art museums
Beijing Minsheng Museum of Art is the latest of several hundred collections to have opened on the mainland in recent years
Chinese new art collectors and investors – some of the biggest buyers of artworks at international auctions in recent years – are increasingly opening their own private museums to house their collections.
Earlier this month, Beijing Minsheng Museum of Art, sponsored and funded by China Minsheng Bank, opened its doors inside the Universal Creative Park, near to the 798 Art Zone. This is the third museum affiliated to China Minsheng Bank; Shanghai Minsheng Museum of Art opened in 2010, and Shanghai 21st Century Minsheng Art Museum in 2014.
The latest museum is housed in an abandoned factory that was rebuilt and completely renovated at a cost of 200 million yuan (HK$253 million). It covers 35,000 square-metres and is now China's largest private museum.
"Private museums are helping to introduce artworks into cities and ordinary people's lives in China," said Huang Du, an independent art critic and curator.
 "It's a constructive progress that sees newly wealthy people and enterprises investing in artworks, helping to promote contemporary art and then sharing their collections with the public."
The new Beijing museum is the latest among several hundred private museums to have opened on the mainland in recent years.
M Woods Museum, founded by Lin Han, a 28-year-old entrepreneur and art collector, opened in the 798 Art Zone late last year, and followed two others that opened in Shanghai during the year – Long Museum and Yuz Museum Shanghai – and Sifang Art Museum, which opened in 2013 in Nanjing, the capital of Jiangsu  province.
The Long Museum, which was founded by taxi-driver-turned-billionaire Liu Yiqian and his wife Wang Wei, has two different branches in Shanghai that together house the largest private art collection in China. His artworks include a rare US$36 million Ming dynasty porcelain "chicken cup" and a US$45 million embroidered Tibetan tapestry – both of which were bought at auction.
Liu, one of China's wealthiest people, is the largest shareholder in Changjiang Securities and an investor in a number of listed companies.
Yuz Museum Shanghai, founded by Chinese-Indonesian entrepreneur and collector Budi Tek, is well-known its large collection of Chinese contemporary art.
Meanwhile, Sifang Art Museum, founded by Lu Xun, 31, has artworks by established international artists, including Germany's Candida Hofer and Japanese artist Takashi Murakami.
Huang said that private museums needed "a long-term strategy and commitment" if they were to become visionary museums dedicated to high curatorial standards. "There is still a challenging long way to go," Huang said.
The first challenge the museums face is financial sustainability.
China's first private museum, Chengdu Shanghe Museum, opened in 1998, followed by two others – Shenyang Dongyu Museum and Tianjin Teda Museum. However, all three were forced to close after only a few years owing to financial difficulties.
"It's very expensive to run a museum in the 798 Art Zone – about US$1 million a year is needed to cover the basic operational costs," said Lin Han, who opened a room beside the 2,500-sq metre M Woods Museum as an arts-and-crafts store, to help to generate sales to support the not-for-profit museum.
The lack of any government financial or taxation support places an additional burden on the development of China's private museums; they are not eligible for preferential government financial initiatives that are provided for culture and art programmes.
Contemporary art has been marginalised by government-controlled public museums, which prefer to promote traditional art, such as ink and oil painting and calligraphy.
"The Museum of Modern Art in New York and the Tate Modern in London are well-supported thanks to a network of sponsors, institutions and also preferential tax breaks – such as lower levels of tax paid on art that is donated to museums – something that is impossible here in China," said a private museum employee, who declined to be named.
 "We have to try to survive by our own means through the capital generated from business and funds raised by our founder."
High customs tariffs on artworks are another heavy burden facing private museums.
"If we import artworks from abroad for an exhibition then we must provide heavy guarantee deposits – sometimes as much as 10 million yuan," the employee said.
"On the other hand, if we lend artworks to overseas exhibitions, we are required to apply for their temporary export, which means we must deposit up to 40 per cent of the market price of each of the artworks before they can clear customs."
Emerging private museums also face the pressure of curatorial and conceptual considerations, too.
"Ultimately, the curatorial judgment over the quality of a museum's artworks is vital for its long-term success," said Wang Guofeng, an independent contemporary artist. "Only those museums that are dedicated to curatorial quality will be able to grow and become a part of the art history."
Concerns still remain over the capability of emerging Chinese private museums because of the lack of recognised and independent Chinese art curators and critics within the burgeoning field of Chinese contemporary art.
To try to boost their expertise, two private museums in China – which have survived for more than a decade and charge lower rates for large-scale exhibitions thanks backing from their real-estate developer founders – have hired directors with international backgrounds.
Alex Gao, who was educated at Japan's Tama Art University and Hongik University in South Korea has been appointed director of Today Art Museum, which is founded and supported by businessman Zhang Baoquan, chairman of Jindian Group.
Meanwhile, Shanghai Himalayas Museum, founded by Dai Zhikang, chairman of Zendai Group, hired Yongwoo Lee, a globally recognised South Korean art historian, critic and curator, as its executive director in May.
"It's important for directors of museums to have a world vision and outlook and an open mindset so they can build-up dialogue with people within the international art scene," Huang said.