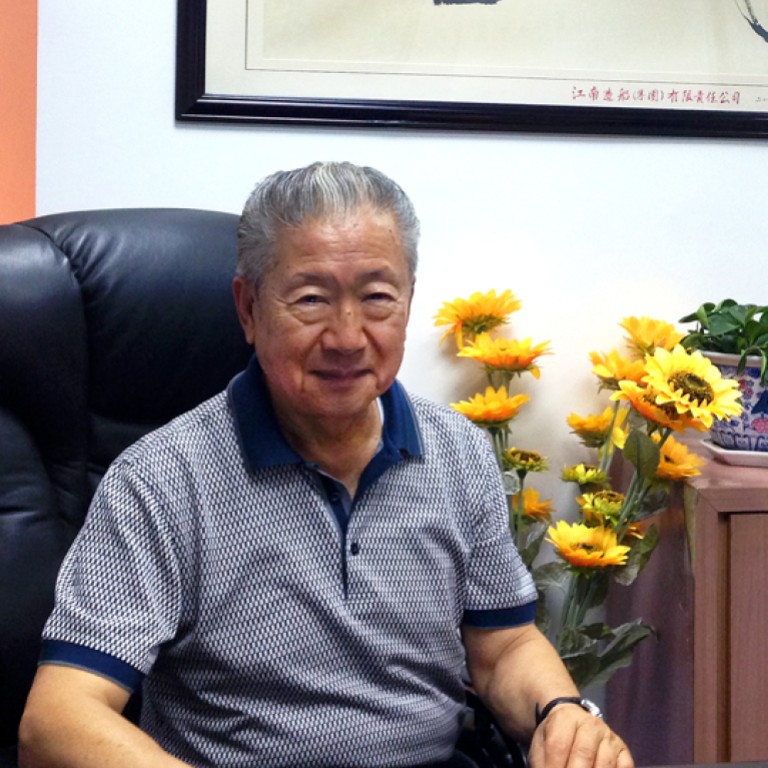 Retired Chinese shipping billionaire cultivates taste for organic blueberry farming
Steve Hsu, 81, ex-boss of Hong Kong-based Oak Maritime Group, not focused on profits - only growing the fruit that improved his eyesight after eating bowl of berries every day one summer
Many Chinese people start growing flowers and plants as a pastime during their retirement, but 81-year-old Steve Hsu is slightly different – he has spent US$3 million growing organic blueberries and camellia trees producing tea seed oil on about 130 hectares of farmland.  
Hsu, a mainland billionaire whose family's shipping company has been in business for 90 years,  is not out to emulate "Tobacco King" magnate Chu Shijian, the former owner of the Yunnan Hongta Group, who earned himself another fortune from growing oranges.
Instead, Hsu, who was born and raised in Shanghai, but now lives in Hong Kong, has gone back to nature as an organic farmer simply as a way to enjoy his retirement.
Mindful of the frequent food safety scandals that occur on the mainland, he decided to produce enough blueberries and tea seed oil to serve the needs of other potential customers, but making a profit is not really part of his plans.
His focus on farming started eight years ago – while still chairman of Hong Kong-based Oak Maritime Group, which owns the Taiwan-listed shipping company, Sincere Navigation Corp – when he discovered that his eyesight had suddenly improved.
He was sitting at  home and was surprised that he was able to read his newspaper without using his glasses.
The improvement in his eyesight in 2007 came about after he spent the summer in Canada, where he had enjoyed a bowl of fresh blueberries every day.
"Later on, when travelling back to Shanghai, I found that even the restaurant managers of five-star hotels had never heard of blueberries when I asked for some," he said.
"China is such a big country with such a huge population and we read news about problems there of food poisoning and horrible food products all the time."
He decided to try to change this by starting to grow his own blueberries at a time when the health benefits of the fruit were not widely known.
This led Hsu, then aged 73, to build his own blueberry farm.
He flew to Jilin to meet the mainland's leading expert in blueberries, Professor Li Yadong, of Jilin Agricultural University.  
On the advice of Li, he rented 67 hectares of land in Rushan county in Shandong province  "without a second thought", and registered his new company, Summer Food and Beverage Co, in Shanghai, which he frequently visits.
That plot of land has become Hsu's farm, which he has endeavoured to run as an organic concern.
Although the mainland has regular problems caused by pollution, the air quality around his farm remains relatively good because it is located away from heavy industry. He also uses treated water for irrigation, and fertilisers made from soya beans, corn and apple.
"My employees think I am silly – making big investments for no profits," he said.
"It has turned out to be very difficult to create an eco-system that is truly organic."
His first harvest of blueberries was in 2012, and each year the harvest season lasts only six weeks, between late June and the end of July.
In 2011, before his first harvest, Hsu had also rented another 67 hectares of farmland in Jiangxi province so that he could grow camellia trees to produce tea seed oil, after learning about its health benefits and also its limited supply on the mainland.
He saw that most of the edible oil labelled as "tea oil" in mainland supermarkets actually contained less than 20 per cent of tea oil.
"Because tea oil is really expensive, manufacturers mix it with other oil to help lower the cost and make the price affordable for consumers," Hsu said.
Usually camellia trees do not produce any oil for the first five to seven years after they are planted, so Hsu has yet to harvest any oil from his Jiangxi farm.
 "So far my revenues are still far below covering the costs," Hsu laughed. "My employees are unhappy because there's no bonus for them. I just told them to be patient.
During the past few years many individuals and businesses have begun to buy organic farm products, with the nation's growing middle class now showing a greater interest in quality foods – and also a willingness to spend a little more to get it.
"An increasing number of wealthy mainlanders are keen to eat healthier foods and appreciate the benefits of organic products, which are starting to become more affordable," Hsu said. "So this is only a beginning." 
 However, Hsu said he had no plans for expansion of his retirement business and, instead, would continue to focus on his two farms growing blueberries and camellia trees.
"I just want to continue to do something that I feel comfortable doing – something that is not going to be too difficult to cope with at my age, he said.