Focus
Get more with myNEWS
A personalised news feed of stories that matter to you
Learn more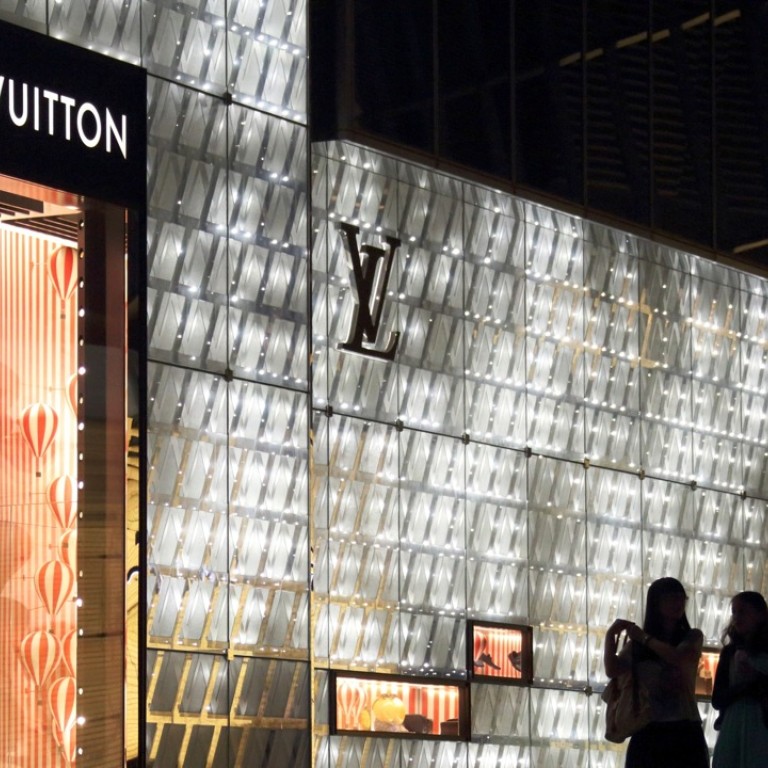 Just why are Louis Vuitton and other high-end retailers abandoning China?
After a decade of aggressive expansion in China, international luxury brands shrink their physical presence and branch out into restaurants, cafes and even beauty salons
In the heart of Guangzhou's Yuexiu district, the shopping centre La Perle is a symbol of luxury living in the southern Chinese city.
The high-end shopping mall, which opened in January 2004, has long been the first stop for many international brands seeking to conquer the Chinese market.
But times are changing. A few weeks ago, La Perle lost one of its biggest tenants: Louis Vuitton. The French luxury retailer closed its store on the ground floor saying it would not renew its expired lease.
This followed the shutting down of the two other LV stores in the northeastern city of Harbin, in Heilongjiang province, and the western city of Urumqi, the Xinjiang capital.
The brand said the closures were part of a marketing strategy adjustment by headquarters.
It's a strategy that appears to have been taken on by many other international luxury brands.
Following ten years' aggressive expansion in China, they have been shrinking their physical presence in the nation to adapt to a cooling market plagued by a slowing economy, an ongoing anti-corruption campaign and Chinese buyers' increasing overseas purchases.
The Fortune Character Institute, a Shanghai-based market research unit, forecasts mainland luxury sales to grow 3 per cent to US$25.8 billion this year, much slower than the 11 per cent in the recovering global market.
A study by the institute found that although Chinese shoppers consumed 46 per cent of luxury goods around the world, their purchases in their home market accounted for only 10 per cent of global sales, falling from 11 per cent in 2012 and 13 per cent in 2013.
The sluggish growth is reflected in the expansion plans of luxury brands. They are opening fewer new stores and closing more.
During the past two years, Burberry closed four stores on the mainland, Coach shut two, Hermes one, Armani five, and Prada went from 49 to 33.
Regina Yang, of real estate consultancy Knight Frank Shanghai, said store consolidation would continue, especially in smaller cities.
"Now the luxury brands do not need two or three outlets in one city. Those having three outlets will be cut to one," said Yang.
The situation is no better in Hong Kong, which relies heavily on mainland shoppers' spending.
In August, TAG Heuer, the expensive watch brand under LVMH, closed its Causeway Bay store while Coach closed its flagship store in Central due to high rent pressure and a falling number of mainland tourists.
"Store openings are no longer a major way for international luxury brands to expand in the China market. Over the next two years we expect these brands to close even more stores than before," said Zhou Ting, director of the Fortune Character Institute.
WATCH: Shanghai's most opulant shopping mall - Global Harbor
"But if you think luxury brands are taking a totally defensive strategy in China, you would be wrong. The closures are only a small part of a thorough strategy adjustment they are undertaking in China."
While closing smaller and underperforming outlets, the top brands are investing more resources to upgrade and expand other stores and are even venturing into different industries to attract local shoppers. Considering Chinese buyers' preference to shop online, they are also building e-commerce channels and closing price gaps between China and foreign markets to retain their consumption locally.
"In the past, foreign luxury retailers had treated the China market like a money printer. They were busy opening stores to cover more cities. But their customer services and shopping experience were far from good compared to their stores in Europe. Now they have to pay a big cost for it," said Zhou.
The first batch of luxury brands entered into China in the 1990s. Most of them set up stores in five-star hotels and high-end department stores in big cities, targeting foreign businessmen, overseas Chinese and government officials.
In 2004, as the Chinese government loosened restrictions on foreign retailers, luxury brands that had previously relied on local distributors started to engage in direct sales and expand into shopping malls.
The golden era came around 2009 and 2010 as a rising number of affluent Chinese consumers started to spend on high-end leather goods and jewellery, making the country the fastest-growing luxury market in the world.
Encouraged by the fast growth and huge potential in the China market, luxury retailers rushed to open stores. Global consultancy Bain & Co estimated that the 15 top luxury brands it surveyed had opened more than 80 new shops during the first eight months of 2010.
WATCH: Luxury toys for China's super-rich
Meanwhile, the big brands' aggressive expansion was also partly promoted by the increase in shopping mall construction.
"Developers in second and third tier cities lured big brands as anchor tenants by offering them very flexible leasing terms," said Kenith Kong, director and head of retail service at real estate agency DTZ/Cushman Wakefield China.
A watershed for China's luxury market came in 2013. Late that year, Beijing embarked on a long-term anti-corruption campaign and banned government officials from giving or receiving gifts. Such expenditure had previously been a major driver of domestic luxury consumption.
More recently, the rapid growth of overseas purchases has also been worrying top-end retailers.
Chinese consumers, who are travelling overseas more often, now spend more than 70 per cent of their luxury budgets in Europe, North America, Japan and other countries where the prices are lower, options are greater, and services better.
The demand has even created a booming "daigou" or personal shopper industry, in which the daigou makes a living by purchasing products from overseas and selling them to buyers at home at a profit.
All such developments are forcing luxury retailers to reappraise their business models.
"We have noticed an upward trend on the portion of large stores opened by luxury brands in recent years," said Frank Chen, research head of global real estate agency CBRE.
The company observed that three quarters of renovations by luxury stores that took place between January 2013 and July 2015 in eight major cities were expansions.
It also said the proportion of luxury stores with floor areas of more than 800 square metres climbed to 22 per cent in 2014 from 18 per cent a year earlier.
"Larger sizes means luxury retailers can display more products and add more functions in their physical stores. Increasingly, they are displaying categories which were previously given little emphasis, such as shoes, household items, cosmetics and children's apparel," said Chen.
In February, Louis Vuitton unveiled its newly upgraded store in the China World Mall in Beijing. The 3,000-square-metre shop not only offers various tailor-made services, it hosts a bookstore, an arts exhibition room and a Chinese tea zone.
On July 31, the French luxury brand opened a new store on the bank of the West Lake scenic area in Hangzhou City, Zhejiang province, to tap the growing tourism market.
Also taking an innovative approach in reaching out to local customers is Italian label Gucci. The brand opened a restaurant, 1921 Gucci, in Shanghai's iAPM shopping mall.
French fashion house Versace opened a cafe in one of Shanghai's most expensive malls, Grand Gateway 66, which also hosts Burberry's first beauty salon.
Meanwhile, Hermes, Armani, and Dolce & Gabbana are expected to introduce their restaurants and cafes to China, providing a new engine for revenue growth.
"Such strategies create new forms of profitability based on experience-oriented consumption, as well as an additional sales opportunities for physical goods by attracting more shoppers to spend more time in their places," Chen said.
While reducing their physical presences, luxury retailers are embracing e-commerce despite their concerns that online channels cannot emulate the physical shopping experience.
However, Chinese consumers' increasing reliance on online shopping, especially on their mobile phones, has convinced brands to launch shopping sites or form partnerships with e-commerce firms.
In October, Cartier launched its China shopping site. One month earlier, high-end brand Coach reopened its online store on T-mall.com three years after closing it.
Other brands such as Burberry and Tag Heuer are working with local e-commerce giants like T-mall of Alibaba and JD.com to provide online selling services in addition to their own official shopping sites.
"Many luxury brands have begun to close the retailing price gaps between China and other markets. One of their purposes is also to establish a comprehensive global pricing system and prepare for their future online expansion," Zhou Ting said.