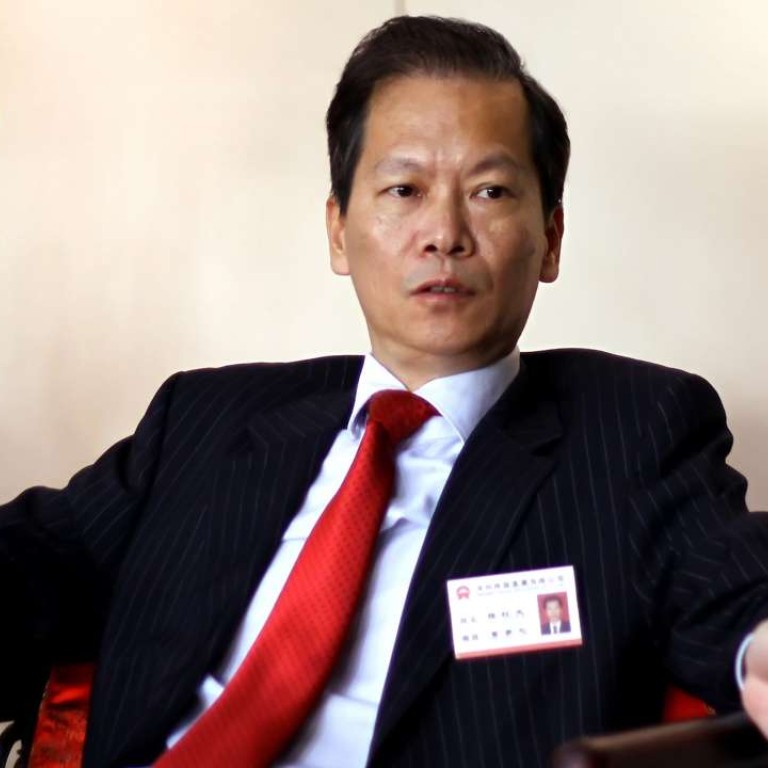 Update

|
Tycoon bought record HK$2.1 billion home on Hong Kong's The Peak because his HK$380m property in Mid-Levels was 'too tiny'
A low-profile tycoon who became the talk of Hong Kong after purchasing a house on The Peak for a record HK$2.1 billion says he has been buying and selling high-end properties in the city for more than a quarter of century since coming to live here.
Chen Hongtian, who has a fortune of 16 billion yuan (HK$18.9 billion) according to the Hurun Report and is a major stakeholder of China South City Holdings – which is listed in Hong Kong – said yesterday he bought the 9,212 sq ft house at­ 15 Gough Hill Road for his own use – and not to turn a quick profit.
"It's not for speculation," he said. "You can hardly make any profit from properties like this.
"I initially planned to move into the home I bought for HK$380 million last year. But I felt it was a little bit too tiny [for my family] and [I would need] to live in a bigger one later on. That's why I bought this house."
The "tiny" property Chen was referring to, at the Opus Hong Kong, in eastern Mid-Levels, covers 5,154 sq ft – meaning he paid roughly HK$75,000 per square foot. He bought it in August.
"We're used to living in big houses. We've got houses of this grade in numerous cities on the mainland and we will live in this [Peak] house whenever we are in Hong Kong," Chen said.
Aside from on-the-spot ­inspections of the house at Gough Hill Road two or three times over the past couple of months, Chen visited a handful of other residences on sale before deciding to buy.
Chen said he was no stranger to Hong Kong's high-end property market.
"I bought my first luxury home at Kennedy Road in Mid-Levels for HK$4 million in late 1990 or early 1991, when I first came to live in Hong Kong. Over the years, I always lived in Mid-Levels. After the unit in Kennedy Road, I set my sights on another one in May Road that I bought ­later on."
Sources close to Chen said he had poured huge amounts of money into high-end property across the world, including in Australia, over the past few years.
Chen refused to comment on the prospects for the Hong Kong property market, but said the general market was different to the one in which his record purchase was made as there were far fewer buyers involved at the very highest end of the market.
"It's nothing to do with money, provided you've got it," he said. "The point is: houses [in Hong Kong] at this grade that are on sale are extremely rare. There is almost no alternative option in a real sense for potential buyers like me."
The billionaire had until now stayed low profile, with most citizens in Shenzhen and even local journalists not having heard of him before his record purchase. But to Shenzhen's politicians and wealthy elites, Chen is well known for his outspoken views.
On the sidelines of the Chinese People's Political Consultative Conference in Beijing in March last year, he lashed out at public security officers in Guangdong for constantly disturbing normal and decent hotel operations in the name of campaigns against prostitution. He said their time would be better spent catching thieves.
"Chen likes to make comments on many hot social issues in the Pearl River Delta. For example, he made public comments and called for severe punishment [for those starting] online ­rumours and those attending the Mong Kok riots," a source who knows Chen said.
After graduating from high school in 1976, Chen was sent to a fish farm in Foshan, Guangdong, during the Down to the Countryside Movement. He also worked as a casual table tennis coach for a local amateur sports school between 1980 and 1982.
In his autobiographical book, Aerial view on the world of ­mortals, Chen said he was proud of earning his first pot of gold in 1979.
At just 20 years old, Chen started to run his tailor training school after two weeks of teaching himself the trade.
In 1984, Chen started a career in importing and exporting clothing and soon expanded by acquiring several garment factories across Guangdong. Six years later, he set up the Cheung Kei Group and turned to real estate development in Shenzhen and neighbouring areas.
He is the chairman of the Shenzhen Harmony Club, an association for businessmen that counts 100 prominent entrepreneurs from Shenzhen and Hong Kong as its members. These include Tencent chairman and chief executive officer Pony Ma Huateng; the chairman of battery and automaker BYD, Wang Chuanfu; and the executive director of New World China Land, ­Peter Cheng Kar-shing.
The club was set up in September 2012 to focus on government-to-business communication and to promote Hong Kong-Shen­zhen cooperation. The total assets of its members' private businesses are worth 1.5 trillion yuan, according to Shenzhen media.
In keeping with his low-key style, Chen declined to comment on the club, saying: "What I've done is nothing more than handling tasks."