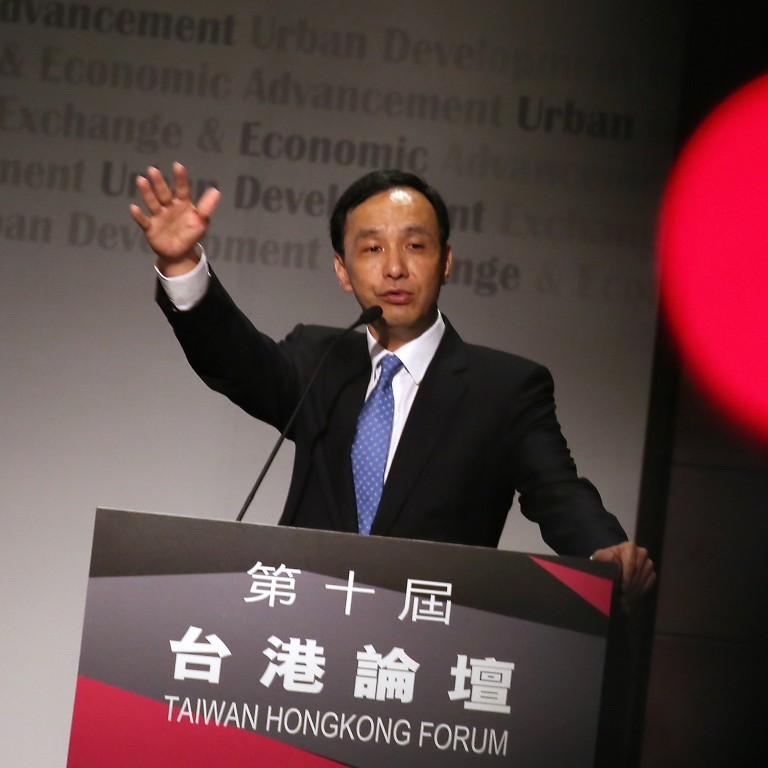 Taiwan's ruling party hopes for election boost from meeting with Chinese president
Kuomintang could gain in the 2016 presidential race if talks between Eric Chu and Xi Jinping deliver benefits
A meeting between Communist Party General Secretary Xi Jinping and Eric Chu, the chairman of Taiwan's ruling Kuomintang, would give the KMT a boost in next year's presidential elections if major gains were made during the trip, observers said.
Chu will meet Xi in Beijing on May 4, the day after he takes part in a forum between the two parties in Shanghai as head of the KMT delegation, Central News Agency reported on Wednesday. It will be the first trip to the mainland by a KMT chief since 2008.
Chu, who took over the KMT's top job from Ma Ying-jeou in January, is seen as the strongest potential rival to opposition Democratic Progressive Party chairwoman Dr Tsai Ing-wen in the island's presidential race early next year.
Chu declared last weekend that he would not contest the election, but analysts said he still might end up running if benefits flow from his mainland trip.
George Tsai Wei, a professor of political science at Chinese Culture University in Taiwan, said cross-strait ties were a key factor in the election and a difference between the KMT and DPP. "If through this meeting, further substantial achievements can be made, the KMT can put ground between it and the DPP and that would be helpful to the KMT in the election," Tsai said. Tsai said a substantial achievement could be being granted more flexibility in international diplomacy.
DPP chairwoman Tsai has said her party's basic principle in cross-strait relations is to maintain the status quo, a term critics say is too vague and unlikely to be accepted by Beijing.
Professor Tsai said another area for progress could be the "1992 Consensus", an agreement that there is only "one China" but that each side is free to interpret what that means.
Li Fei, deputy director of Xiamen University's Taiwan Research Institute, said Chu's participation in the forum and his meeting with Xi was affirmation of the cross-strait policies and ties since Ma came to power in 2008. It also indicated that the KMT would continue to abide by the "1992 Consensus", whether or not it is in power. "Therefore, at both the forum and the meeting, the '1992 Consensus' will be a key term," Li said.
This article appeared in the South China Morning Post print edition as: Xi-Chu meeting may be shot in the arm for KMT