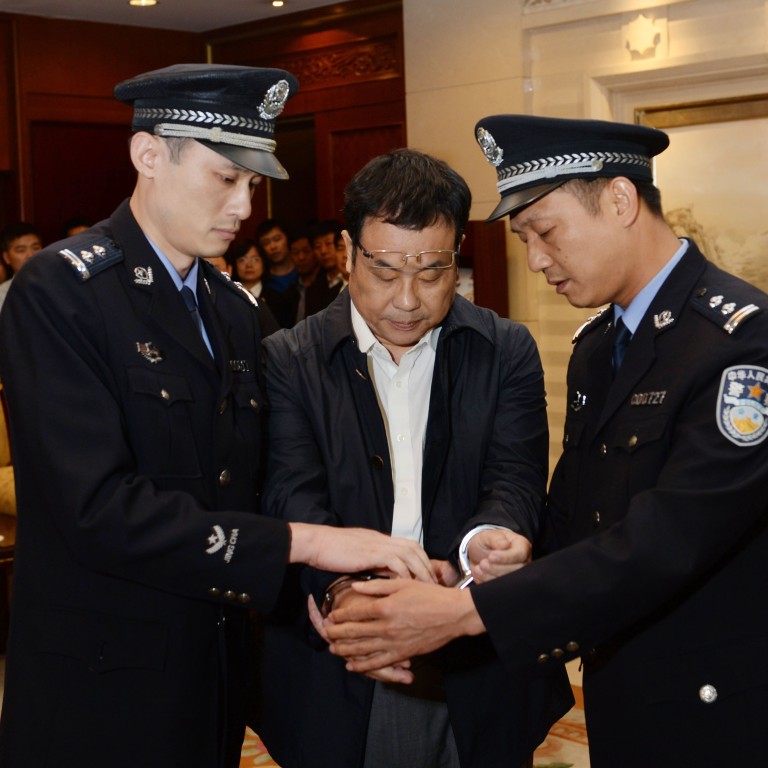 New
China's second most wanted fugitive official 'gambled with HK$3 billion'
Li Huabo, who was repatriated back to China after his permanent residency status in Singapore was revoked, lost HK$34 million on the gambling table in Macau
China's second most wanted fugitive Li Huabo, who fled the country after allegedly stealing 98 million yuan (HK$124 million) of public funds, gambled with nearly HK$3 billion and lost HK$34 million of it in Macau, according to a Chinese newspaper.
Li, one of China's 100 most wanted corrupt officials, was a section director of Poyang county's finance bureau in Jiangxi province.
He fled to Singapore in January 2011 after he was accused of fraud, but was repatriated back to China last Saturday under Beijing's "Sky Net" anti-corruption operation, after serving a 15-month jail term in the city state.
Citing the Supreme Procuratorate on Tuesday, the Beijing Evening News reported that Li had left letters for his superior in the finance bureau, confessing to having stolen 98 million yuan worth of construction funds using a fake official seal, and having wired the money to Macau.
"I promise to pay back the money one day if I can," Li reportedly wrote.
Chinese authorities, with the help of Macau prosecutors, obtained gambling records of Li and his associates after he fled China in 2011, the newspaper reported.
The records showed Li had played with almost HK$3 billion on the gambling table in Macau and lost about HK$34 million of the sum between April 29, 2008 and January 30, 2011. His associate Xu Detang gambled with HK$1.1 billion and lost HK$22 million in the same period.
As investigations began in 2011, requests were sent to Interpol and Singapore to help capture Li.
Singapore police arrested him in March that year after a tip-off and a request from Beijing via Interpol. In September 2012, he was charged in the city state for stealing funds and jailed for 15 months in August 2013.
In January this year, Singapore authorities revoked the permanent residency status of Li, his wife and two daughters.
Later that month, Li's wife, Xu Aihong, called Poyang prosecutor Xiao Lianhua to say she was willing to return to China. Li agreed to do so the following month, and was repatriated back to China last Saturday.
Li was China's second most wanted fugitive. The country's most wanted corrupt official who had fled abroad is former Zhejiang official Yang Xiuzhu. She is said to have been involved in graft amounting to 250 million yuan and fled for the United States in 2003.