Focus
Get more with myNEWS
A personalised news feed of stories that matter to you
Learn more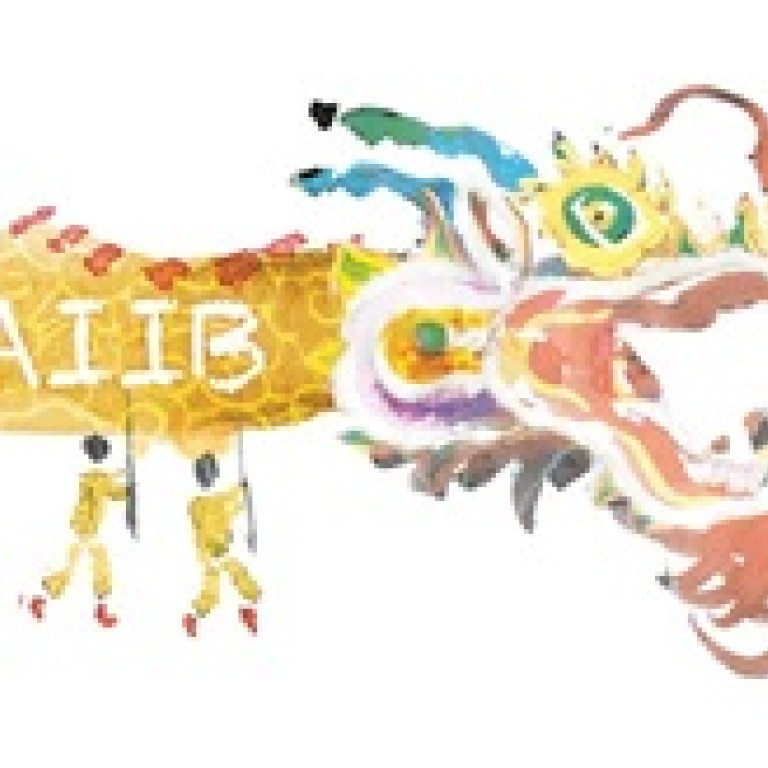 Does China have what it takes to lead the AIIB?
After drawing global players to the Asian Infrastructure Investment Bank, Beijing must now show how it will manage the institution
Popular support for the China-initiated Asian Infrastructure Investment Bank (AIIB) from nations across the world can be seen as a global "vote of confidence" in Beijing. But this endorsement by 57 major nations does not automatically translate into confidence in China's ability to manage the bank.
By the April 1 deadline, more than a quarter of the world's sovereign states had given their backing to Beijing's new kid on the block, widely seen as a competitor to American-dominated establishments such as the International Monetary Fund and World Bank.
Those who would go on to officially become founding members of the bank on April 15 included 16 of the G20 economies, all five of the world's largest developing economies, all 10 Asean members, and even staunch US allies in Europe such as Britain, Germany, France and Italy.
With such a wide and varied team of backers, China faces a new task: outlining how it intends to lead them.
How will Beijing deal with pressure to ensure the bank meets international standards? How will it behave in a multilateral institution? Can it be an effective negotiator, capable of achieving consensus among partner nations, despite their huge variations in economic development and political orientation? Can it show it is a responsible global player?
Louis Kuijs, chief economist for greater China at Royal Bank of Scotland, said China would want to continue taking the lead in the AIIB as it had a strong incentive to make it a success.
The bank is part of President Xi Jinping's grand plan to expand China's economic, diplomatic and strategic reach and boost its clout on the world stage. Part of this plan involves building "New Silk Road" routes over land and sea to link with markets in the Middle East and Europe.
The new bank is also important because it will provide a test of China's leadership credentials in realising these goals and helping it to forge a new international financial order that offers an alternative to rival American, European and Japanese-led international institutions.
China understands that leading this kind of regional development will deliver huge strategic benefits - not only by consolidating China's position as Asia's economic hub, but by establishing its credentials as the region's political leader.
Prospective founding nations have started talks on drafting the bank's charter and are scheduled to sign off on it this month, according to state media.
Members have started talks on drafting the bank's charter and are scheduled to sign off on it this month, according to state media.
With so many founding members, one of the thorniest issues will be how votes are distributed. The allocation will have a direct impact on the institution's decision-making process and efficiency. When the first 21 founding members agreed to establish the bank in Beijing in October, they agreed that gross domestic product should be the basic criterion for allocating votes among members.
But they failed to agree on the distribution between Asian and non-Asian nations.
One option is for the bank's Asian members to have 70 per cent to 75 per cent of the voting shares, with the rights of each dependent on the size of their GDP. The remaining 25 per cent to 30 per cent of the votes would go to non-Asian members.
Under this arrangement, China, the largest Asian economy among the founding-member nations, would hold the most votes, and would have the greatest say.
Non-Asian nations, particular major European economies such as Germany, Britain, France and Italy, are likely to demand a greater say, on the grounds that they can help promote transparency and good governance.
Another big question is whether China will have the same kind of veto power that the US has at the IMF. The US holds more than 16 per cent of votes at the IMF and its rules require decisions to be passed by 85 per cent.
Beijing must decide whether it will seek such power in the new bank. Most developing nations, long unhappy about the veto in the IMF and other international institutions, are likely to oppose the idea.
Analysts say China needs to create a balanced structure to ensure the bank's credibility and legitimacy. Matt Ferchen, who runs the China and the Developing World Programme at the Carnegie-Tsinghua Centre for Global Policy, said Beijing's room for manoeuvre was severely constrained compared with the role the US played in setting up the World Bank or IMF at the Bretton Woods Conference in 1944.
"Compared to US economic and political influence at the end of the second world war, not to mention a vision of a US-led but cooperative global capitalist economic and political order, China today enjoys neither the relative dominance nor clear vision that the US did," he said.
Ferchen said China would have to work carefully with the other members to work out the governing principles and day-to-day operation of the AIIB.
What has already been decided is that the bank will have a three-tier management structure: a board of governors, a board of directors and a president.
The Ministry of Finance said the first president would be appointed on merit once the bank had been formally established.
There is a growing consensus that former Chinese deputy minister of finance Jin Liqun , who heads a working group on the AIIB, will be given the role.
The board of governors, as the highest decision-making body, will elect a non-resident board of directors, which will debate and approve budgets and projects.
Even if China has more members on these boards than other countries, Beijing needs to work with other member nations to agree on major policy decisions.
Government officials have said that as China lacks experience in multinational institutions, the AIIB will seek the advice of other global financial institutions in reducing operating costs and maximising efficiency.
Kuijs said institutions such as the World Bank and the Asian Development Bank were generally well disposed towards the AIIB. They realised that, with the huge investment needs of developing countries, and the AIIB's focus on infrastructure, they did not need to fear its competition.
"As a result, the climate for cooperation between the existing multilaterals and the AIIB is better than many people think, and this will also benefit the governance and effectiveness of the AIIB," Kuijs said.
Ferchen said global and regional development banks needed to better understand the needs of their borrowers while maintaining high-quality lending standards.
Some analysts predict that the AIIB will adopt innovative operating models. These might include private funds and sectors, which could lower costs and increase efficiency.
Yifan Hu, chief economist at Haitong Securities International, predicted that the AIIB would be more market-oriented, rather than politically slanted. He said the AIIB would focus on projects with reasonable returns as it could raise funds at little cost. It would fund projects, rather than governments, and charge small premiums. "The structure will be similar to the IFC [International Finance Corporation] - focused on financial returns with positive social consequences," said Hu, a former World Bank economist.
Some analysts expected Beijing would maintain a firm grip on environmental and social standards for bank lending.
The bank must also decide which currency or currencies to use for its loans - an issue that will greatly affect each founding nation's influence in the bank. Ferchen said the AIIB should try to avoid the mistakes of the World Bank and IMF. He hoped the Chinese-led initiative would allow institutions to work together to provide more - and better - development opportunities that took account of the needs of citizens in borrowing countries.
Most analysts agreed that if China succeeds in spearheading a high-standard multinational institution, it could extend its strategic aims and spread its influence. They also agreed that, in doing so, it would have proved itself a responsible global player.