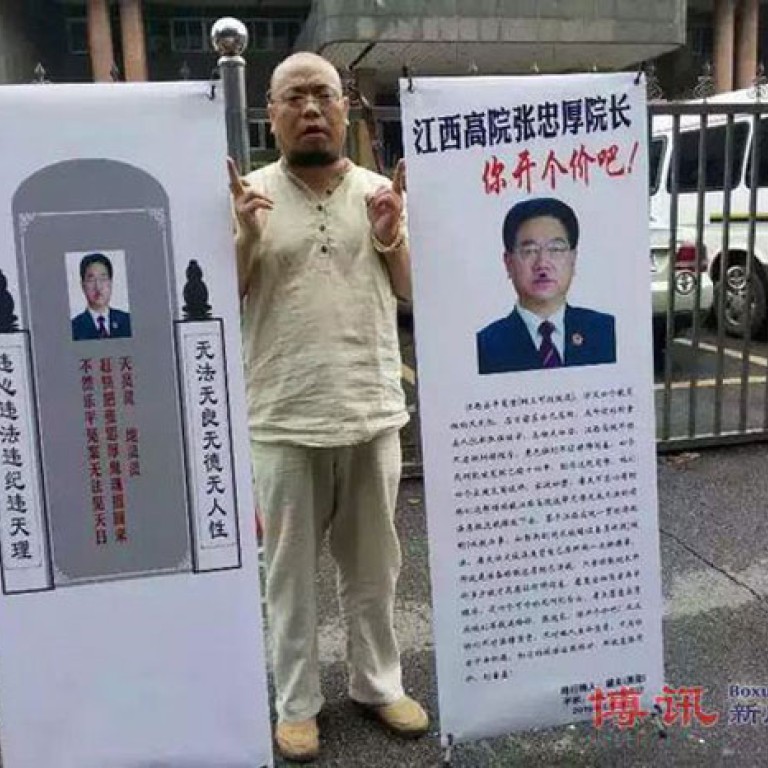 Arrest sheds light on Chinese lawyers' protest over rape and murder case
Lawyers in Jiangxi locked in weeks-long demonstration, saying court is blocking access to documents in case in which four innocent people have been tortured and jailed
The arrest of a man from who joined a demonstration outside a court in Jiangxi province has shed light on a weeks-long protest by lawyers over a rape and murder case.
Wu Gan, 43, was placed under administrative detention for 10 days last Wednesday after he joined the demonstration outside the Jiangxi  Higher People's Court.
Wu, who was accused of disturbing public order and verbal assault, had been voicing his support for a protest by lawyers that had entered its third week.
Lawyers claim the court is barring access to case documents surrounding a rape, murder and robbery case in which four innocent people have been tortured and wrongfully jailed over the past decade.
Their protest – the largest so-called "Si Ke" style action this year – has attracted the support of more than 25 lawyers from across the mainland. Si Ke protests are an aggressive, prolonged approach mainland lawyers sometimes take to press their cases amid what they deem blatant legal injustice.
The state news agency Xinhua reported that Wu first arrived at the court on the previous Monday, when he verbally assaulted the court chief Zhang Zhonghou.
It said he returned the next day with two insulting banners featuring large images of Zhang that denounced his "lack of law, consciousness, morale and human nature". One banner had a picture of a grave and the other had a Hilter-style moustache on the court chief's face.
On Wednesday, Wu was summoned to Nanchang's Donghu police branch and detained.
Wu – an online campaigner who goes by the nickname Super Vulgar Butcher – had recently offered 100,000 yuan (HK$126,000) for any footage showing an incident at a train station in the town of Qingan in Heilongjiang, on May 2 in which an unarmed man, Xu Chunhe, was shot dead by a policeman in front of his mother and his children. The incident led to a huge public outcry.
The lawyers' protest is being led by Shandong-based Zhang Weiyu and Zhang Kai, who represent two of the four men imprisoned for the murder and rape case. They are trying to appeal against the sentence, claiming the verdict contained "severely false" conclusions.
The lawyers claim the court has refused them access to court and case documents.
A handful of lawyers and family members of the jailed men have been protesting daily outside the court with banners, from about 9.30am to 8pm.
Pictures of the protest show it continuing even in heavy rain, with lawyers sheltering under umbrellas.
The lawyers hold a candlelight vigil at 8pm each night.
Lawyer Zhang Weiyu said he was prepared to lose his professional licence or to be arrested – threats that mainland lawyers say are commonly made against them to cow them into silence.
"We will continue the protest until our legal access to court materials is respected by the court. There is no return for us," Zhang said.
"If I am arrested, I will continue the protest after I'm released. If we don't get this right this time, other courts will follow the illegal practice of the Jiangxi high court and it will be even more difficult for lawyers to gain legal access to court materials.
"If we succeed, we will push the justice system forwards and it won't look down on us anymore."
Lawyer and legal scholar Zhang Xuezhong said it was illegal for the court to bar lawyers from accessing court materials.
"It is impossible for them to proceed with the case without full access to court documents. It shows the lack of confidence in the Jiangxi court and raises more public doubts over its original verdict," Zhang said.