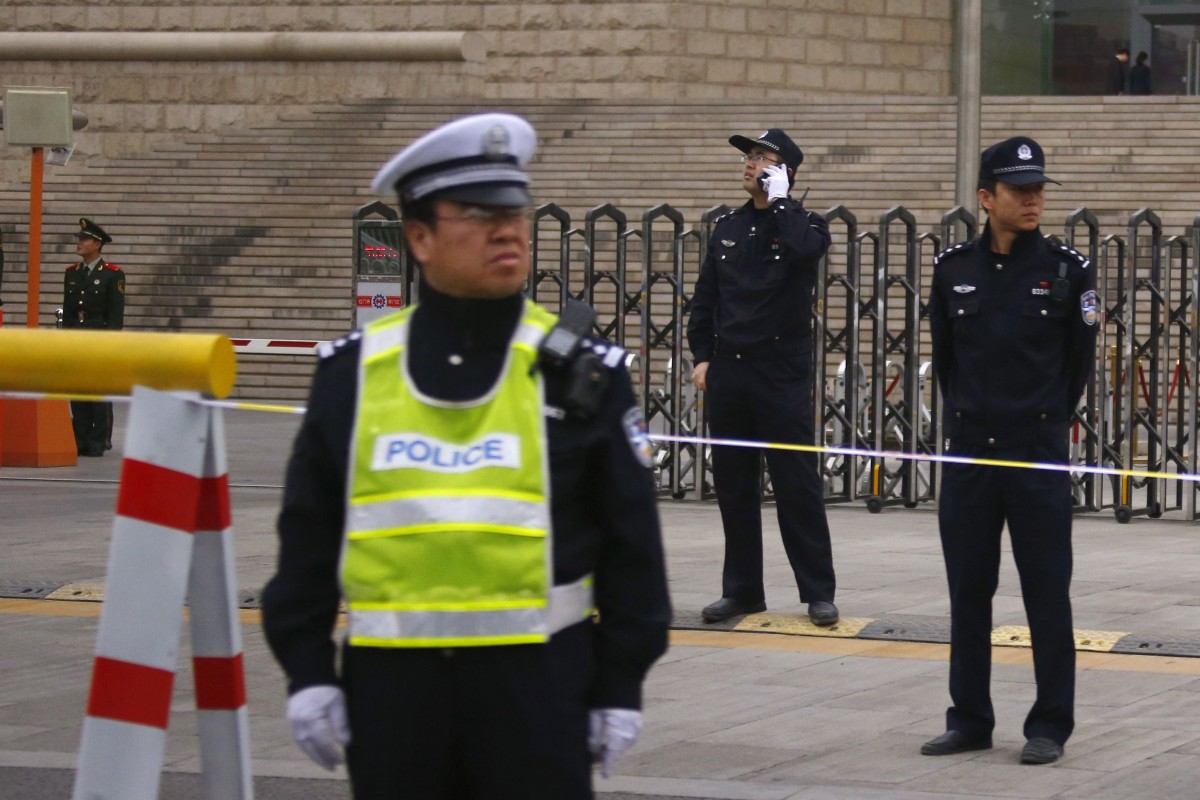 Police officers stand guard outside an entrance to Beijing Municipal High People's Court. Photo: Reuters
INTRODUCTION
Approaching 45, Dr Liao Yaozhong has only recently launched his career as a private sector lawyer. But his decision to make a new start, after quitting his job as deputy judicial bureau chief of Hengyang , Hunan province, in December 2013, was no hasty decision caused by a mid-life crisis.
"Some say I'm a nerd but I would rather be a nerd than go against my conscience and morals," said Liao.
Liao is far from alone in deciding to leave behind the Communist Party-controlled justice system. In recent years the nation's lower level judicial offices and courts have been experiencing particularly high turnovers due to resignations.
More than 500 people had either resigned or asked to be transferred from Beijing's city court system in the past five years, citing low pay and high pressure, China Economic Weekly reported last week.
Liao made national headlines in 2011 for coming to blows with his boss Wan Chunsheng, who was then Hengyang justice bureau chief.
The fight started because Wan had wanted to transfer a staff member to the legal aid centre overseen by Liao, without following the usual vetting procedure.
"I realised I wasn't much use to the [government] institution. I studied law but I was restrained in many ways due to bureaucratic intervention," Liao said.
"Some of my colleagues understood nothing about law or would not follow it and this meant there wasn't much point for me to stay on."
People's Daily, a party mouthpiece, called this week for more measures to retain judges.
It noted that judges' remuneration had increased as part of ongoing judicial reform; in Shenzhen judges' pay had risen 10 per cent.
It also called for judges to be given more independence, free of bureaucratic intervention.
Jiang Yangbing, 33, spent eight years as a judge in the Zhanjiang Municipal Intermediate People's Court.
Today he is waiting for approval of his licence as a private sector lawyer in Shenzhen.
Jiang graduated with a major in archaeology from Zhejiang Normal University in 2006 before passing one of the most difficult professional examinations on the mainland, the National Judicial Exams. His score was the highest in Zhanjiang.
Even so, when he joined the Zhangjiang city court his salary was only 2,000 yuan (HK$2,500) a month.
He soon realised the idea of being a judge was quite different to the reality.
By the time he left last year his salary was slightly more than 4,000 yuan a month, despite his promotion to deputy chief of the administrative court, which oversees cases involving civilians suing government offices.
"With judicial reform gradually rolling out, I see more hope at the end of the tunnel," Jiang said.
"The demand for legal services will surely increase as people are encouraged to resolve matters through legal means rather than relying on petitions."
With his background in administrative cases, Jiang believes he has much to offer and can better serve the people as a lawyer. There was too much bureaucratic intervention into his court, he said.
"When I was in charge of the administrative court, over 30 per cent of the verdicts favoured the people over the government. That is much higher than the average 10 per cent seen in other administrative courts," he added.
Critics of those who leave the party-controlled justice system suggest many have done so because reforms of the system mean there are fewer opportunities for graft.
Jiang says such a suggestion is laughable. "I was nothing but a grass-roots judge dealing with civilians struggling to overturn police detention orders or other government department irregularities. What opportunity for bribes would there be?" he said.
The sentiment was shared by Yang Bin, 45, who in March quit her job as a criminal prosecutor in Guangzhou to develop a career as a private sector lawyer.
Yang said it required courage and a solid skill set to leave a comfortable government job. People who did not like the system but chose to stay were often parasites too afraid to try something new, she said. "I left because I wanted to pursue my freedom in body and soul," Yang said.
When she was a prosecutor, she needed to file requests to travel outside Guangzhou on her days off.
"You know your superior would approve these in the end but you needed to file anyway. The institution is not afraid to repeat clumsy and mundane paperwork as a reminder that you are constantly under its control.
"There is also never-ending political ideology training so your soul is never free."
After quitting, Yang founded a non-government organisation called Tianxiang Compassion, which offers aid and consultation to people whose lives have been affected by criminal cases.
Jiang said he believed in the power of law and that if the administration were to stop intervening in the justice system, he would be happy to return either as a judge or prosecutor. "Let's hope I don't need to wait too long," he said.